Robert Overby at Rhona Hoffman Gallery
Overby's latex wall casts and other works offer a taste of his career from 1969–73.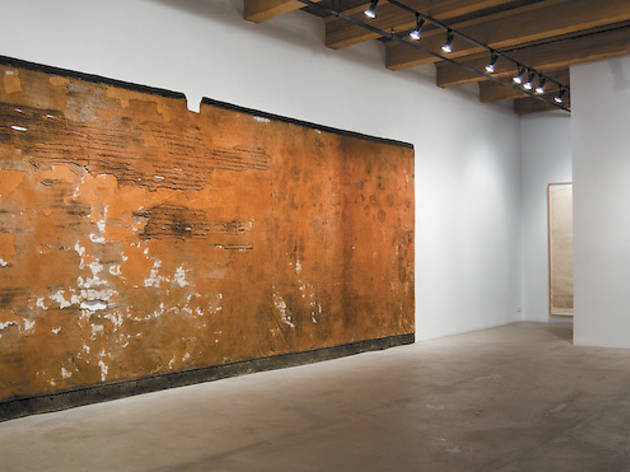 Robert Overby (1935–93) recorded all 366 works that he made between 1969 and 1973 in his self-published book Robert Overby: 366 to 1; August 1973–July 1969, a copy of which is at Rhona Hoffman Gallery. This show highlights that brief period of the late graphic-designer-turned-artist's career with pieces ranging from small sculptures such as Owl's Navel to large wall casts like East Room with Two Windows, Third Floor (1971).
The stars of the show are three latex resin wall casts from Overby's Barclay House series, executed at an impressive scale. The casts hang on the gallery walls like huge canvases, their surfaces recording every bump, scratch and blemish of a Los Angeles home in meticulous detail.
But Overby makes the wall casts personal expressions rather than faithful architectural reproductions. He paints over each, layering different tones to create an exaggerated sense of decay and the passage of time. The Barclay House series' iron-tinged ocher palette evokes the colors used in cave paintings, suggesting a human condition that endures through the present.
The wall casts' primordial quality contrasts sharply with the new-car aesthetic of Overby's "stretched" series: gestural wall hangings made of shiny, unblemished PVC and resin in bright, artificial colors. New York Color Rubbings—rubbings of floor boards—recall Crayola crayons rather than the muted, more natural tones of the Barclay House casts, and come off as almost decorative in comparison.
Although they differ in appearance, all of these works are connected by Overby's fascination with skins and surface treatments. They leave viewers wanting to see more than a taste of his prodigious output.