Shifting Domain at Manifold | Art review
ACRE residents Nate Mathews and Ashley Morgan show photos and sculptures.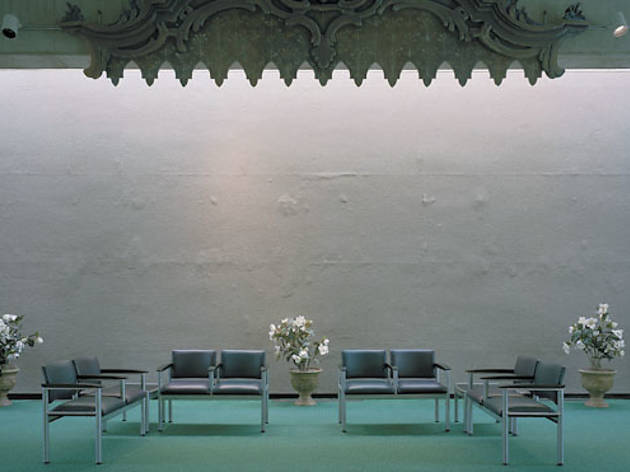 Walter Netsch's historic design for UIC's campus makes even this Prentice-loving preservationist dream of demolition crews.
In his series "Ersatz," Nate Mathews photographs UIC and other Brutalist universities that sprang up across the U.S. during the 1960s and '70s. The Chicago artist documents people's attempts to make these forbidding campuses feel more human. "Shifting Domain" pairs his work with sculptures by Milwaukee-based Ashley Morgan, a fellow participant in Chicago-based ACRE's 2012 artists' residency.
Mathews's images of forlorn art and plants will elicit rueful chuckles from anyone who spent their college years peering out the slit windows of a concrete box. In Night Class (2007), a combo chair/desk sits on a deck in the glare of an outdoor lamp. Like many of the artist's photos, the piece captures the eerie eternal twilight caused by bad Brutalist buildings' dreary materials, windowless expanses and harsh lighting.
Yet Mathews isn't repulsed by Brutalism. The artist recently began making sculptures out of cement, and this exhibition includes a model of his home, sporting the facade that architect Paul Rudolph would have given it in Mathews's dreams. The all-gray mass highlights the warmth of Morgan's sculptures, which the artist constructs out of salvaged wood. She carves crown molding into such a thin layer in Sunset (2012) that the wall-mounted piece's internal LED light shines through the wood, casting a rosy glow.
"Shifting Domain" also sets up a contrast between the bulkiness that Mathews photographs and the delicacy of Morgan's works, such as Stiff Pose (Ancient Statue) (2012), which balances two slender pieces of timber on a cement block. This small show is full of insights into the built environment.