The Architecture and Design Film Festival comes to Chicago
The Gene Siskel Film Center and theWit hotel host ADFF 2011 May 5 to May 9.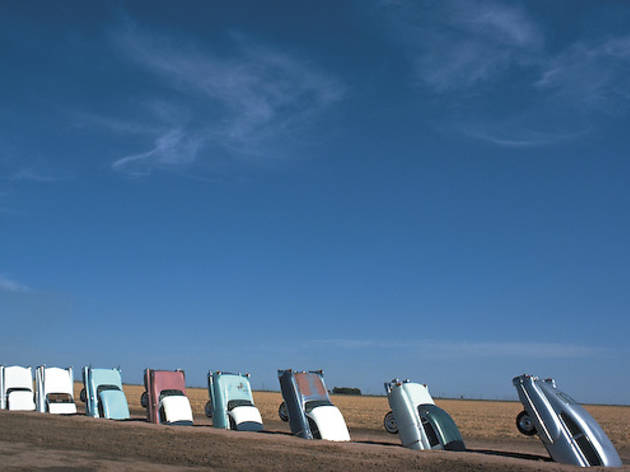 In 1999, several years before Sydney Pollack made a movie about Frank Gehry and Helvetica made the general public care about fonts, Kyle Bergman envisioned a film festival, devoted to architecture and design: one that would bridge the gap between professionals and those who don't know Helvetica from Arial.
It took a decade for the New York–based architect's idea to become reality, but the Architecture & Design Film Festival, which makes its Chicago debut Thursday 5, has been a remarkable success. The ADFF's October 2010 premiere in New York attracted so many viewers that Bergman and ADFF codirector Laura Cardello decided to bring the festival here one year earlier than they had planned. Chicago is an "obvious" destination, Bergman told me when we spoke by phone last month. "The appetite for architecture and design in Chicago is enormous and voracious." Los Angeles probably will be the festival's third regular stop.
This year's ADFF crams 39 films into 15 programs, each about 90 minutes long, at the Gene Siskel Film Center (164 N State St) and SCREEN at theWit (201 N State St). Most programs pair feature documentaries with one or two shorts. "The shorts show a greater range of experimentation, like doing a sketch is different from making a building," Bergman says, adding, "People love them or hate them." Related panel discussions at the Siskel boast an impressive lineup of speakers, including architects Jeanne Gang and Bjarke Ingels, Art Institute of Chicago design curator Zoë Ryan and architecture writer Lee Bey.
What caused the past decade's spike in films about architecture and design? Bergman cites inexpensive film and video equipment, and the limitations of architectural photography: "Film and video allow you to talk about space, form, proportion and light, and human qualities in a different way," he suggests. "You can tell the stories of buildings. It's not just about the buildings themselves; it's about the people who made them, about the consequences."
Here are our takes on a few ADFF selections:
Most likely to get viewers arrested: My Playground, an exuberant study of parkour. Cry as you try to imagine Chicago politicians praising it as a "fantastic" activity that could help them add spontaneity to their city. (Copenhagen officials actually do this in the film.) Then do a handstand on a parking meter.
Most nausea-inducing: Malls R Us offers a fresh, distressing perspective on the Orange Julius–fueled scourge. While shopping centers fail across the U.S., they're thriving in the developing world, wreaking havoc on small businesses and the environment. It's hard to decide who's more delusional: the developers interviewed by director Helene Klodawsky or the architects, who include the influential Jon Jerde.
Most inspiring to video artists: Space, Land and Time: Underground Adventures with Ant Farm follows the 1970s collective Ant Farm as the American architects make critiquing the media look as fun as designing inflatable buildings.
Most poignant: Citizen Architect: Samuel Mockbee and the Spirit of the Rural Studio visits Hale County, Alabama, where Auburn University architecture students design and build homes in poor black communities. While this film doesn't delve deeply enough into the Rural Studio's ethical quandaries, it's a great introduction to socially responsible design.
Most divisive: The beautifully shot How Much Does Your Building Weigh, Mr. Foster? has a worse hagiography problem than Citizen Architect, but it raises some provocative questions: Does starchitect Norman Foster's commitment to sustainability extend to the social impact of his projects? Will his cutting-edge designs stand the test of time? Why is Bono among the talking heads?
The ADFF runs through Monday 9 at the Gene Siskel Film Center and SCREEN at theWit.