Theaster Gates "13th Ballad" at the MCA
The Chicago artist brings his house restoration projects full circle.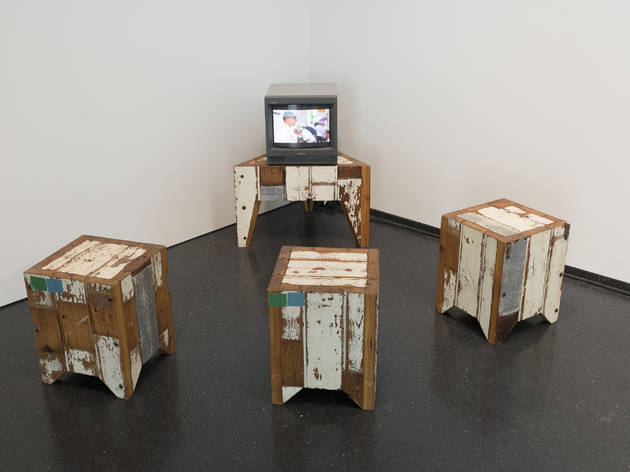 1/4
Installation view, Theaster Gates: 13th Ballad, 2013. Photograph: Nathan Keay. Courtesy of the MCA.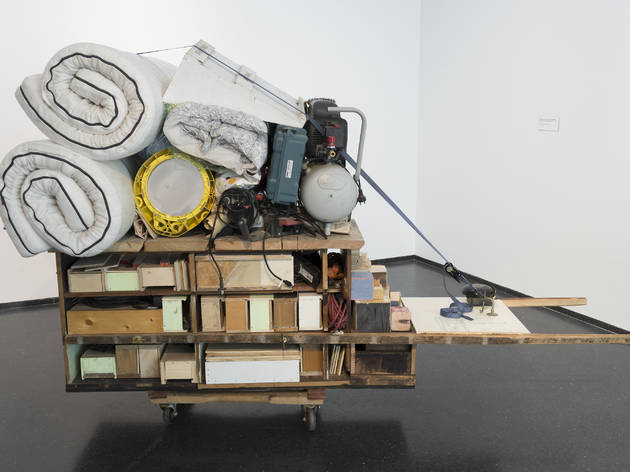 2/4
Installation view,Theaster Gates: 13th Ballad, 2013. Photograph: Nathan Keay. Courtesy of the MCA.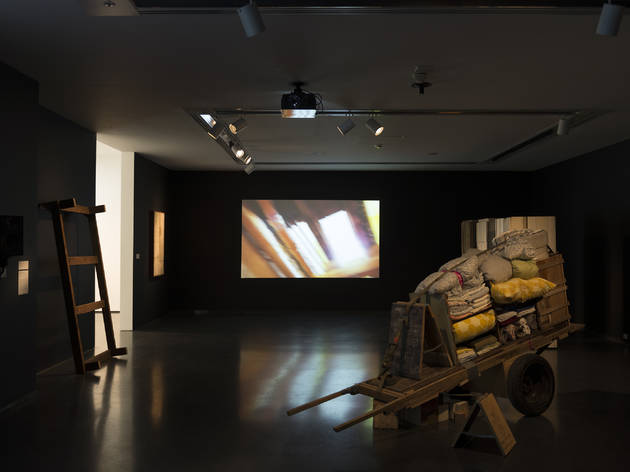 3/4
Installation view,Theaster Gates: 13th Ballad, 2013. Photograph: Nathan Keay. Courtesy of the MCA.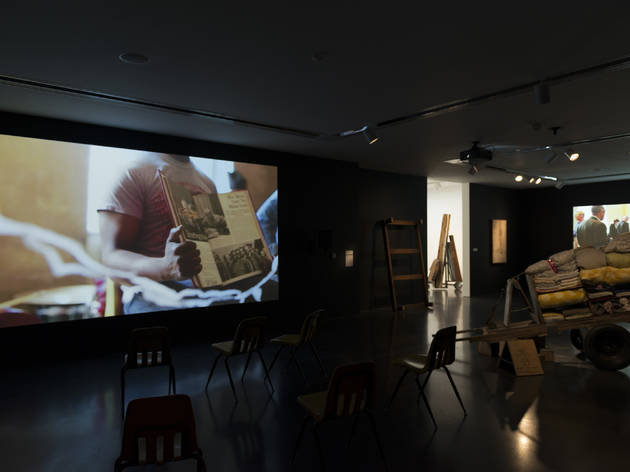 4/4
Installation view,Theaster Gates: 13th Ballad, 2013. Photograph: Nathan Keay. Courtesy of the MCA.
Theaster Gates seems to be everywhere these days. Since being featured in the 2010 Whitney Biennial, the Chicago artist has exhibited works in Los Angeles, Miami, London and at Documenta 13, the influential international art exhibition held every five years in Kassel, Germany. His current show at the MCA, "Theaster Gates: 13th Ballad," riffs on themes explored in his Documenta work, 12 Ballads for Huguenot House.
Gates has made a name for himself transforming abandoned houses into sites for art installations and performance pieces. His projects on Chicago's Dorchester Avenue have breathed new life into a South Side neighborhood. Taking this concept to Documenta last summer, Gates restored a dilapidated early-19th-century house once inhabited by Huguenots (French Protestants who emigrated from Catholic France seeking religious freedom), using materials from the Dorchester Projects.
12 Ballads explored parallels in the migration stories of African Americans to Chicago and Huguenots to Kassel through a series of musical performances conducted inside the restored house. Gates's MCA exhibition—presented in two different parts of the museum—builds on his previous work and brings everything full circle. Materials and objects that "migrated" from Chicago to Kassel and back again are displayed inside the Turner Family Gallery on the fourth floor, while a new large-scale installation occupies the three-story atrium.
The theme of migration is most strongly reflected in Gates's "rickshaw sculptures," including Migration Rickshaw (2013), a wheeled cart made out of materials from both the Dorchester and Huguenot houses. By mixing objects from both sites, the work speaks to the common experiences that link both populations across time and space. Meanwhile, the almost haphazard construction of the rickshaw sculptures reflects the hasty displacement of peoples fleeing persecution.
Stripped of their original architectural contexts and placed within a pristine museum setting, the rickshaws and other works seem to lose some of their power. Video installations documenting 12 Ballads try to preserve some of that context, and, in size and scale, the fourth-floor galleries are comparable to the apartment-sized rooms of the original buildings. But the objects and video installations seem a bit constrained in these spaces that have been darkened to accommodate the videos.
Much more successful—and exciting—is the installation 13th Ballad (2013), which transforms the atrium into what Gates calls an "agnostically ecumenical" space. Old church pews from the University of Chicago's nondenominational Bond Chapel (removed to accommodate the school's Muslim worshippers) fill the floor, while an immense cross-like construction hangs from the balcony high above. The installation simultaneously reflects the Huguenots yearning for religious tolerance, the centrality of the church in African-American life and the modern museum as a place of secular pilgrimage.
But 13th Ballad is not meant to be experienced just as a visual construction. It only truly comes alive when Gates stages his musical performances. The first was performed during the exhibition's opening reception on May 18 and served to consecrate the space. Inspired by compositions by Muddy Waters and Giacomo Meyerbeer's opera Les Huguenots, Gates and his ensemble, the Black Monks of Mississippi, performed a 45-minute piece to a packed audience. The work sounded like a jazzy, bluesy version of African-American spirituals, mixed at times with 17th-century European harpsichord music. As one attendee tweeted after the performance, "Theaster took us to church tonight."
The MCA presents three more performances by Gates and his ensemble, each a part of the series The Accumulative Affects of Migration 1–3, on June 30, August 11 and September 22.