Unfolding Space at Floating World Gallery
Charlotte Page + Yozo Hamaguchi fuse architecture with Japanese prints.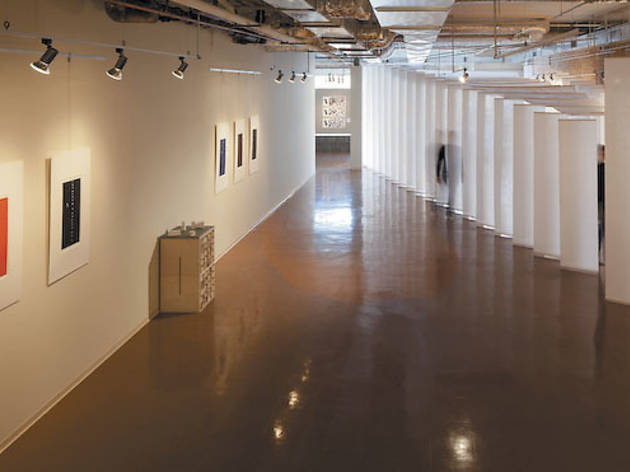 Chicago isn't just a physical environment, according to local architect Charlotte Page. It also exists in the minds of its inhabitants, in countless variations: Whether your Chicago skews toward fancy restaurants or dive bars, it surely omits swathes of the city.
Page turns the impossibility of representing a place fully and objectively into an unusual installation at Floating World Gallery, which pairs her work with mezzotint prints by Japanese artist Yozo Hamaguchi (1909–2000).
Page's installation emerged from her thesis project at IIT, where she earned her master's degree in May. The architect envisions a school that incorporates 12 design concepts; one concept, "fins," makes a structure look closed when it's viewed from one angle, and open from another. Page implements this idea within the gallery, dividing the exhibition space with a series of hanging panels (pictured).
Made out of Pellon, a pressed-paper fabric used by the fashion industry, the panels at first appear to form a blank wall. But as visitors walk through the installation, they discover that this translucent white corridor is porous. The fabric elements accommodate not only viewers but the architect's drawings and models.
It's hard to picture the school that contains Page's "ramp," "hinge" and other concepts; she could be imagining any type of building. The installation best demonstrates her point that our experience of space is subjective, and that we come to understand her design by moving through it.
Hamaguchi's two series, Three Butterflies and Twenty-two Cherries, depict their subjects in several color combinations, which yield different effects. These lovely prints don't generate a dialogue with Page's work, but complement it.