Volume Gallery collaborates with Rich Brilliant Willing
Volume Gallery cofounders Sam Vinz and Claire Warner promote emerging American designers.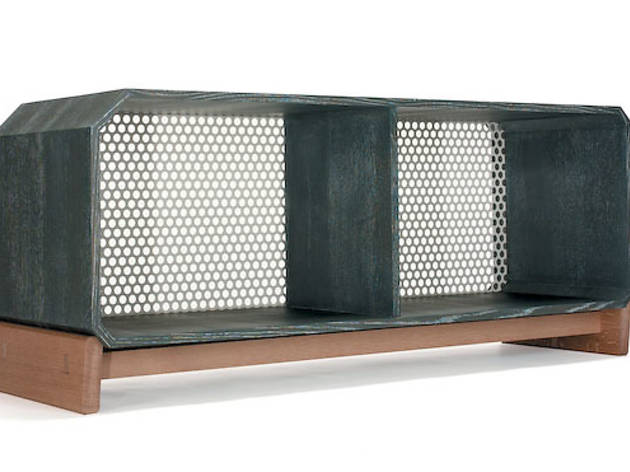 1/3
Rich Brilliant Willing, piece from "Pro Forma," 2011.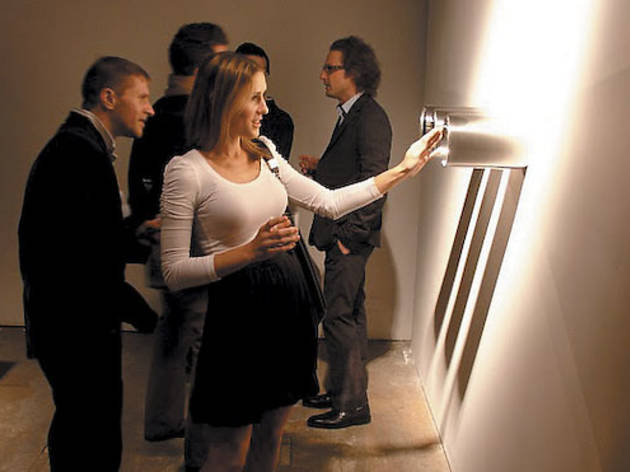 2/3
Installation view of "Felicia Ferrone: On Space" at Volume Gallery, 2010.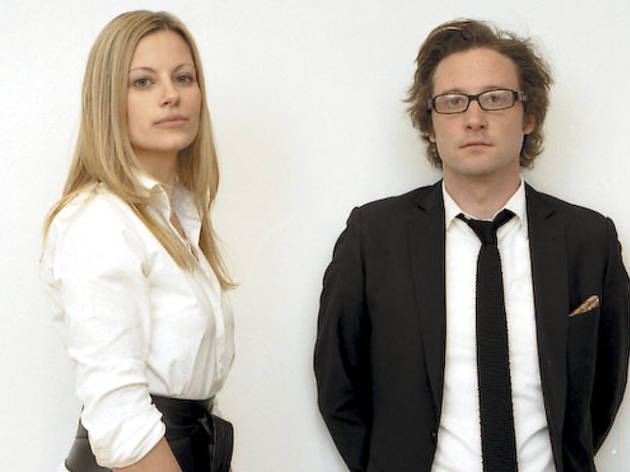 3/3
Volume Gallery cofounders Claire Warner (left) and Sam Vinz.
When New York's Museum of Modern Art reopened in 2004 in a new building, a minor scandal accompanied the fanfare. The beloved American institution—famous for its pioneering department of architecture and design—had purchased all of its new furniture and tableware from Denmark.
It wasn't that American design sucks, museum officials assured The New York Times. It was simply expedient to accept a donation of iconic Danish designs, coordinated by Denmark's government.
Five years later, Sam Vinz and Claire Warner, then colleagues at Wright, the Chicago auction house, decided American design does have a problem. Both had studied the history of design, decorative arts and architecture as undergrads (Warner at Denison University, Vinz at the University of Wisconsin-Madison), and they know how influential U.S. designers such as Charles and Ray Eames used to be. "I don't know if it's about us exporting our manufacturing or not enough institutions supporting [design], but something has changed," Warner says. Aficionados expect to find good contemporary design in Scandinavia and the Netherlands—but in the U.S., consumers assume home furnishings peaked in the mid-20th century.
Vinz, 33, and Warner, 31, founded Volume Gallery to promote emerging designers and identify "what American design is now," Warner tells me. The duo invites designers to create limited-edition pieces specifically for solo exhibitions, and fabricates their work locally. They host each show in a different location, including Andrew Rafacz Gallery, "trying to find spaces that would be most relevant to the designs," Warner explains.
Volume Gallery's third exhibition opens Friday 18 at 328 South Jefferson Street. "Pro Forma" showcases works by Rich Brilliant Willing. RBW's founders, Theo Richardson, Charles Brill and Alexander Williams, graduated from Rhode Island School of Design only in 2006, but their New York studio's clients already include Blu Dot, Artecnica and Urban Outfitters.
For "Pro Forma," RBW designed case goods inspired by aluminum air-freight containers, which have unique chamfered corners to fit snugly into planes. RBW's handsome homages are made out of lacquered and powder-coated steel, oak, smoked glass, leather, plywood and brass. The collection has been about a year in the making. "I spend the majority of my time talking with designers about materials and processes," Vinz says. "Then I go out and source how we're going to get these things made—whether [we need] a glass person or a carpenter or a metal person. Whatever's called for, we end up sourcing here."
"Creating something that's an heirloom is radical now," notes Warner. She and Vinz believe fostering an appreciation for locally made, durable furniture is key to their mission. In 2010, Volume Gallery collaborated with Jonathan Nesci, whose design firm HALE is based in Chicago and Scottsburg, Indiana, and Felicia Ferrone, who teaches at the School of the Art Institute of Chicago. Nesci's collection, "The New," conjured seating, shelves and more from stark geometric forms with all-white or polished aluminum finishes. The tables, lighting and other objects in Ferrone's "On Space" incorporated glass, marble, metal and LEDs—sometimes all at once.
"What we do allows designers to venture outside of their comfort zone and push techniques or materials," Vinz says. "Because it's not a production piece where they have to worry about the cost of making 10,000 of these things." He and Warner have seen their collaborators reuse and refine the techniques they developed for Volume Gallery on other projects.
Given that Ferrone began her career in Milan, I ask Vinz and Warner whether globalization undermines any notion of "American" design. Vinz believes American designers do have distinctive cultural identities; they just need "to be showcased a little bit better."
For now, Volume Gallery's stepping up its exhibition schedule, planning a show with Jonathan Muecke in April. Though the gallery's prices, which range from $200 to $12,000, reflect the expenses of complex fabrication and high-quality materials, designs at the high end of the market can cost more than twice as much. Warner says, "We want to be attainable for emerging collectors as well."
"Pro Forma" opens Friday 18 6–8pm.