New Adler Planetarium show Destination Solar System to simulate space tourism
Adler Planetarium's latest visualization comes as space tourism appears relatively near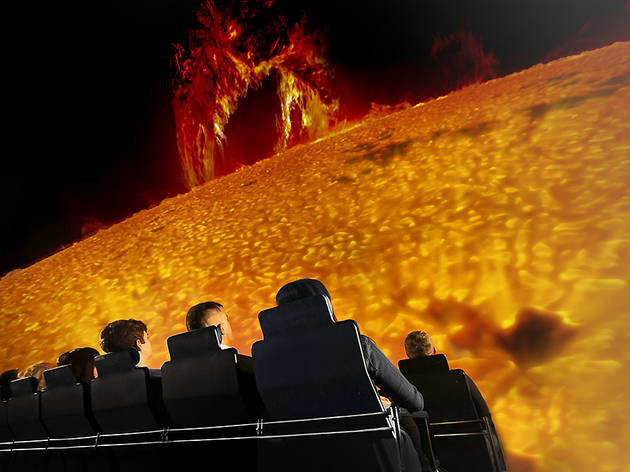 The Adler Planetarium's just-announced space visualization "Destination Solar System," debuting May 16, seems more like a sci-fi movie than a trip to the museum. Once inside the Adler's domed Grainger Sky Theater auditorium, patrons are told they are in the future—2096, to be exact—and about to embark on a trip with Space Express Tours, the first interstellar travel company, aboard "the only vehicle equipped with Space Jump technology." The tour "from sizzling solar flares on the Sun to liquid methane lakes on Saturn's moon" is led by a knowledgable human and a HAL 9000–ish onboard computer named MAX.

The show comes as the future of space tourism appears relatively near, due mostly to the efforts of Richard Branson. The billionaire insists his firm Virgin Galactic will begin flying passengers to the edge of space in the fall of this year, despite claims that the company's rockets aren't powerful enough and that the proper aviation licensing isn't—and may never be—in place.

Among the first people ponying up $200,000 for the ride 60 miles above the ground, which culminates in a few minutes of weightlessness, are Angelina Jolie, Brad Pitt and Leonardo DiCaprio. While aboard a Virgin Galactic flight, Lady Gaga plans to perform a song that will be broadcast live to New Mexico's Zero G Colony tech fest.

In December, Gaga was spotted at the Adler preparing for space flight the way only she could: with a photo shoot. If you'd like to follow in Gaga's high-heeled footsteps, at least two Chicago travel agents are approved to book Virgin Galactic flights.