Bar food | Desserts
These bars hit the sweet spot.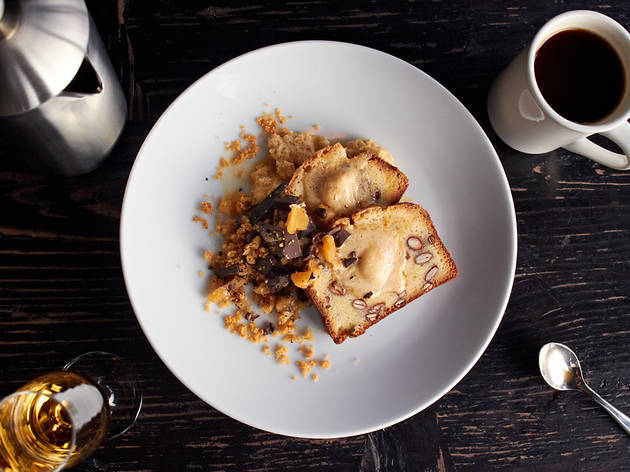 1/2
Photograph: Jason Little
Red Bean Cake and Boubon Spiked Coffee at Telegraph.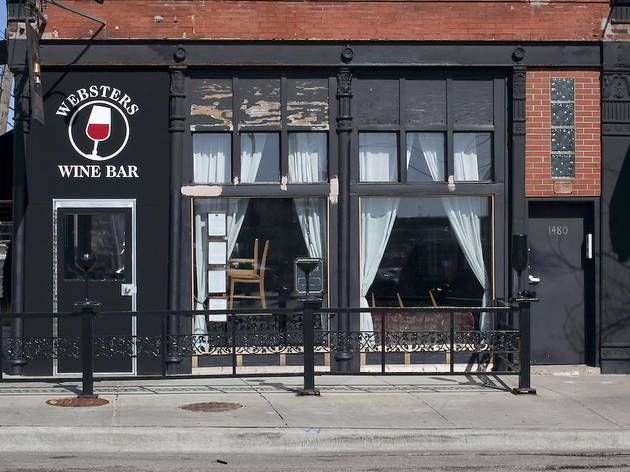 2/2
Photograph: Ashlee Rezin
Webster's Wine Bar
Maybe you hear the words bar dessert and think, skillet cookie! That is, after all, a well-known dessert at Gaslight, and Kirkwood, and Brownstone, and WestEnd, and…God, there are so many places that serve that thing. Listen, we have nothing against a big cookie that tastes like warm Toll House dough. But you can do better. Eating dessert at a bar should not inhibit your drinking—it should extend it. The only drink in the world you can pair with that cookie is milk.
It would appear that a red-bean pound cake topped with coffee toffee ($7) ➊ might pose a pairing problem as well. Luckily, Telegraph advises what to drink right there on the menu. The suggested bourbon-spiked coffee is surprisingly spot-on: The toffee notes in the bourbon marry with the dessert. And that's just the beginning. A lemony lambic gets paired with a creamy coconut cheesecake tart ($7, with pairing $10), and an old Madeira gets matched with a poached pear ($9, with pairing $17) that, frankly, wouldn't be all that interesting without it.
Madeira was also the pairing a server at Webster's Wine Bar suggested for the chocolate croissant bread pudding ($7) ➋. Webster's and Telegraph are sister wine bars, but at Webster's the desserts are far less complex. That doesn't mean the thin slice of pudding wasn't enjoyable. Actually, the size was nice in that it wasn't overwhelming, leaving all the more room for another round of Madeira.
PERFECT PAIRINGS
➊ Bourbon-spiked coffee ($12, includes the red-bean pound cake)
➋ Gutiérrez Colosia, Fino, Puerto de Santa Maria ($7), a sweet and strong (but not syrupy) after-dinner drink