Best bars and nightlife in and around Chinatown
From karaoke bars to some dives a short walk away, Chinatown has plenty of options for a night out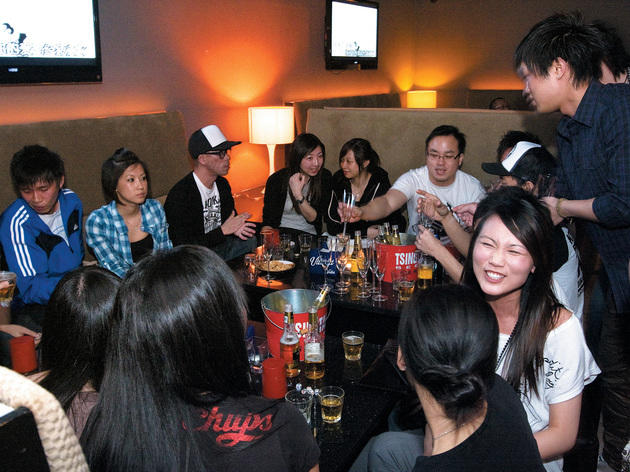 Chinatown proper has a couple karaoke bars, so if you love belting out tunes with your friends, you're in luck. But that's about it for drinking options, so if you want to follow up your Cantonese feast with a craft cocktail, head to Bridgeport to check out Maria's, or take in a punk show at Reggie's or jazz gig at Velvet Lounge. Here are our picks for the best bars in and around Chinatown.
RECOMMENDED: Our complete guide to Chinatown
Ed Marszewski—editor-publisher of Lumpen, festival host, gallerist and general Chicago indie-art-world guy-around-town—and his brother, Mike, remodeled and renamed Kaplan's Liquors, the Bridgeport bar that was owned and operated since 1986 by their mother, Maria. The chandeliers built out of bottles and the 300-plus microbrews are notable, but the real standout feature is the welcoming scene: People like each other here.
The go-to dive for volume and velocity, Reggie's hosts 17-and-older metal, punk, garage, power-pop and hardcore shows. For the crusty underaged, the South Side spot is a mecca. The neighboring Reggie's Music Joint hosts 21+ shows, and the attached Record Breakers sells aisles of vinyl and used CDs.
The lounge's black walls and color-shifting lights feels like walking onto the set from Tron: Legacy. The other patrons, mostly groups of Chinese Americans, are supportive of all the singers, and while the karaoke control box isn't intuitive, friendly staff and bartenders will happily walk you through the process. Want to just sing with your friends? Private rooms are $48 (prices go up after 2am) and they're clean and cozy. The food is good, so snack on fried chicken wings, beef skewers and fries. Bonus: Pop KTV opens at 2pm, so you can kick off your night by pre-gaming here.
Sakura offers a blend of Eastern and Western karaoke, with bright colors, monitors at every booth and an energetic party vibe. Drink prices and late night snacks like spicy chicken legs and lemongrass wines are moderately priced (and delicious), and there's a stage near the bar. For private parties, rent a large room for $60 an hour (it has its own private bathroom!) or opt for the $25 a head cover charge or a private room for $35-$45 an hour.
This speakeasy-esque space—a vacuous room, lined with booths and sprinkled with tables and chairs—is a nightly respite for local artists. The Tater Tots and mac and cheese are greasy must-haves—wash 'em down with a $2 PBR. There's free jazz on Mondays, and don't miss the photo booth tucked in the back corner.
The address is different (the original location was a few blocks east), but the booking policy remains the same at this pioneering venue and informal showcase for members of Chicago's trailblazing Association for the Advancement of Creative Musicians. The club, which was run by veteran saxophonist Fred Anderson before his death, concentrates on free jazz.