Discover | Find the latest releases from your favorite breweries
These city oases keep the latest seasonals on heavy rotation.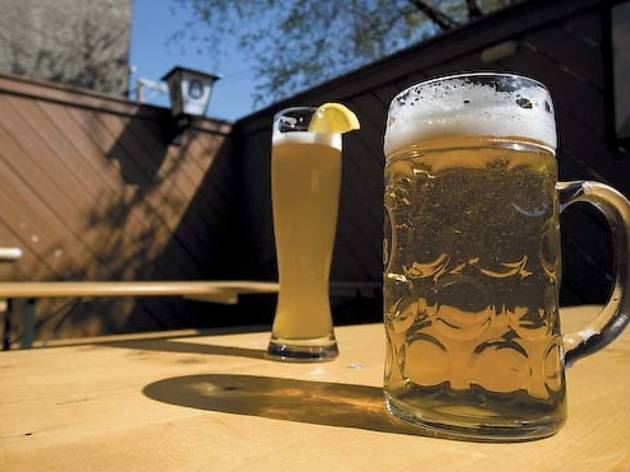 Bangers & Lace While sitting on the sidewalk patio means you can't pepper sweet and sassy beer maven Ria Neri with questions as she pulls tastes from the 32 taps, it does mean that you can feel the sun on your face and the breeze in your hair while relaxing at the decidedly least-douchey of Division Street's battalion of bars. Put yourself in Neri's hands by telling your server to bring the bartender's whim. Esoteric picks like De La Senne Equinox (a beer version of a chocolate malt) or De Proef Witte Noire (witbier gone dark and spicy) are a bit harder to pronounce than your go-to, but infinitely more impressive. 1670 W Division St (773-252-6499). Mon–Fri 2pm–2am; Sat 11am–3am; Sun 11am–2am. Average beer: $7.
Beer Bistro From the dozen sidewalk seats at this West Loop beer bar, your view is limited to cabs careening toward the United Center and condo dwellers heading home, but our focus remains steady on the rotating draft list—think local gems like the refreshing Belgian-style Two Brothers Monarch White plus at least one cask ale, recently New Holland's Mad Hatter, a hazy IPA beloved among hop heads. 1061 W Madison, (312-433-0013). Sun–Fri 11am–2am; Sat 11am–3am. Average beer: $5.
Bottom Lounge You might not think that a music venue posting bills for bands such as Wykked Wytch would also sport one of the best West Loop views of the city skyline, but head upstairs to the elevated patio and you're met with a fairly well-kept secret. The confines themselves are as straightforward as it gets (high-top tables for standing while sipping and not a planter in sight), but the beer list is as impressive as the vista, reading like a who's who in American craft brewing. To complete the rooftop experience, New Holland's Full Circle Kolsch is as easygoing-summer as it gets—like yacht rock in a bottle. 1375 W Lake St (312-666-6775). Sun, Wed, Thu 5pm–2am; Fri 11am–2am; Sat 11am–3am. Average beer: $5.
Clark Street Ale House Even regulars might show surprise at a mention of a back patio here, partly because it's hidden through a door in the rear of the room and partly because it's tough to get past the bar without stopping for a spell. The draw? Some of the most current taps in town starring small-batch brews that rotate with the season, from Bridgeport's Hop Czar (an imperial IPA) to Southern Tier's Phin & Matt's (a floral pale ale). If there's a limited run of a local cult favorite, chances are you'll find a keg of it here. 742 N Clark St (312-642-9253). Mon–Fri 4pm–4am; Sat 11am–5am; Sun 11am–4am. Average beer: $6.
Haymarket Randolph Street couldn't get busier these days, making this sidewalk patio a prime people-watching spot. Brewmaster Pete Crowley sweetens the deal with a solid lineup of freshly brewed beers, including the dry-hopped abbey-style dubbel Mother Jones for those who like it strong and sweet. Keep an eye out for collaborative brews with local chefs, such as the grapefruit and maple–laced Girl and the Goatee ale, the synergistic output of Crowley and chef Stephanie Izard. 737 W Randolph St (312-638-0700). Sun–Fri 11am–2am; Sat 11am–3am. Average beer: $5
Uberstein Does your idea of outdoor dining include rowdy Cubs fans seemingly impervious to their losing record and bad pickup lines? Snatch up a picnic table at the Lakeview location of this Teutonic chain. On the hunt for an escape from the commercialized hipsterdom that is Wicker Park? The North Avenue outpost's secluded back patio is up your alley. Either way, branch out from your usual for warm-weather stunners like the bright and light Brooklyn Summer or North Coast's soft golden PranQster. 1745 W North Ave (773-252-6053). Mon–Thu 5pm–2am; Fri 3pm–2am; Sat 11am–3am; Sun 11am–midnight. 3478 N Clark St (773-883-0300). Thu 5pm–2am; Fri 3pm–2am; Sat 11am–3am; Sun 11am–11pm. Average beer: $7.