Drink This Now: Only Child Brewing's Eat Your Damn Vegetables
The former beer director for the Grafton now runs one of the city's smallest breweries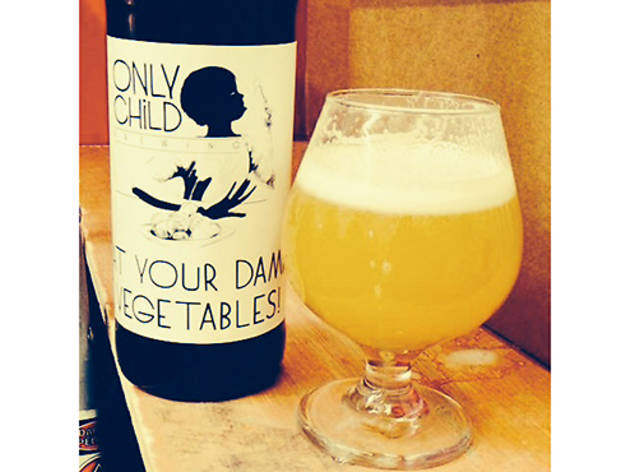 As we approach the city's biggest craft beer event—Chicago Craft Beer Week—it only seems fitting to look at one of Chicagoland's smallest operating brewers: Only Child Brewing.
Actually, owner/brewer Ben Rossi puts its size on a grander scale.
"We're probably the smallest operation in the state," he says. Rossi brews a single barrel at a time and fills his 4bbl fermenters with two consecutive double brew days a week. It's a near-constant effort for Rossi and his wife, Amanda, to keep up—other than some helping hands from friends and family members, it's a two-person show. "I don't have a Napoleonic complex. I'm perfectly fine being the little guy. I enjoy it, actually."
While Only Child launched in Northbrook late last year and is only seven months old, it's cranked out 17 different beers, including childishly named offerings like Attention Hog, Peekaboo and MINE!
OCB's newest offering, Eat Your Damn Vegetables, is just days old. It's named for the plethora of hops that are used, including Summit hops, which have been said to have vegetal, even oniony flavors. I didn't catch that, personally, but I did find a nice, light, yellow-gold beer with a big grassy aroma mixed with fruits and melon. The flavor is an array of bright but not overwhelming hop bitterness, and bright citrus and hay give way to big mango and orange rind flavors.
"I hopped the living shit out of it," as Rossi puts it, which is clear—the malt and yeast characteristics stay well out of the way, leaving you awash in just wheat and fruit and a persistent tail of earthy herbal (and, okay, maybe a little vegetal) sharpness. If an almost-too-easy-drinking springtime hoppy wheat ale isn't to your immediate liking, give it a couple weeks—Rossi will have something new for you on the shelves shortly.
Bottles of Only Child can be found at bottle shops around the city and suburbs (Downers Grove, for some reason, adores Only Child) and is pretty reliably on tap at The Grafton, where Rossi served as beer director before making the full-time jump into brewing. While they scout sites for a taproom near their Northbrook brewery, say hi at a CCBW event at Standard Market Grill on May 16, featuring Transient, Aquanaut, and two more established breweries strikingly similar in production style to Only Child: Spiteful and Pipeworks.