Drink This Now: Spiteful Brewing's Imperial GFY Stout
A new beer from the Ravenswood brewery packs a very bitter punch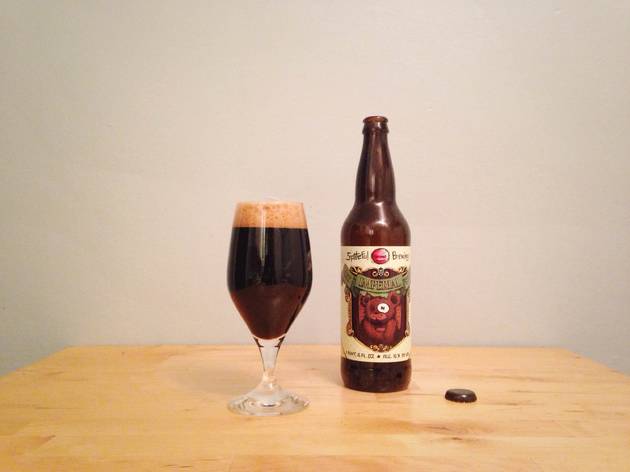 Last week's last-gasp snowstorm means we aren't quite done with winter yet and we're not yet done quaffing big, hefty stouts. As such, we turn our attentions this week to Spiteful Brewing, part of the growing brewing network on the Ravenswood Corridor, and their new Imperial GFY Stout.
This beer is a larger, more-in-charge version of the very first beer they released at the end of 2012. Brewer and founder Jason Klein tells me that though the original GFY is generally listed online as an Imperial stout, that's an inaccurate assessment. It's more of a strong stout.
Beyond the cartoon bear flipping you the bird on their first bottle, you may remember that Spiteful was notable early on for being a tiny brewery. Crammed into a small building on a side street near the Metra tracks and the El, they're still small, working on a 2.5bbl system in about 400 square feet of space. But with brewers like Only Child working on a single barrel system and other grown-up homebrew setups like Marz Community coming out with their own nano productions, Spiteful's output of more than two dozen different beers starts to look macro in comparison.
Spiteful is in the process of adding five 7bbl tanks, which will effectively double their capacity. That will put them on the cusp of 1,000 barrels by the end of 2014, and they produced just over 400bbl in 2013. Most of it stays close to the North Side but some bombers make their way as far as Naperville and Lake Zurich. More tanks means more beer and more places than can carry it, including the IGFY.
The beer is very smooth and more than a little sweet for such an "abrasive" stout. It pours thick but not to the point of being motor-oil-viscous; it offers just a little smear of espresso-crema foam atop that disperses pretty quickly. The aroma is coffee, leather, earth and roast; the mouthfeel is akin to marshmallow fluff cut with porter.
Flavorwise, it's dry, roasty and well-balanced with a little port wine flavor moving into red grape territory on occasion. It's a flavor I've encountered in some of the darker Bell's beers. It's dry on the finish with a super long tail and as it warms up it borders on sour, which cuts through the initial sweetness from residual sugars. It's very bitter on the finish though—you might find yourself asking yourself, "is that hops or malt?" It's actually a heaping portion of roast barley, which adds abrasiveness and dryness along with a sharp, almost piney bitterness.
The original GFY was an easy drinker, a light-bodied beer, but this one is much more of a sipper, a no-rush kind of beer, with a longer, slower bitterness. Even the long tail sticks around with a half-hour stretch of bitterness as if to say, "Nope, not goin' anywhere. Deal with it." Klein tells me they amped up the original recipe, which makes it 10% ABV versus the original's 8%. It's surprisingly noticeable, though there isn't any sharp alcohol harshness to the IGFY.
Twenty-two-ounce bottles of the IGFY are currently available, and I'd be curious to see what the bitterness of the roasted barley does after a year or two in the cellar-perhaps the bitterness would back off to "Go Frick Yourself" levels.