Drink This Now: Two Brothers' Domaine DuPage
Domaine DuPage is a classic, and there's a reason why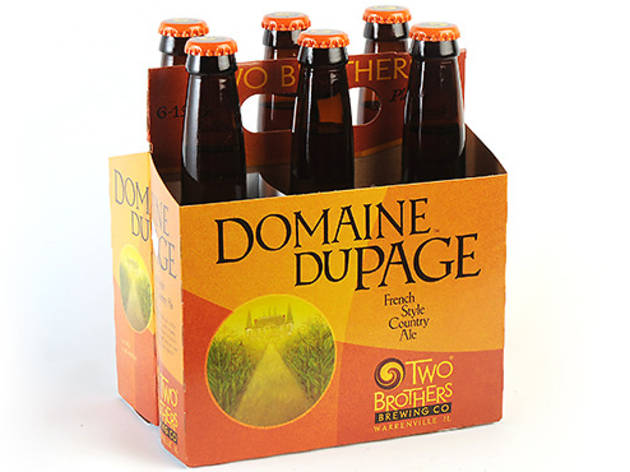 I'm as guilty of it as anyone: chasing the shiny new thing, tracking down the first bottles or draft pours from the newest brewery, or grabbing the annual release of a sought-after seasonal at the expense of ignoring the standards. I was reminded of that earlier this week when nine Illinois breweries were honored with medals at the World Beer Cup awards in Denver.
Rather than giving the accolades to only new breweries with crazy beers, they rewarded the old guard pretty well. Piece Brewery, opened in 2001, took two medals. Rock Bottom - Orland Park, whose parent chain is nearly two decades old, took one, as did Haymarket, run by former Rock Bottom brewer Pete Crowley. Two Brothers, which brothers Jim and Jason Ebel opened in 1997, earned Gold in the Belgian or French Style Ale category for their Domaine DuPage.
Horse Thief Hollow earned a medal along with downstate's Triptych, both fresh faces. However, earlier this week the Denver Post had a very interesting piece asking if new craft breweries have a quality problem, which only served to resonate my thinking about these longtime year-round releases from the old-guard craft brewers.
Domaine DuPage is a biere de garde, a style from Northern France traditionally brewed as farmhouse beers during the winter and spring and held for later. It's darker, deeper and stronger than a regular farmhouse ale, and when I tried it this week after a few years away, I was reminded that this is an excellent introduction to the style. Amber-brown with a wispy light head and beautifully clarified with a little buzz of carbonation, this beer is subtle, balanced, friendly and sweet.
Grain and mild sweetness define the nose while the flavor starts with rich dry toffee, caramel and a rich nuttiness that other legume-centric beers could do well to imitate. It's certainly hearty, but not so dense that you couldn't crush one in June, and it's definitely got more body than any of the French imports that I've stumbled across at bistros around Chicago. A barely-bitter little kiss of allspice and hop bitterness finishes this off, and a nice lingering slightly sticky brown-sugar-sweet flavor remains to carry you into the next sip.
It's a beer that doesn't blow out the margins, which is perhaps why people don't pay it much attention these days, but it certainly does deserve it. While I'm not in love with some of Two Brothers most recent forays into the weird stuff, it's worth pointing out that an understated, rock-solid classic style can quietly kick ass.
On top of their coffee roasting business and homebrew store, the Ebel brothers recently announced they're getting back into the distribution game in Arizona, and are batting around the idea of establishing a Two Brothers Brewery West in the same state. Should that happen, you'll likely be hearing about folks in California and Oregon discovering this brand new awesome brewery called Two Brothers from somewhere in the sticks called Warrenville, and hey, put down that Hopslam, isn't this Domaine DuPage good?
Photograph: Artizone