Food at sports bars
Sports bars with great food and beer.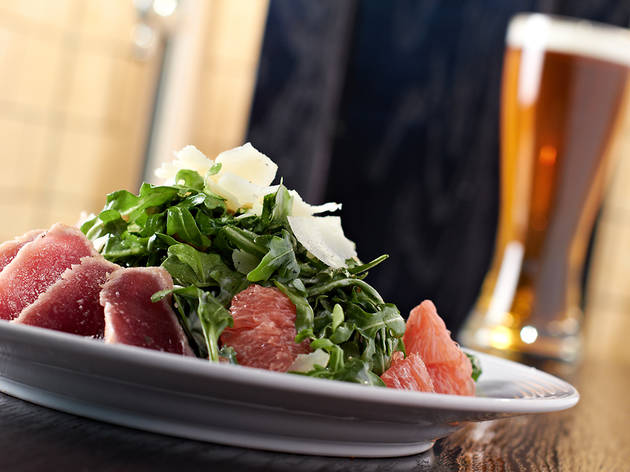 1/3
Photograph: Jason Little
Arugula and Tangerine salad with Goose Island Beer at Public House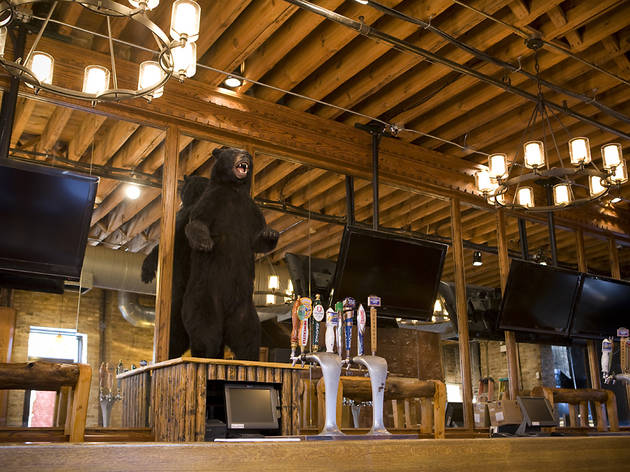 2/3
Photograph: Martha Williams
Frontier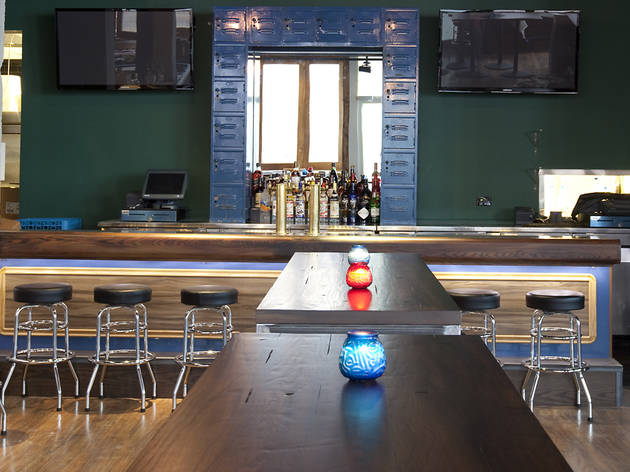 3/3
Photograph: Martha Williams
The Anthem
One of the upsides of the gourmetization of everything is you no longer have to choke down crappy wings to root for the home team at a sports bar. At Frontier, for example, a North Woods–style tavern in Noble Square, not only can you order fresh oysters ($2.25–$3.25), but your server will be able to describe the nuances of East Coast versus West Coast varieties. The burger ($11), Slagel Farm beef ground by the Butcher & Larder, is juicy perfection, and the lollipop wings ($9) ➊, breaded chicken drizzled with housemade buffalo sauce and ranch dressing and clinging to a tiny bone, make eating this classic sports-bar grub a more civilized affair. The beer list includes local favorites (Two Brothers, Goose Island) plus some surprises, such as Cali brewer Bear Republic. Oh, and there are a lot of TVs if you can tear your eyes away from your food.
But screw TVs: The Anthem has a projection screen covering an entire wall—there's no better place to watch a Bulls game. Rare is a sports bar that plays Lykke Li and New Order during commercial breaks, and rarer still is one that serves luscious pork belly sliders ($4 each) ➋ and meaty wings with scalp-sweatingly hot Cholula-buffalo sauce ($9 for six). Cans dominate the beer list, in both watery (Hamm's, $4) and craft (Ska's Modus Hoperandi, $5) varieties.
Sometimes you just want a salad with the game. No? You will after trying the arugula and grapefruit salad at River North's Public House ($9) ➌, with peppery greens complementing the bittersweet grapefruit, shaved fennel giving depth and toasted pistachios adding crunch. And just to show its range, Public House, which manages to affix TVs to nearly every surface and still seem classy, also serves incredible fries: crunchy on the outside and not too greasy. On the miles-long beer list, the precious-though-helpful icon key breaks down flavor profiles (a bunny means hoppy!), and includes Bell's Hopslam, rarely found in Chicago.
PERFECT PAIRINGS
➊ Bear Republic Racer 5 ($6), a hops-heavy IPA
➋ Brooklyn East India Pale Ale ($6), a lightly hopped IPA
➌ Goose Island Public "House" brew ($9), changes monthly