Journey | The suburbs are for beer garden lovers too
Venture out to the wild blue yonder for a suburban spot in the shade.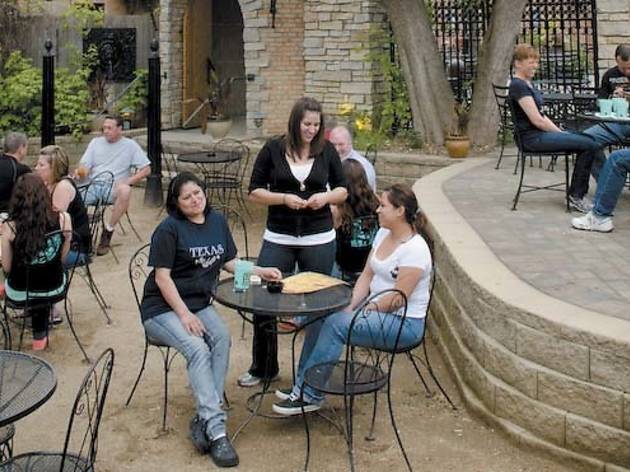 Bandito Barney's Beach Club and Bordello Castle turrets, medieval arches and a waterfall make this 10,000-square-foot space the king of suburban beer gardens. The patio, an extension of the 116-year-old building that houses the bar, borders the Fox River Bike Trail and hosts live tunes on weekends. 10 N River St, East Dundee (847-426-7300). Sun–Thu 11am–1am; Fri, Sat 11am–2am. Average beer: $6.
The Landmark Inn North Shore softball teams and just-off-the-train white-collar workers mingle at this historic, everybody-knows-your-name spot in downtown Northbrook, filled with no-frills plastic chairs, tables and umbrellas. 1352 Shermer Rd, Northbrook (847-559-1919). Sun–Fri 11:30am–2am; Sat 11:30am–3am. Average beer: $5.
Onion Pub & Brewery You just might see the cooks grilling hops on the lush outdoor patio of this microbrewery and restaurant, which overlooks a landscaped quarry pond. And don't be surprised if you see critters, like otters or cranes, amble by. 22221 N Pepper Rd, Lake Barrington (847-381-7308). Tue–Thu 11am–11pm; Fri, Sat 11am–midnight; Sun 11am–8pm. Average beer: $6.
FitzGerald's The tent-covered patio at Fitz's is often populated with smokers and those looking for a breather from the crowds indoors. During the summer months, it's where bluesy and rootsy acts like the Waco Brothers or Kelly Hogan hold court. 6615 Roosevelt Rd, Berwyn (708-788-2118). Tue–Sat 7pm–2am; Sun 5pm–2am. Average beer: $5.
Maya Del Sol Just steps from the Green Line, this Latin American restaurant's outdoor dining area feels like an urban, backyard nook. Festooned with strings of white lights and flowers and featuring a fire pit, it's a pleasant place to sit outside and sip a microbrew or one of the signature margaritas. 144 S Oak Park Ave, Oak Park (708-358-9800). Mon–Thu 4pm–10pm; Fri, Sat 4pm–11pm; Sun 9am–9pm. Average cocktails: $9.
Jimmy's Grill Jimmy's large beer garden is on the busiest corner in downtown Naperville, making it a top spot for people-watching. On Sundays, recovery is that much easier with $3 beers or a $5 Bloody Mary bar. 245 S Washington St, Naperville (630-548-2500). Sun–Thu 11am–1am; Fri, Sat 11am–2am. Average beer: $5.