Know your bartender: Griffin Elliott at Sepia
Six questions for Griffin Elliott, the new bartender at this West Loop restaurant.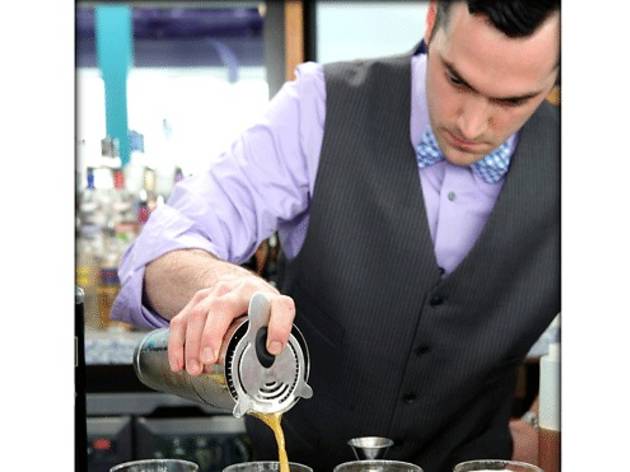 When we were putting together our list of "iconic" Chicago cocktail bars a couple months ago, it seemed obvious that Sepia would be on the list. Just one thing: It's not a bar. And that's what makes this West Loop spot so unique. Though it is expressly a restaurant, Sepia has always had an exceptionally strong committment to its bar program, which began with Peter Vestinos and continued through Josh Pearson. Pearson ecently passed the torch to Griffin Elliott, an alum of BOKA and Scofflaw. Just who is Griffin Elliott? We asked him six questions to find out.
RECOMMENDED: Know Your Bartender interviews
Define your cocktail-making style in three words.
Clean, complex, seasonal.
Who are your mentors?
My mentor is Benjamin Schiller. He provided me with the skills, knowledge and work ethic I have today. I also learned a great deal about cocktails from Danny Shapiro, too. I consider myself very lucky to have been able to work with two awesome people and bartenders.
What's the most important skill a bartender should have?
I believe the most important skill a bartender should have is creativity. Not only how to come up with new drinks and incorporation of ingredients, but how to bring in new guests and create new regulars.
What's your dream day/night off?
My dream day off is pretty simple. Grab a big lunch outside somewhere, Big Star perhaps. Get a good bike ride in at some point. Make dinner at home. Then just laying low with my girlfriend and her kitten.
Tell us about a drink you're adding to the menu and why people should drink it now.
Trade Secret is a drink I'd like people to enjoy know. Think gimlet format with fresh celery juice, egg white and a subtle presence of green chartreuse VEP. It's refreshing and is a nice cocktail for the spring to summer season.
Complete this sentence: Malort is…
…loved and hated equally.