Love | Looking for love in all the right places
Okay, maybe love is overstating it. At these bars, you're more likely to encounter lust. But you never know where these flings are going to lead….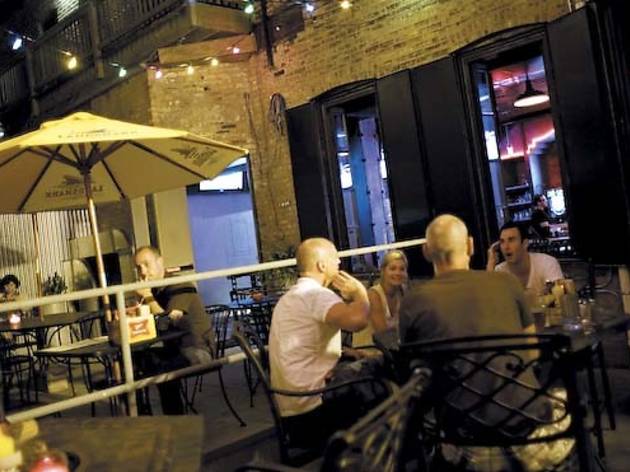 D.S. Tequila Company If you've been to minibar, you know that owners Stu Zirin and John Dalton are no masters of subtlety. Witness, as further evidence, their more recent venture, D.S. Tequila, whose name (we're pretty sure) refers to a sex act that rhymes with "flirty" and "natchez." The interior boasts neon, corrugated metal and douche-rock such as "Life Is a Highway," plus a menu of boozy frozen margaritas and decent tacos and burgers. The only thing understated about the place is the outdoor patio, where twinkling colored lights give off a serene urban vibe. 3352 N Halsted St (773-697-9127). Sun–Fri 3pm–2am; Sat 3pm–3am. Average cocktail: $7.
Deuce's & the Diamond Club This is—we think—Wrigleyville's only enforced no flip-flops zone, so dig up presentable footwear to get in the door. Once admitted, you'll find a huge outdoor patio lined with cozy cabanas surrounding a rectangular reflecting pool complete with a waterfall (the perfect setting for, um, flip-flops). You'll also find unnecessarily loud Top 40 music echoing off two large bars, each of which offers an unexpectedly long list of craft beers, 20-ounce cocktails and martinis. Looking for the Chads with half-buttoned shirts grinding against scantily clad Trixies? They're past another bouncer and up the escalator (yes, escalator) in the dimly lit Diamond Club. 3501–05 N Clark St (773-644-5554). Wed–Fri, Sun and Cubs home Mondays 4pm–2am; Sat 4pm–3am. Average beer: $6.
John Barleycorn When young college grads move to the city, the huge lush Lakeview beer garden here is their first stop. The TVs blasting sports, greasy bar food and weekend dancing can rival any campus party on a good Thursday night. In fact, the only thing missing is the line for keg stands. 658 W Belden Ave (773-348-1570). Tue–Fri 5pm–2am; Sat 11am–3am; Sun 9am–2am. Average beer: $5.
Rockit Bar & Grill Most of the guys who go to this sporty homage to stainless steel don't seem to care what the food tastes like—it's more of a sit-on-the-sidewalk-patio, see-and-be-seen scene for them. But if they'd pay attention, they'd find gems like the perfectly golden roasted chicken. The bar ain't too shabby, either—nearly 30 types of beer are available on tap or in bottles. 22 W Hubbard St (312-645-6000). Thu 11:30am–11pm; Fri 11:30am–midnight; Sat 10:30am–midnight; Sun 10:30am–11pm. Average cocktail: $10.
Studio Paris Second-generation restaurateurs R.J. and Jerrod Melman raised the bar with the opening of this second-floor nightclub above their French restaurant, Paris Club. Tables can be secured only with bottle-service reservations; resident and touring DJs spin; and roving photographers snap black-and-whites of the scene. In warm weather, a retractable roof turns the room into an open-air deck. 59 W Hubbard St, second floor (312-595-0800). Wed–Fri 9pm–2am; Sat 9pm–3am; Sun 9pm–2am. Bottle service begins at $250.
Zella Singles looking for a classy spot love getting spiffed up in their slinkiest summer gear for a night here, where there's always going to be plenty of green: on the outdoor patio and in their wallets. Pink martinis are de rigueur for the ladies, while the guys go for cocktails and the occasional Jäger shot to work up the nerve to chat up the hotties. 1983 N Clybourn Ave (773-549-2910). Mon–Fri 4pm–2am; Sat 10am–3am; Sun 10am–2am. Average cocktail: $7.