Sable | Cocktail bar report card
Sometimes it's okay to pay $13 for a cocktail.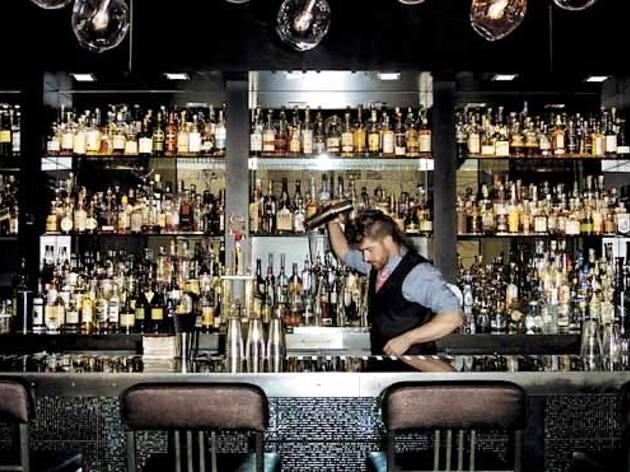 History In 2010, Violet Hour alum Mike Ryan gave downtown a place where serious cocktails were king (finally!). Sable's pages-long drink list and hundreds of obscure spirits earned the bar a spot on Food and Wine's Best New Bar list in 2011 and Best New Beverage Program honors in Time Out Chicago's 2011 Eat Out Awards.
Crowd Stylish young professionals
Minutes to get a seat on a weekend night Zero, though the room is full
Minutes to order/receive first drink 5/5
Creativity The hardcover cocktail menu boasts pages of original creations, many featuring obscure liqueurs.
Quality The War of the Roses is a sweet, refreshing mix of Pimm's, gin, St. Germain, mint and lime. Fools in Paradise makes whiskey go down smoothly by mixing it with cinnamon-infused pear brandy and citrus.
Value Cocktails are $13. Considering the drink quality and the neighborhood, the price could be worse.
Food Top Chef vet Heather Terhune turns out satisfying takes on bar food including soft pretzels with smoked cheddar-cheese dip and pork belly brick-oven flatbread.
Final evaluation There's a reason Sable is packed on a freezing winter night: quality, service and style all rolled into one winning combination. Replace the digital fireplace with a real one, and Sable would be burning on all cylinders.
Still iconic? YES