Snack | Elevate your palette with these enlightened snacks
Avoid the tired wings 'n' things with this savoir fare.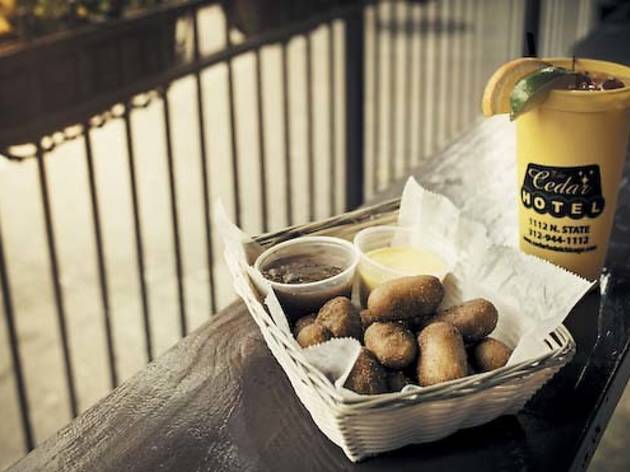 Barn & Company Rowdy college coeds playing cornhole on the patio, flirting, watching the game and slamming pitchers sound like the typical frat barbecue…add fried pickle chips and smoked mushroom artichoke dip to the mix and now you're talking. (950 W Wrightwood Ave, 773-832-4000). Mon–Fri 3pm–2am; Sat 10am–3am; Sun 10am–2am Average beer: $5.
Benchmark The perfectly lovely, modern and airy second-story patio here should help offset your belly full of beer and buffalo chicken–blue cheese wonton rolls. 1510 N Wells St, 312-649-9640). Mon–Thu 5pm–2am; Fri 11am–2am; Sat 11am–3am; Sun 11am–2am. Average cocktail: $7.
Cedar Hotel Sugar daddies and Botox babes lounging in a prime Gold Coast sidewalk patio don't eat just any bar snacks, dahling. It's Kobe in the corn dogs and plum sauce for ketchup, of course. (1112 N State St, 312-944-1112). Mon–Fri noon–2am; Sat 11:30am–3am; Sun 11:30am–2am. Average cocktail: $10.
Hopleaf It's no secret Hopleaf is among the best beer bars in the country thanks to its stellar beer menu and its adjoining beer garden, but when the new adjacent expansion is unveiled this summer, you'll have plenty of extra seats to cut the wait time for beer-perfect bites like spiced lamb meatballs. (5148 N Clark St, 773-334-9851). Sun–Fri 3pm–2am; Sat 3pm–3am. Average beer: $6.
Market You might not see Sox GM Kenny Williams chillaxing on the swank rooftop patio of this bar he co-owns, but you will see some movers and shakers, taking in the stellar skyline view and trying to close deals through bites of mac-and-cheese muffins. (1113 W Randolph St, 312-929-4787). Mon–Fri 11am–2am; Sat 11am–3am; Sun 11am–1am. Average cocktail: $8.
Owen & Engine From a rooftop communal table, surrounded by a garden's worth of greenery and illuminated by white bulbs strung overhead, you could forget you're at a British gastropub and just think you're in heaven. Wash down the unparalleled fish-and-chips with a cask ale for a proper reminder. (2700 N Western Ave, 773-235-2930). Mon–Fri 5pm–2am; Sat, Sun 11am–2am. Average beer: $7.
Rocky's Bar & Grill As tough as it is to find beer gardens in Bridgeport, you might think you've stumbled into Wrigleyville once you're in this secluded, sprawling back patio. One bite of the panzerotti and arancini (plus reminders of a World Series win within this century) and it's clear you're in Sox City. (234 W 31st St, 312-842-9200). Sun 10am–2am; Mon–Fri 11am–2am; Sat 11am–3am. Average beer: $3.
The Scout Waterhouse & Kitchen Escape the interior sports-bar trappings for the spacious rooftop patio and impressive bar snacks like crispy tempura green beans with kicked-up aioli for dipping. (1301 S Wabash Ave, 312-705-0595). Mon–Fri 3pm–2am; Sat 11am–3am; Sun 11am–2am. Average beer: $6.