The Aviary | Cocktail bar report card
Is Grant Achatz's bar still worth the hype?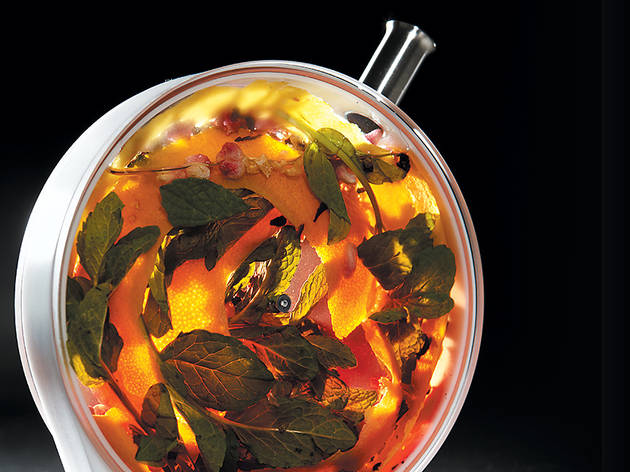 History Since Grant Achatz's West Loop bar opened in April 2011, scoring reservations—by e-mail, unless you have the secret number to text (312-972-7641)—has been a coup. No matter where the economy stands, there appears to be no dearth of food lovers clamoring to pay $14–$30 a pop for what's as much a theater performance as a well-made drink. Bartender Charles Joly took over the menu from opening bar chef Craig Schoettler in June.
Decor A glamorous cross between past (exceedingly plush carpet, ivory curtains) and future (swooping high-backed booths, egg-shaped swivel chairs). In the front, the cocktail kitchen is caged off, as if you're watching a zoo exhibit of endangered bartenders.
Minutes to get a seat on a weekend night 3, with reservations. You might get in without them, but it will likely be for a standing table.
Minutes to order/receive first drink 12/10
Creativity This bar is built on theatrics, including a Rob Roy served in a vacuum-sealed bag of lavender air, an apple set on fire at the table (the Baked Apple) and an ice slingshot (In the Rocks).
Quality The bar probably could get by on presentation alone, but it doesn't. Drinks are balanced to the last sip.
Value Yes, this is the most expensive bar in Chicago. That's why you go once a year instead of once a week.
Food Finally, some real-person-sized food! In addition to options that are barely a bite, the kitchen now offers larger items such as short-rib goulash ($16), a satisfying snack for two.
Final evaluation A terrific special-occasion bar.
Still iconic? YES