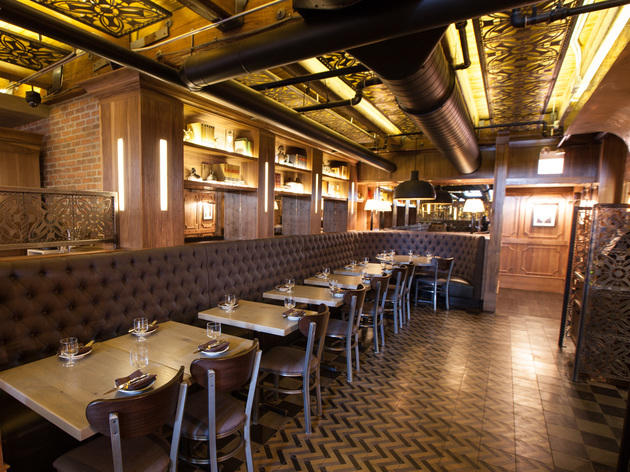 1/10
Photograph: Martha Williams
The Franklin Room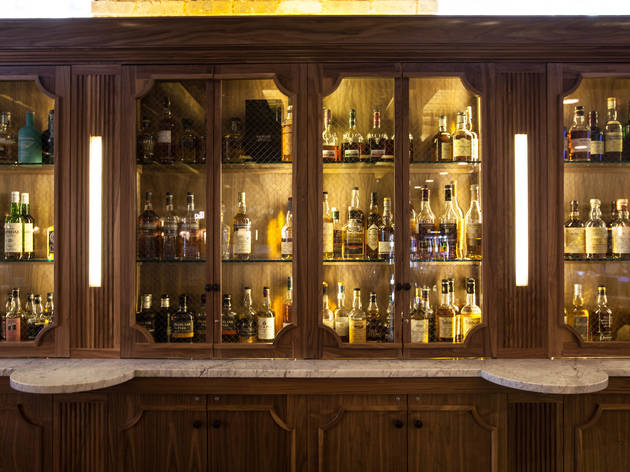 2/10
Photograph: Martha Williams
River North's the Franklin Room has an impressive booze collection.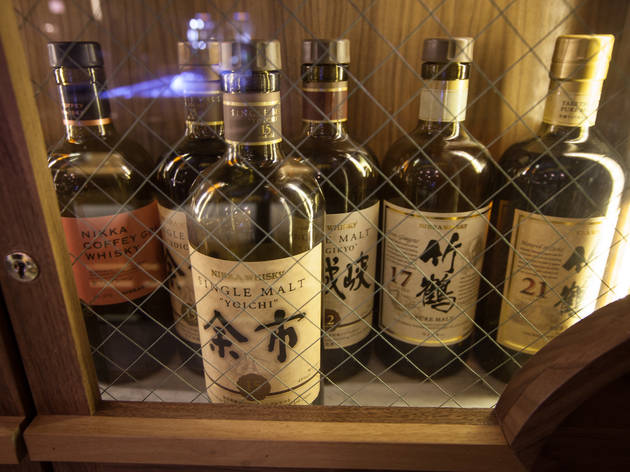 3/10
Photograph: Martha Williams
River North's the Franklin Room has an impressive booze collection.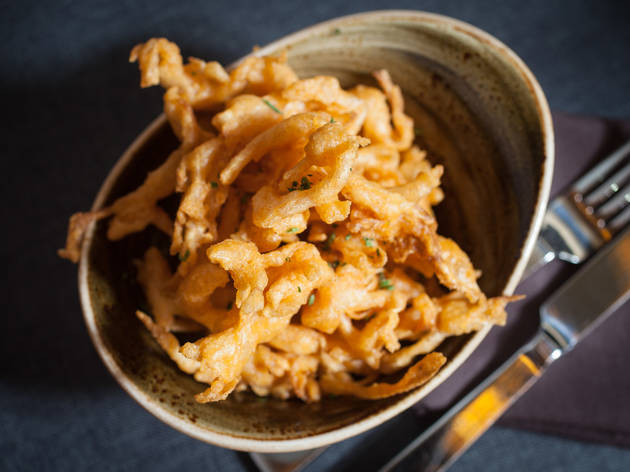 4/10
Photograph: Martha Williams
Fried ginger at The Franklin Room.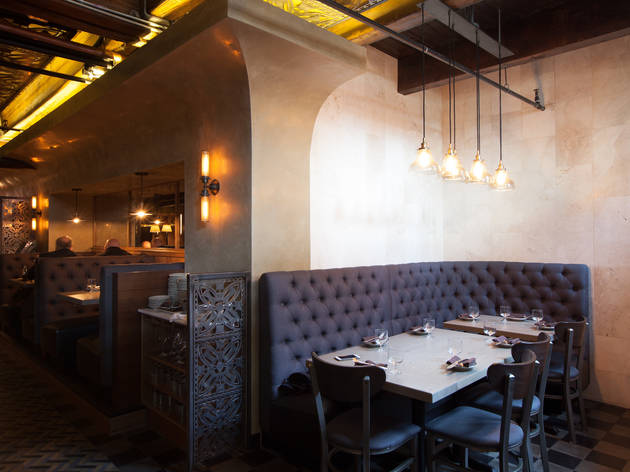 5/10
Photograph: Martha Williams
The Franklin Room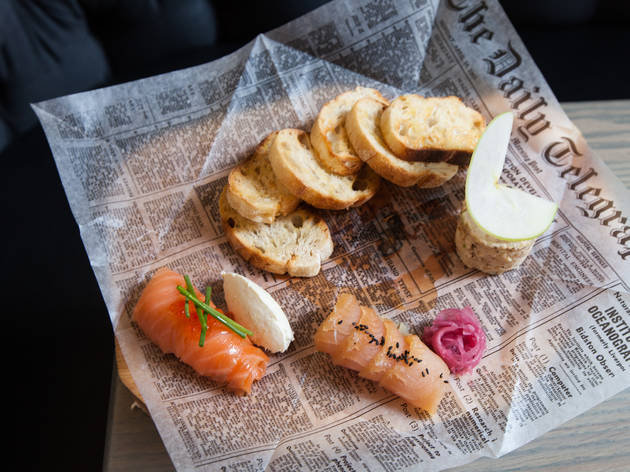 6/10
Photograph: Martha Williams
Smoked fish board at The Franklin Room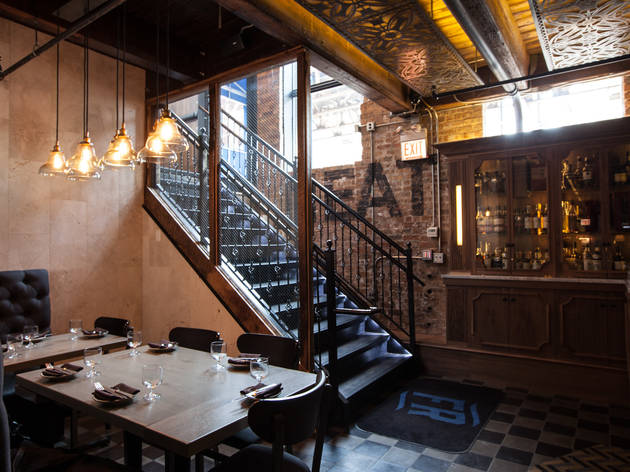 7/10
Photograph: Martha Williams
The Franklin Room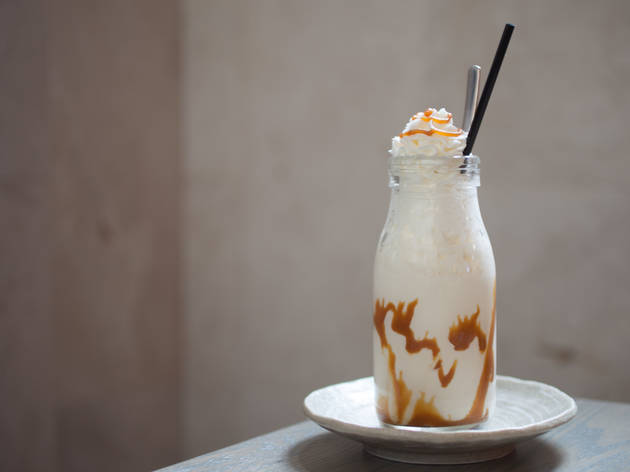 8/10
Photograph: Martha Williams
Bourbon milkshake at The Franklin Room.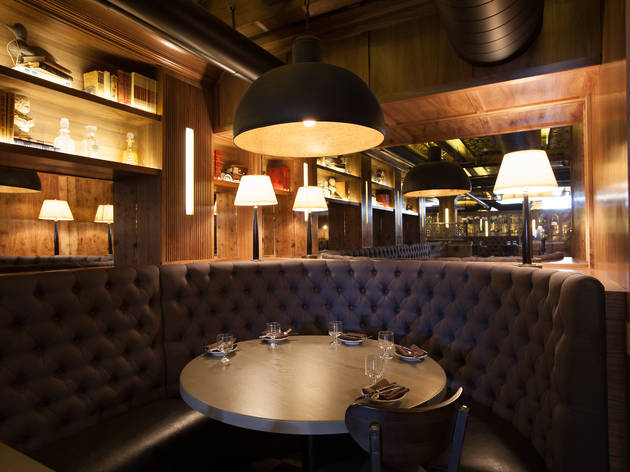 9/10
Photograph: Martha Williams
The Franklin Room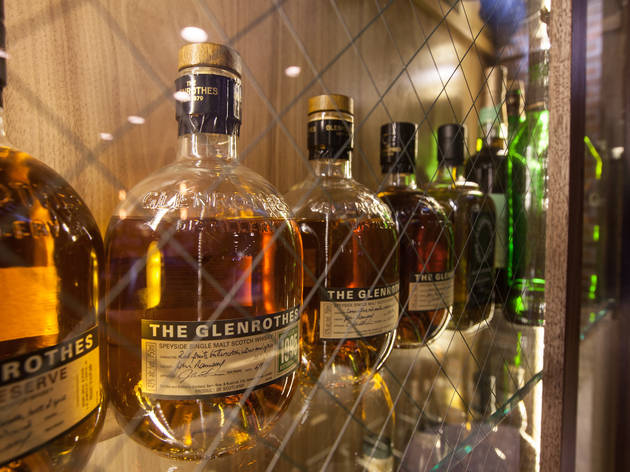 10/10
Photograph: Martha Williams
River North's the Franklin Room has an impressive booze collection.
The exceptional spirits list is the main draw, while the simpler small plates make fine bar snacks.
How you feel about the Franklin Room will come down to whether you think of it as a restaurant or a bar. If you treat it as a restaurant, you'll find a menu with an identity crisis and food that needs refining. But if it's a bar? You'll find a solid whiskey list, great service and fine bar snacks. So I prefer to think of the Franklin Room as a bar, particularly since their Twitter handle is @drinkatfranklin, and last weekend groups were hunkered down at tables for the night, drinking and not even glancing at the food menu.
The Franklin Room is from the team behind Union Sushi + Barbeque Bar, and it's similar in a few ways. The rooms are distinctive—while Union has an open, graffitied space, Franklin is below street level, with dark woods, lit-up cabinets lined with booze and bookshelves. It feels like the sort of place you want to escape to on a freezing winter night, which makes me glad it opened in the winter. Like Union, there's a list of decent cocktails, not enough to be the main draw, but fine to have while you're there. And like Union, much of the food is a mashed up amalgam of ingredients that don't make sense—while Union's menu consists of takes on Japanese cuisine, Franklin considers itself an American tavern, which somehow yields combinations like a burger topped with a soft-shell crab, whiskey-balsamic (seemingly a house specialty that's on the menu four times), a fried egg, cheddar, provolone and bacon.
Union's best dishes are the simplest, so I used that to guide me when ordering at Franklin. That meant fried pickled ginger, a bright, appealing bar snack (though I wish it came with a dipping sauce), and pancetta salad, a well-dressed plate of leaves with tomatoes, onions and tiny fried quail eggs. The smoked fish board was another highlight, with folds of salmon served with gingery cream cheese, tuna with pickled onions and a balanced trout pate. Although our server was personable and knew his whiskey, his food suggestions led us awry—cauliflower tots (just fried chunks of cauliflower) desperately needed salt, and the blue cheese dipping sauce didn't help. The mushroom risotto, a dish that completely violated my desire to order simply, looked like a Spin Art project gone awry, with sauce unappealingly splattered on a striped plate, and a bland black rice risotto topped with sticky barbecue eel. I was to blame for ordering the Reuben, though, a sandwich stacked with corned beef, sauerkraut, Russian dressing and cheese—the flavors were good, but it was too greasy to eat more than half.
Now the good news: If you're going to Franklin to drink, you'll have a good time. Besides a respectable selection of beer, the spirits list is whiskey-focused, with bottles from Scotland, Japan, India, Ireland and the U.S., among other places, and a solid selection of gin, rum and agave spirits. As a Scotch drinker, I queried our server about some I hadn't tried before—the Balvenie 14-year Caribbean Cask, sweetened from rum cask aging, and Lark Single Cask, a Tasmanian whiskey that's fruity on the nose and light and sweet on the tongue—and he enthusiastically gave me details on both. Liquors are available in 1-ounce pours and quarter bottles, and while they're pricey (some of the Japanese whiskies are a few dollars less per 2-ounce pour at Momotaro), the single-ounce option means you can order a few things. Throw in a smoked fish plate, and you have yourself an evening at one of the better new bars in River North.
Venue name:
The Franklin Room
Contact:
Address:
675 N Franklin St
Chicago
60654

Opening hours:
Mon-Fri 11:30am-2pm, Mon-Thu 5-11pm, Fri-Sat 5pm-1am, Sun 5-10pm
Transport:
El: Red, Brown to Chicago. Bus: 37, 66, 156.
Do you own this business?
Rating Breakdown
5 star:

1

4 star:

3

3 star:

1

2 star:

0

1 star:

0
Great place to tuck into after work and grab a drink with a few friends. They always have drink specials and they do a great job with having something different every week. If your in the area pop in a grab a beer and watch a game. There is always a gam on.