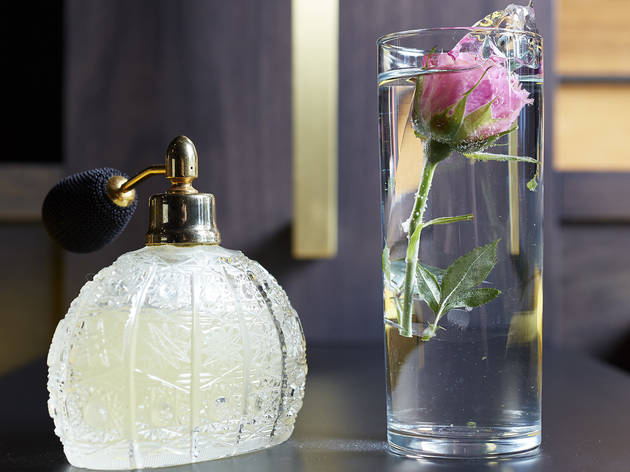 1/6
Photograph: Jason Little
Doris at The Sixth in Ravenswood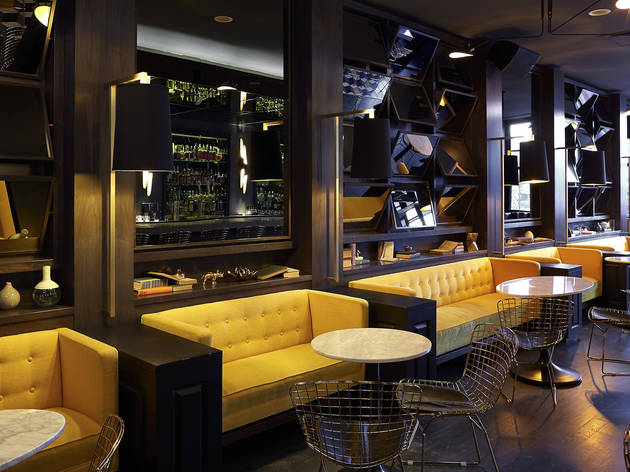 2/6
Photograph: Jason Little
The Sixth in Ravenswood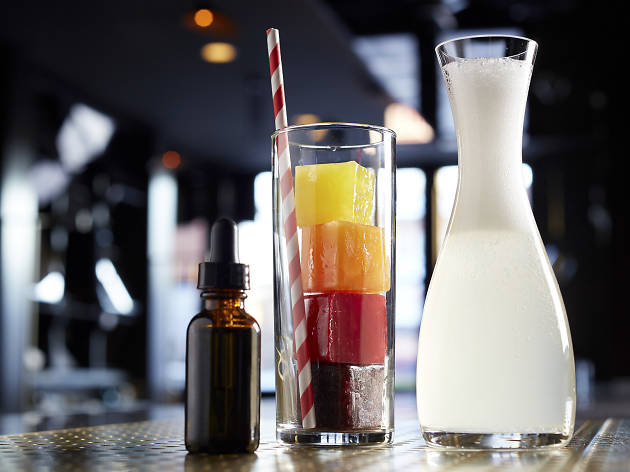 3/6
Photograph: Jason Little
Silly Rabbit at The Sixth in Ravenswood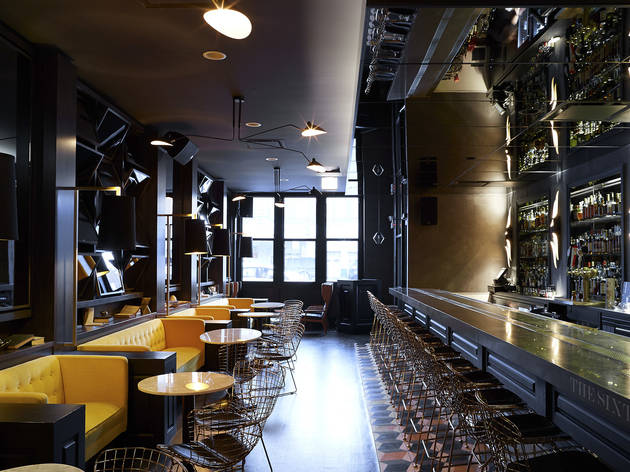 4/6
Photograph: Jason Little
The Sixth in Ravenswood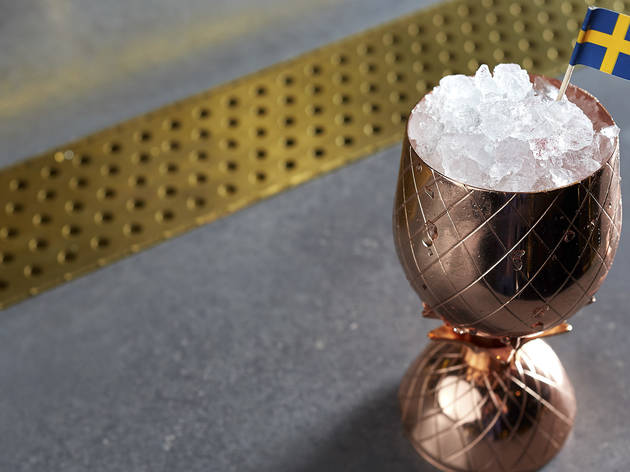 5/6
Photograph: Jason Little
Saturnus at The Sixth in Ravenswood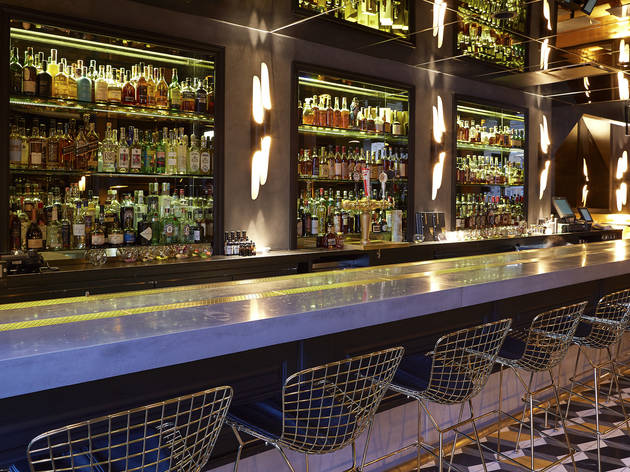 6/6
Photograph: Jason Little
The Sixth in Ravenswood
Time Out says
This new upscale neighborhood bar delivers highly drinkable, whimsical cocktails
The second cocktail bar in the Fifty/50 Restaurant Group's lineup and the sixth concept overall (hence its name), the Sixth provides Lincoln Square with some truly tasty cocktails conceived by beverage director Benjamin Schiller. And while the vibe tends toward upscale, it manages to appeal to both neighborhood locals grabbing a drink after work and outsiders looking for a well-crafted drink that balances whimsy with familiarity.
Sitting at the bar, two neighborhood residents next to me ask the bartender for recommendations—it's easy to do in the small space—and one is expertly guided to a spirited cocktail, the Weston, with wheated bourbon, Dark Matter's Unicorn Blood coffee and a whiff of pipe tobacco. Meanwhile, I start off with the Silly Rabbit, a gin-based drink with flavored (and colored) ice cubes presented in a highball and a carafe, to pour the cocktail over the ice and watch the colors slowly change.
"Is that sweet?" my neighbor asks, pointing at my drink—it isn't, it's tart and citrusy, despite colors that could tip it off as sugary. We fall into easy conversation, trying different cocktails and sharing thoughts, which seems normal at a neighborhood watering hole.
While the service is attentive and helpful (they let me hold on to my Silly Rabbit until it had all melted away), the bar isn't without its quirks. It shares a back kitchen space with Roots Handmade Pizza, which led to an awkward run-in with a Roots server asking if I knew someone ordering pizza at the bar. I didn't, and you can't. A tad confusing, but accidents happen.
The Sixth's fancy presentations may steal the show, but the cocktails provide much more than their inventive packaging lets on. It's a place where you can feel free to cozy up to your neighbor and spark a conversation, making for an experience that's worth sharing with friends and strangers alike.
Vitals
Atmosphere: At first glance, the bar feels dark and upscale, with pops of yellow in the décor. The vibe is relaxed, perfect for groups looking for a delicious drink or regulars with a flair for a cocktail.
What to eat: To my surprise, you can order off a tiny "house special" menu—a doner and frites for $14, or a side of frites for $5.
What to drink: The bar has a balanced cocktail list, all $12 each, appealing to drinkers who want something light (try the Doris, a floral and crisp concoction with a flower suspended in ice) and spirit-forward drink lovers (grab the Weston, mentioned above). A favorite was the Spaceman Spiff—served in the top of a martini glass set inside a small fishbowl decorated as a terrarium, with swirls of cedar smoke for aromatics. A mescal-based drink with grilled pineapple and hazelnut, it's smoky in flavor despite an orangey-pink color and playful display.
Where to sit: The bar is long, but grab a seat toward the end to watch the cocktails being made. Short tables line the outside for groups, and a nook with high tables hides around the left of the bar.
Details
Address:
2200 W Lawrence Ave
Chicago
60625

Transport:
El stop: Brown to Western.
Contact:
Opening hours:
Sun-Fri 5pm-2am, Sat 5pm-3am
Do you own this business?
Average User Rating
4.5 / 5
Rating Breakdown
5 star:

7

4 star:

4

3 star:

1

2 star:

0

1 star:

0
The Sixth is spectacular! Such a great & fun bar program. The cocktails are innovative, fresh, and beautifully considered. The Silly Rabbit is fabulous.
The Sixth has a fun mod vibe to it and is small and comfy. The drinks are really creative too, try the Spaceman Spiff!
a ROSE In a glass....need I say more
One of the best cocktail bars in the city. Great atmosphere with delicious and visually stunning cocktails.
The Sixth is a really cool, craft-cocktail bar and i love craft cocktails. I'm giving it three starts, because I've had better drinks elsewhere and the atmosphere is a little snobby and too pretentious for its own good. But, hands down, it's the coolest bar in Lincoln Square.
I have only been to the sixth once, but loved every minute of it. I got a silly rabbit and loved how fun the drink was. It was a little sweet, so I don't know if I could handle more than one. My friends all got something different and everyone seemed to really enjoy their drinks!
I'm from Kentucky so naturally, I'm a bourbon girl. I drink it neat, usually or with A rock. But recently I've gotten into cocktails. Good ones. Simple ones. I don't like anything too sweet, however, so my cocktail sampling is often met with displeasure in my heart. For my birthday, a friend and I decided to give the Sixth a whirl for their fancy and groovy looking drinks. I wanted to try the Silly Rabbit, because I'm a sucker for color, even though I knew it was going to be over-sweet and not my cup a' tea (or gin, as it were). I ordered it anyway and although the presentation was greatly fun and charming, I didn't like the drink. My friend ordered the Weston which was in a word: spectacular. We had to come back the next day and get Westons for the both of us. Three ingredients comprise this delightful beverage and they work together beautifully. Willet bourbon, Unicorn Blood (a coffee syrup), and a spritz of pipe tobacco aromatics over the rim dance together in perfect and dazzling unison. I'm hooked. And I can't wait to go back. They do other crafty cocktails there as well which may please the senses, but I've got a go-to and I don't think I'll stray.