These Mexican agave spirits are changing the way Chicago says cheers
There's more than just tequila—branch out and enjoy other agave spirits like mescal, bacanora, raicilla and sotol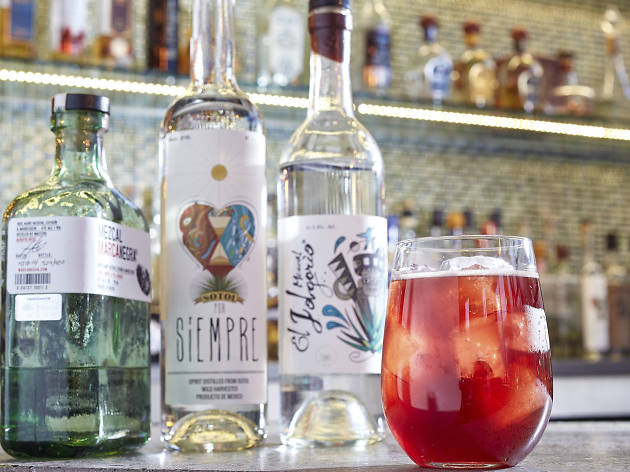 When you're toasting Cinco de Mayo, chances are you'll have tequila. Or maybe, if you prefer smoky spirits, mescal. Recently, though, bartenders have dug deeper into Mexican agave spirits, using bacanora, raicilla and sotol. The new spirits are made with agave or similar plants, and each offers a flavor profile that reflects a different region. Lightly smoky bacanora is an agave spirit from Sonora, while raicilla, an agave spirit from Jalisco, can be bright, smoky or funky. Sotol is a vegetal spirit made from desert spoon, a plant similar to agave.
The spirits are everywhere, including Mexican restaurants. Frontera Grill includes them in cocktails like Magnetic Pole Reversal, which mixes sotol with basil, cucumber and lime. You'll also find general cocktail bars, like GreenRiver, offering the spirit.
The leading agave evangelist in Chicago, bartender Jay Schroeder, recently left Frontera Grill to open Mezcaleria Las Flores, a bar devoted to the plant-based spirits in the space next to Johnny's Grill. There, he pours the spirits straight and uses them in cocktails. His favorite is sotol, which he says has "a grassy presence that's unlike anything else in Mexican spirits." He says sotol is ideal for spring and summer cocktails. "It's so bright and herbaceous, which lends it to brighter flavors."
At Masa Azul, sotol is the biggest seller after tequila and mescal. Owner Jason Lerner uses it in Sotol Cola, with Hum liqueur, lime and Mexican Coke. Lerner can build flights so people can sample a mix of agave spirits. "The wine guy in me is drawn to agave," says Lerner. "I like spirits that demonstrate terroir, and agave spirits do that. Sotol really shows you where it comes from."
At Cantina 1910, beverage director Michael Fawthrop uses bacanora in the Rosario, a trio of agave Negronis, one made with tequila, one with mescal and one with bacanora, so you can taste the difference. "Compared to tequila, bacanora has more minerality to it," says Fawthrop. "You have brightness like a chablis."
Many bartenders have said raicilla is too expensive to use in cocktails, so to try it, you should ask for a sample. "Raicilla provides an amazing amount of funk; it's very savory and aromatic," Fawthrop says. He recommends it in an old-fashioned with a hint of agave.
Each bar can also pour straight tastes or craft off-menu cocktails. "I love stirring agave spirits," says Lee Zaremba, bartender at Billy Sunday, who recently served sotol in a hot toddy. "They have a reputation for being in shaken applications, but stirring them showcases the spirits. They're nuanced, beautiful, delicate spirits, and we like to show them that respect."
Zaremba stresses the importance of setting aside preconceived notions about agave spirits. "People say all the time, 'Oh, I drank too much tequila in college,'" he says. "So it's great to be like, 'This isn't tequila.' It's a great intro to agave."