Trending: Sherry cocktails
Chicago bartenders are fanatical about the Spanish fortified wine. Here's a primer to understanding all the styles plus 11 cocktails to try.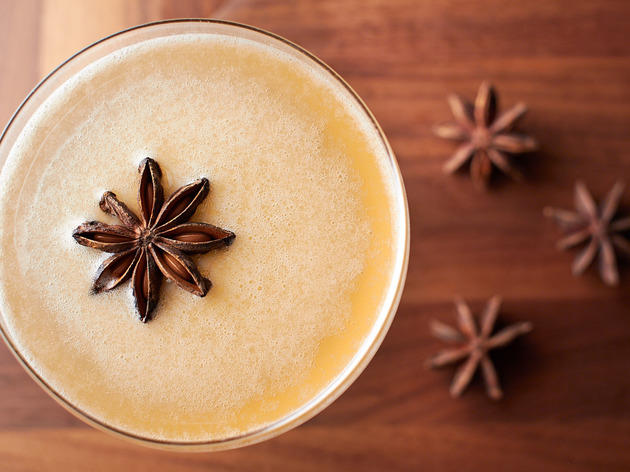 1/12
Photograph: Jason Little
Fino: The light, dry sherry has nutty notes and Mendez says it can take the place of an aperitif wine at the table. Classic pairings are with jamon and anchovies. Drink it: Dusty Boots at the Whistler It's made with fino sherry, reposado tequila, demerara rum, orgeat, honey, lime and star anise. "The fino sherry we use is light and crisp, yet bold and nutty with a touch of citrus and minerals," the Whistler's Billy Helmkamp says. "These qualities compliment and enhance the other flavors presented in the cocktail without adding too much sweetness as some other styles of sherry might." The Whistler was an early adopter in terms of sherry. "We're crazy about sherry," Helmkamp says. "In fact, I don't think a day has passed in 2+ years where one couldn't find sherry featured on our cocktail menu. The Bodega Buck, for example, has enjoyed a long run as our $6 cocktail option. That one features bourbon, dry oloroso sherry, honey, lemon, ginger ale and Angostura bitters."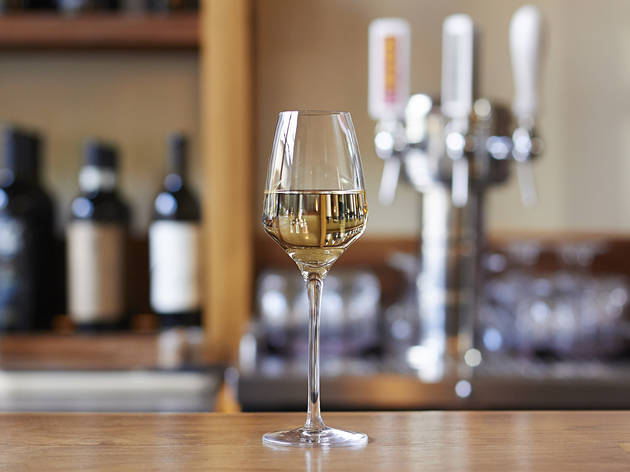 2/12
Photo: Jason Little
Manzanilla: The dry sherry is a fino that's produced only in Sanlúcar de Barrameda, a city in Jerez. Drink it: Vera has a manzanilla-style sherry on tap. "This wine has been aged for three years and is completely clear," Mendez says. "It is a perfect example of biological aging." She says that she likes to start sherry newbies with manzanilla, "especially if they have not tasted finos before. Manzanillas tend to have more roundness and richness and they are more delicate and less bracing then fino counterparts." Mendez uses also sherry in two cocktails, a sherry toddy, and a "sherry refresher," with soda, lemon or lime and simple syrup.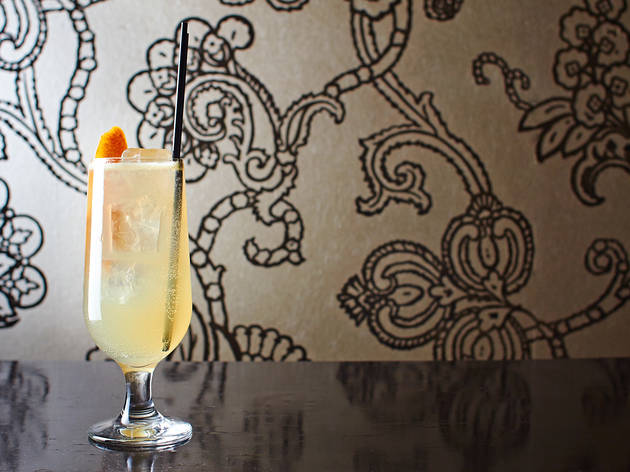 3/12
Photograph: Jason Little
Amontillado: The dry sherry starts as a fino under flor and then becomes an amontillado. "Amontillado takes the place of white wine at the table especially in those hard to pair foods like asparagus, artichokes and Brussels sprouts because they have that tannic quality," Mendez says. "It's crazy how well amontillado pairs with those hard to pair foods. It's really great with cured meats as well." Drink it: The Dirty Streisand, Barrelhouse Flat "I chose amontillado sherry because I find it particularly difficult to work with," said Barrelhouse Flat's Mark Brinker. "Sweeter sherries I find it's easy enough to use them how I might use a sweet vermouth or other aromatized wine like Cocchi Americano or Port, but the dry nuttiness of amontillado sherry is something really unique in cocktails." Brinker says that he wanted to see how it would work with absinthe. "I found I liked the way they played off each other, the sherry absorbing some of the aggressive licorice flavor of the absinthe, and the absinthe adding an almost chocolatey richness and complexity to the sherry."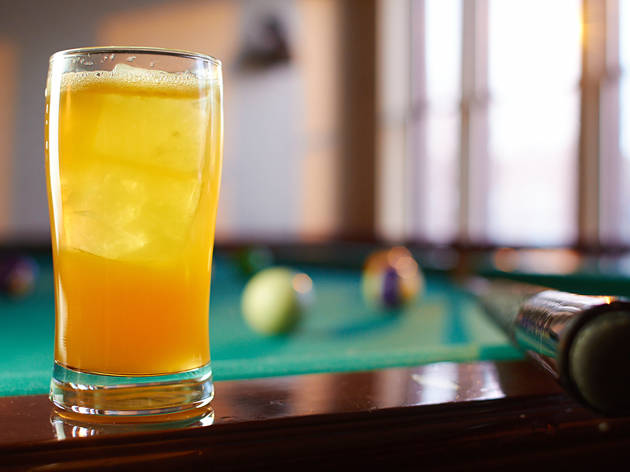 4/12
Photograph: Jason Little
Drink it: Tiffany Amber Thiessen at Barrelhouse FlatAmontilllado "complemented rye very well, playing on the toasted, honeyed, woody notes," Jessica Tessendorf says. "It provides great nuttiness and slightly dries out the cocktail," which also includes two types of rum, lime, cane syrup, orange bitters, sparkling wine and lavender tincture.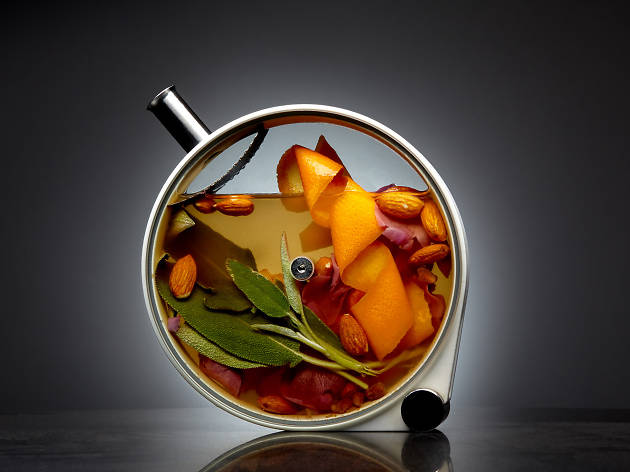 5/12
Photograph: Christian Seel
Oloroso: Mendez says the dry wine can take the place of red wine at the table. Oloroso works with "anything with a umami factor like mushrooms or game meats."  Drink it: Insane In The Membrillo at the Aviary "We started with the quince portion of it, and since it's not worth much on its own, we started poaching it in all sorts of spirits and verjus and sherry and the two that we liked the best were oloroso and verjus blanc, and we ended up using both of those in the finished cocktail," Aviary beverage director Charles Joly says. "We have representations of every style at the bar, and when I work in the Office I regularly use it in cocktails."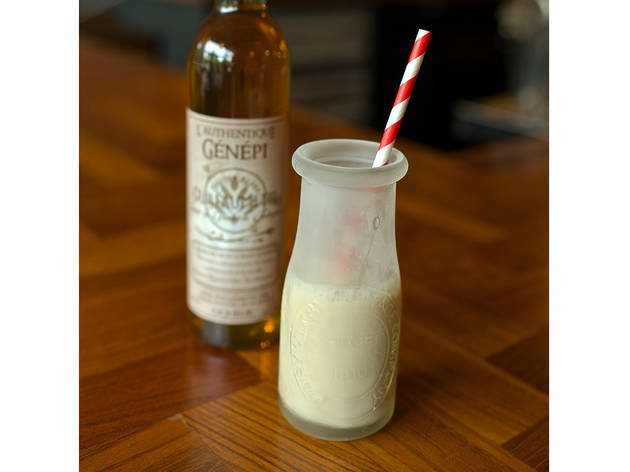 6/12
Photograph: Matthias Merges
Palo Cortado: The dry wine begins as a fino and then spontaneously loses its flor and becomes a palo cortado. "It has the dryness of a fino but the richness of an oloroso," Mendez says. Drink it: Box Lunch at Billy SundayThe sherry "was an awesome inclusion," says bartender Alex Bachman, noting that it establishes the acidity but also "the toasty, nutty, hazelnut" notes that pair well with the oatmeal in the milk. "That drink would not be where it is today if it wasn't for the sherry," he says. "We wouldn't have put it on the menu. The sherry helps to reinforce the lactic acid in the milk."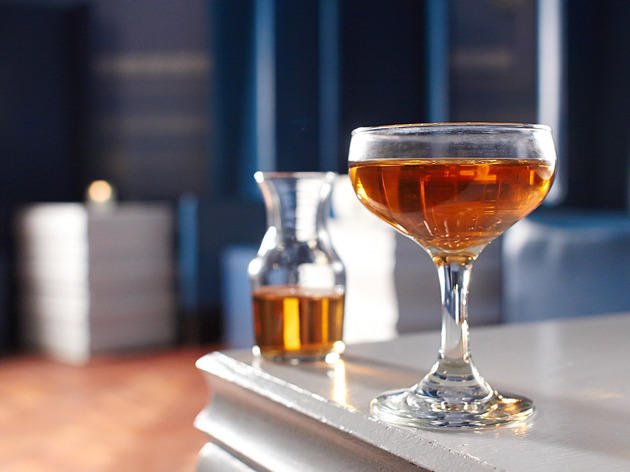 7/12
Photograph: Jason Little
Drink it: Abattoir Road at the Violet HourThe drink uses palo cortado, rum and Herbsaint. "In the case of dry sherries, you're probably using them where you would use vermouth in a cocktail,"  says Rachel Thompson, who handles the beer and wines lists at the Violet Hour. "That's what we're doing in the Abattoir Road, which is a rum drink. In this particular drink, the nuttiness of the palo cortado pairs nicely with the rum and Herbsaint, so you're getting more complexity than you would with dry vermouth."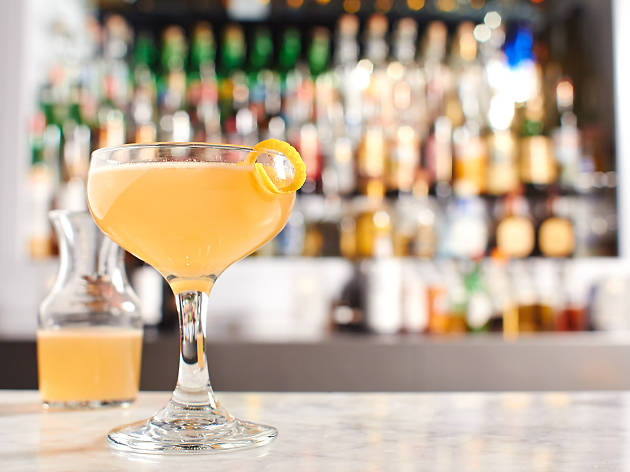 8/12
Photograph: Jason Little
Just Like My Papa at the Violet Hour"Palo cortado is a dry sherry and it's also really complex and nutty," Thompson says. "In the Just Like My Papa, we also use amaretto to highlight the nutty notes. The rest of the drink, with tequila and orange bitters, is a margarita variation, and the sherry and amaro make it almondy and nutty."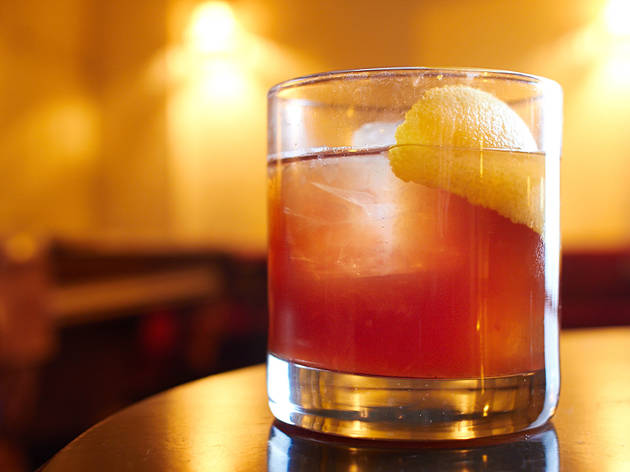 9/12
Photograph: Jason Little
Cream: It's a sweet sherry made with oloroso sherry. Drink it: Violet Beauregard at Barrelhouse Flat Tessendorf uses Lustau India Solera, which is a cream sherry, with Weller 107, Smith & Cross, Cinnamon syrup, lemon, angostura, absinthe and muddled strawberry. The sherry "is the base spirit, and is highlighted by bourbon and rum," she says. "Sweeter than the amontillado, it pulls double duty as a spirit and sweetener."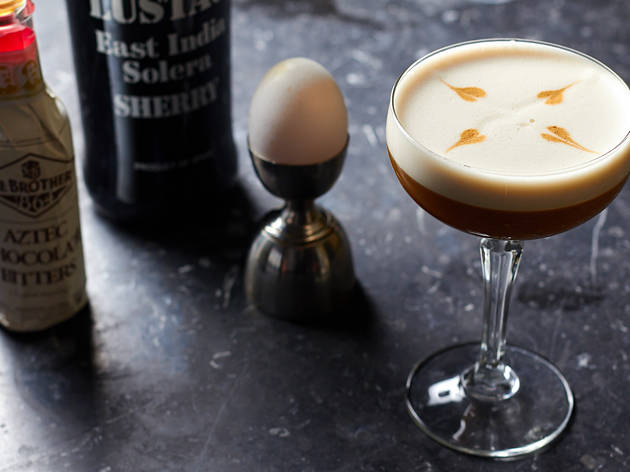 10/12
Photograph: Jason Little
Drink it: Yesterday's Gone at Drumbar"In the Yesterday's Gone, if I used PX Sherry instead of East India, it would be far too sweet and rich on the palate," Drumbar head bartender Alex Renshaw says. "East India adds just the right amount of richness then dries out to complement the rum in this cocktail. Lustau East India is a blend of sweet and dry sherry so it brings a medium-rich, nutty flavor."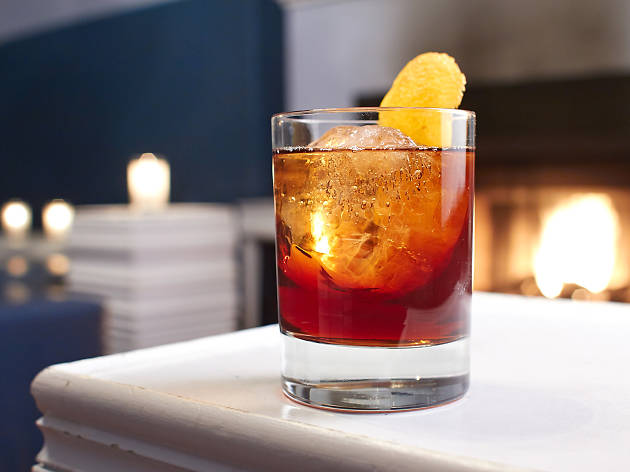 11/12
Photograph: Jason Little
Pedro Ximénez: The sweetest sherry, Pedro Ximénez (commonly called PX), is made with grapes that are allowed to turn into raisins before being made into wine. Drink it: The Tempest Wild at the Violet Hour"We're using Pedro Ximenez in the Tempest Wild, and that's a sweet sherry," Thompson says. "I'm using the sherry in place of the sweetener in the drink, and while it adds sweetness it also adds complexity and deep, figgy, raisiny notes." The drink also includes Scotch, rum, amaro and bitters.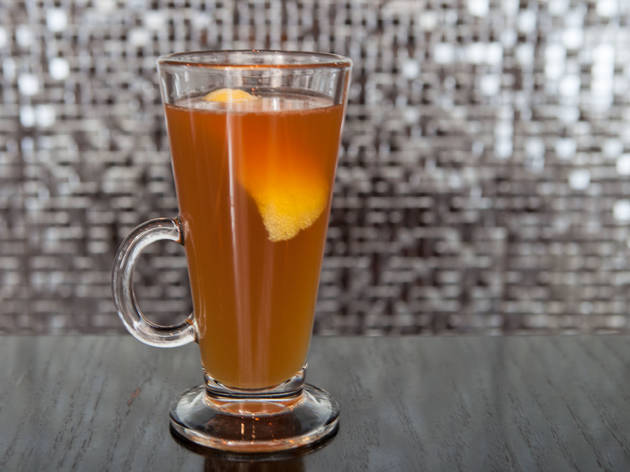 12/12
Photograph: Martha Williams
Drink it: Bear Medicine at Sable Kitchen and Bar"Bear Medicine is served hot and we're using Tomintoul, which is a peated edition of the Speyside whiskey, maple syrup, Pedro Ximénez and lemon," bartender Mike Ryan says. "Pedro Ximénez is one of the sweetest wines in the world. The grapes are picked when they're dried and pressed so that the excess water evaporates and the sugars are concentrated. The one we use is big and rich with brown sugar and maple notes."
Sherry is all the rage
While most recent trendy liqueurs are of the bitter variety (see: Fernet, Malört), the hottest cocktail ingredient right now is something your grandmother probably has a bottle of—sherry.
The fortified Spanish white wine has a reputation as a stodgy beverage, but lately Chicago bartenders can't seem to get enough of it. We haven't seen a new cocktail list without at least one sherry cocktail, while multiple styles are being used at places like Drumbar, the Violet Hour and Barrelhouse Flat, and a couple wine-focused spots have sherry lists.
"There's a misconception that most sherries are sweet and made to cook with," says Jeremy Quinn, sommelier at Telegraph, Bluebird and Webster's Wine Bar. "I try to introduce that style to guests, but they recall their grandmother sipping it out of a little cup. Then I give them a splash on the house with an olive and they say it's great and order a whole flight."
Getting drinkers to order sherry straight can be a challenge, so it's a good thing the wine is also wildly popular as a cocktail ingredient among local bartenders. "As a component, one would be hard pressed to find another product category that can provide nearly as much variation and flexibility," says Barrelhouse Flat's Jessica Tessendorf. "Lean and delicate, nutty and dry, sumptuous and sweet; you're covered. It is capable of bridging gaps between ingredients, much like other fortified wine and amari."
Its versatility has earned fans such as Billy Sunday's Alex Bachman, who uses it "to establish an acidic backbone in cocktails whether they are rolled, shaken, or stirred" and Sable Kitchen and Bar's Mike Ryan, who says, "You can replace the botanical elements you find in a vermouth with naturally oxidized or barrel-aged elements you find in sherry. They're cool, natural flavors that produce just as much complexity as you'd find in a vermouth."
Given how bar programs have progressed over the past few years, it makes sense that it's finally sherry's turn.
"Sherry used to be used quite a bit in cocktails and punches in the 1880s and 1890s," says Rachel Thompson of the Violet Hour. "And that's a period the current cocktail movement looks back to. I think it's a natural progression—we've revived all these liqueurs, we're exploring different types of amaro, and sherry was the next thing to go back to."
The Aviary's Charles Joly says sherry's popularity can also be contributed to the Consejo in Jerez that oversees sherry production and helps promote the region. Recently, that's included a sherry competition in New York.
What exactly is sherry?
Despite its current ubiquity in cocktails, sherry is kind of hard for the lay drinker to understand. Why are there so many kinds? What does PX mean? Why should we drink it?
To answer these questions, we decided to ask for a sherry lesson from Vera sommelier Liz Mendez, whose Twitter bio reads: "Troop leader in the #SherryRevolution."
"Some say sherry is confusing; I like to say it is misunderstood," Mendez says. "In its most basic form, it's a fortified wine. Which means that a neutral spirit is added to it to bring its alcohol content up."
Here's a quick lesson: Sherry is made in the Jerez region of Spain from three main grapes: Palomino, which accounts for 97% of sherry grapes, Pedro Ximenez, which is left to become a raisin on the vine before it's pressed, and Muscatel. The grapes are turned into wine that's fortified and put into a barrel. Much of sherry is aged in a solera system, in which wine is taken out of barrels so new wine can be put in. That blends the sherry, and you can't tell the age of it, because it's a mix of ages.
Those three grapes make a variety of sherry, which range from bone dry and sweet. The dry sherries are fino, manzanilla, oloroso, amontillado and palo cortado. The sweet sherries include Pedro Ximenez, cream and Muscatel.
Finos and manzanillas are called "biological" sherries, because flor, a yeast, develops on top of the wine in the barrel, and it results in a nutty flavor. The other sherries are oxidized, which means flor doesn't develop, and they're richer and deeper, and can have maple and molasses notes. Palo cortado is a more complicated sherry—it starts out as a fino or amontillado with flor, then it becomes a non-flor sherry, so it has characteristics of both styles.
Each style of sherry is available in Chicago and we had bartenders walk us through cocktails they made with it. The result: where to drink sherry, from the driest style to the sweetest.