Chicago is a city that celebrates amazing architecture, but we sometimes forget about the interior details that characterize our favorite buildings—and the proof is right above our heads. Walk through many of the city's popular cultural centers and, more often than not, galleries of stunning artwork are viewable merely by looking up. To mark the city's lesser known architectural tradition, we compiled a list of the most beautiful ceilings in Chicago. Be careful not to hurt your neck.
Chicago Cultural Center – GAR Rotunda
At 40 feet in diameter, this tan, beige and ochre stained-glass dome illuminates the Grand Army of the Republic Rotunda, an architectural highlight of the Chicago Cultural Center.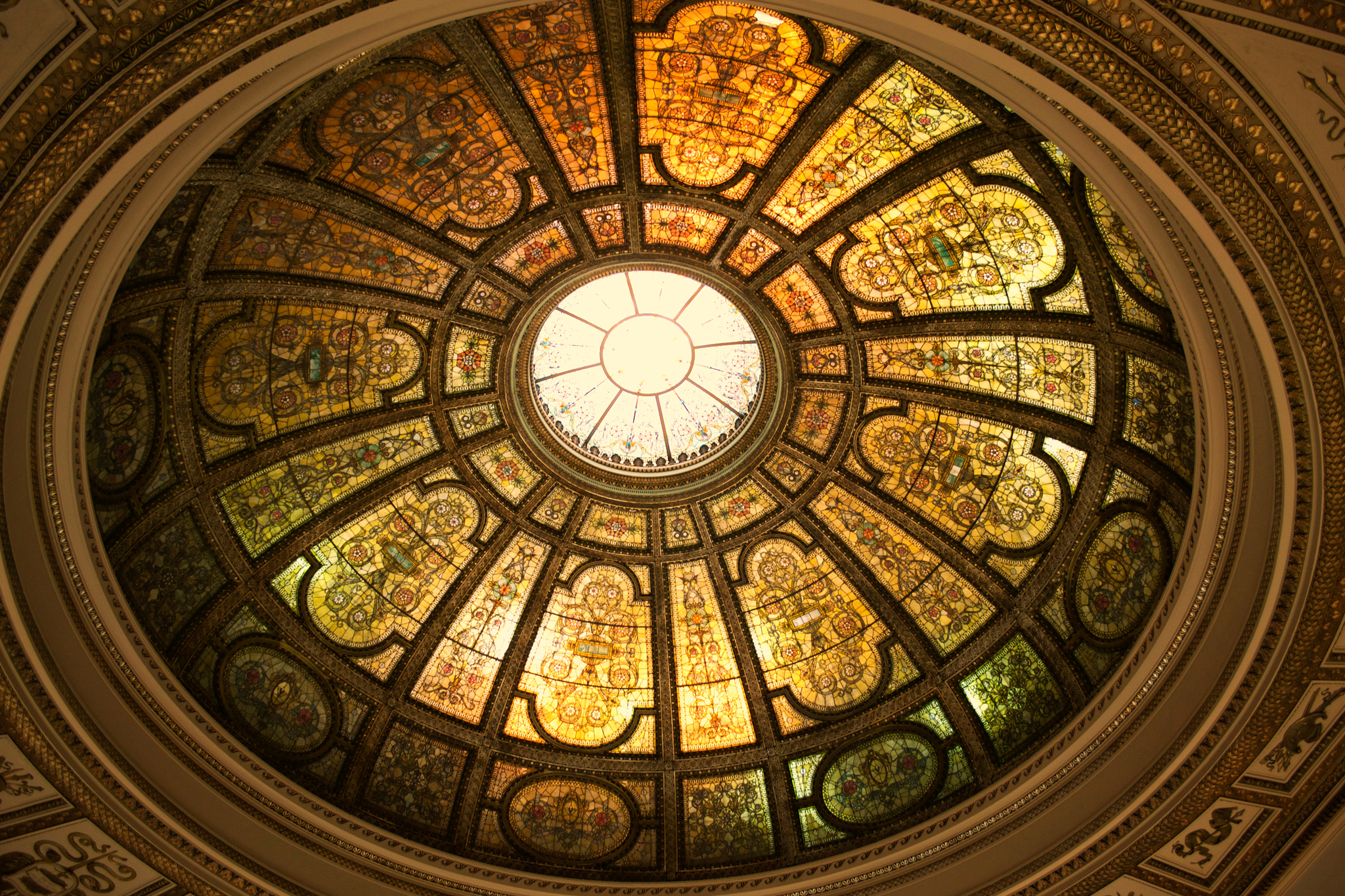 St. Alphonsus Church
This Lakeview church boasts a royal blue ceiling with golden ribwork and pointed arches that is reminiscent of the Gothic Revival style. It was restored after a fire in 1950.
Chicago Cultural Center – Tiffany Dome
This 38-foot-diametered translucent dome is made out of Tiffany Favrile glass and cut to resemble fish scales. Signs of the zodiac decorate the top of the electronically lit dome, while a quote from the British author Joseph Addison wraps around its base.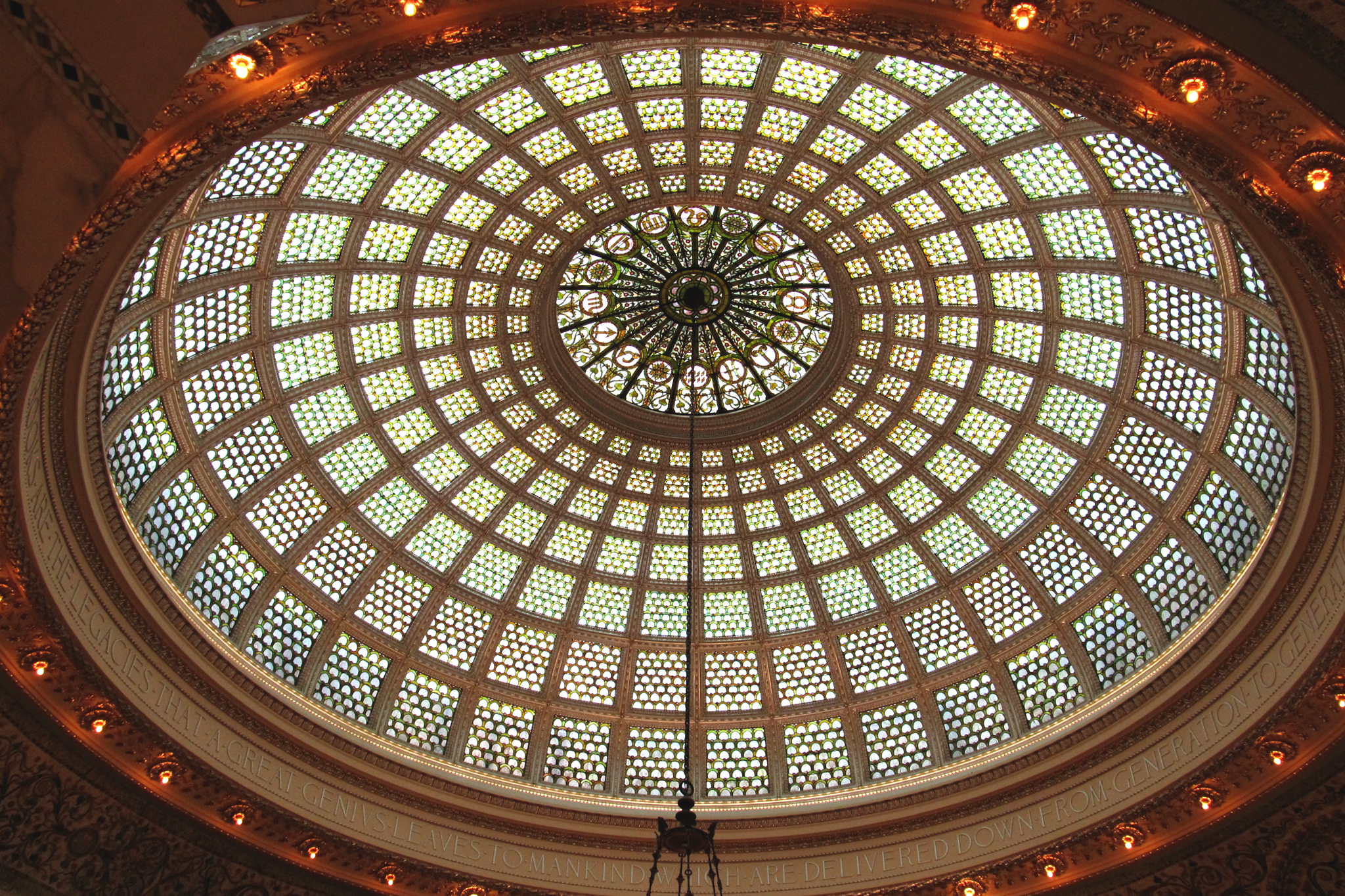 Macy's on State Street
The Tiffany Ceiling at the historic Marshall Field & Company State Street building was designed by renowned glass artist Louis Comfort Tiffany. It spans 6,000 square feet and is comprised of 1.6 million pieces of iridescent glass.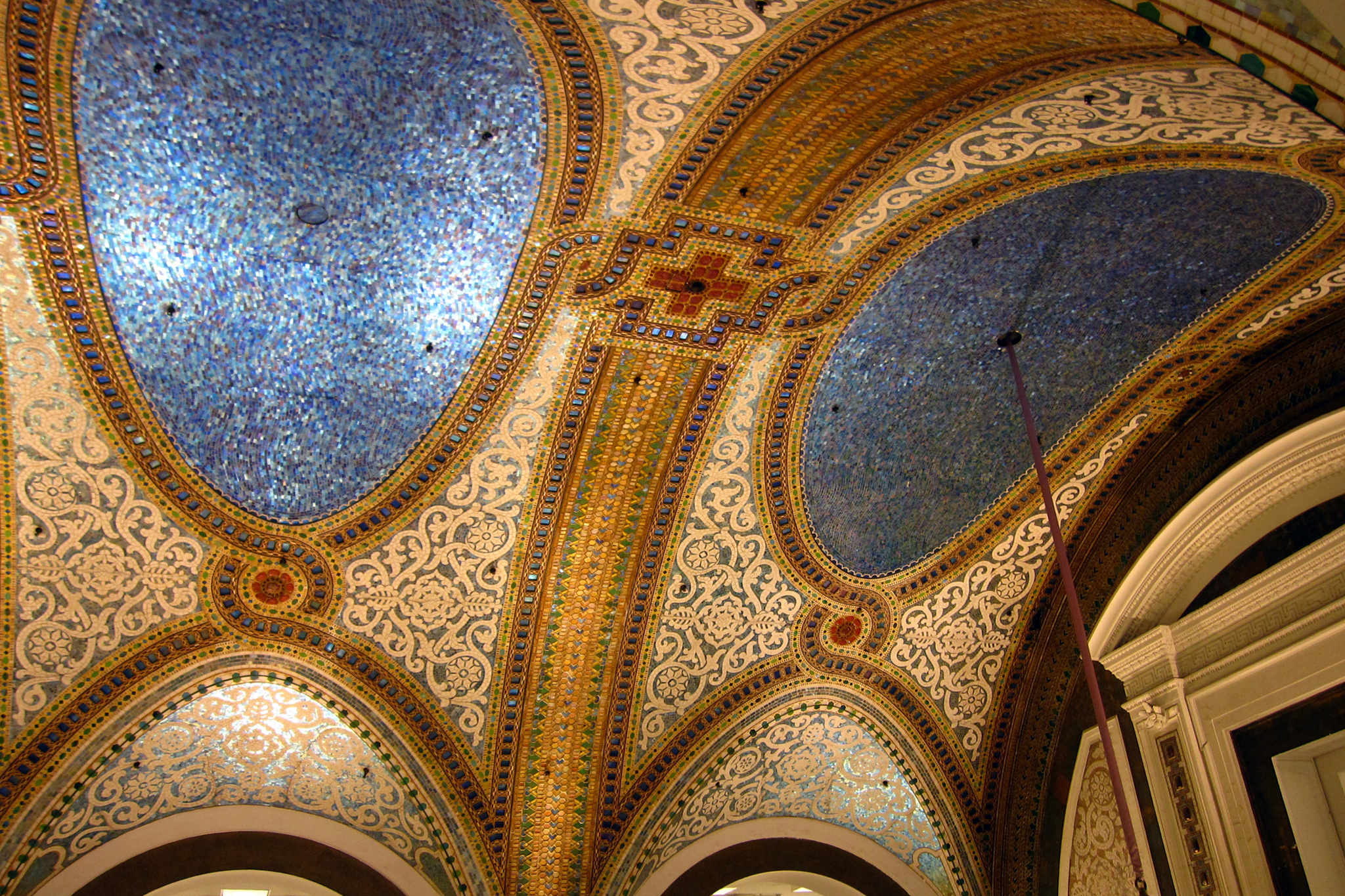 Art Institute of Chicago – Fullerton Hall
Louis Comfort Tiffany also designed this magnificent stained-glass dome atop Fullerton Hall at the Art Institute of Chicago, an auditorium on the museum's main floor.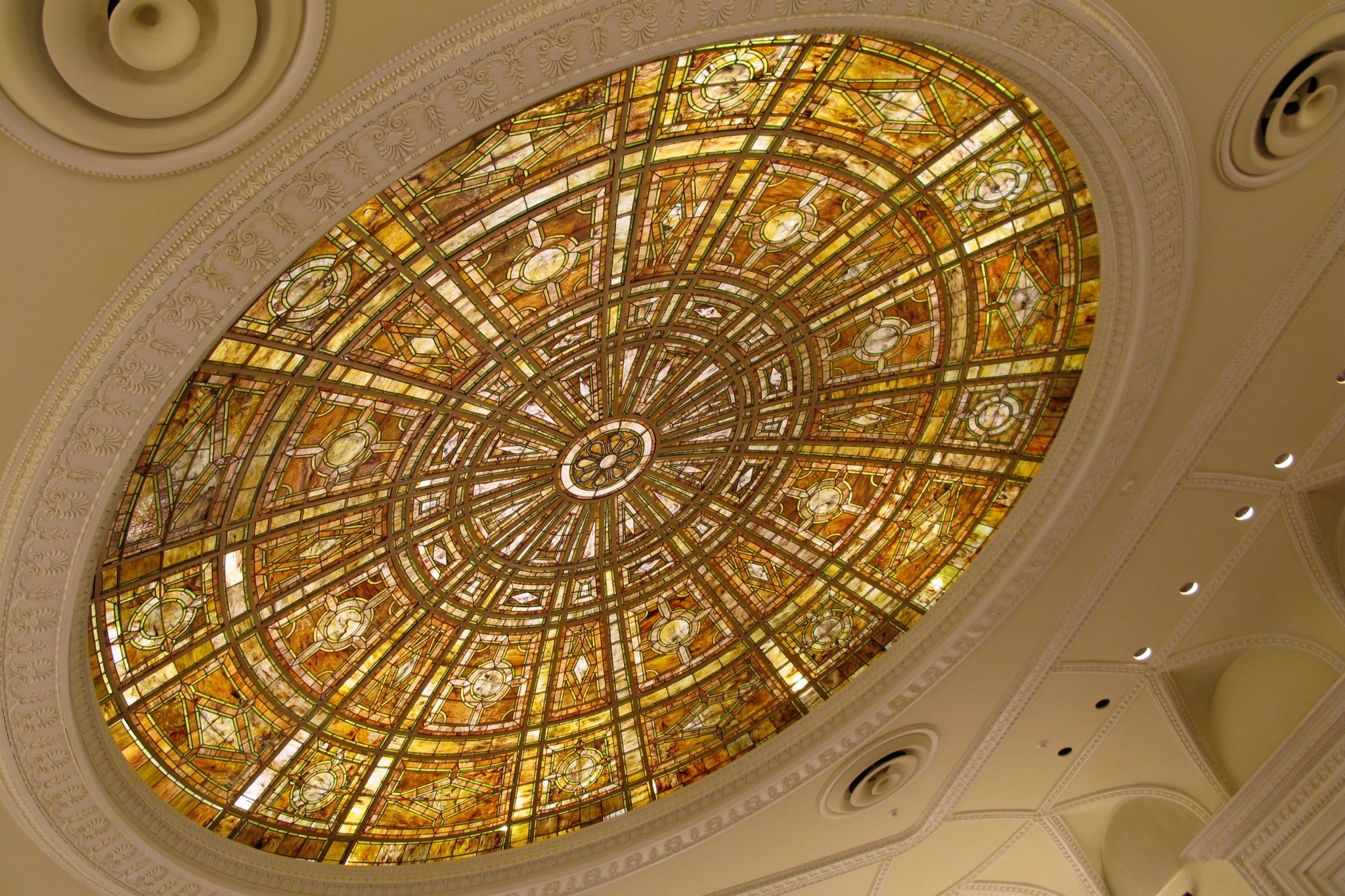 Fourth Presbyterian Church of Chicago
The carved wooden ceiling at Fourth Presbyterian Church is ornately decorated. It is said to be reminiscent of an inverted ship, reflecting the Viking influences on the English Gothic style.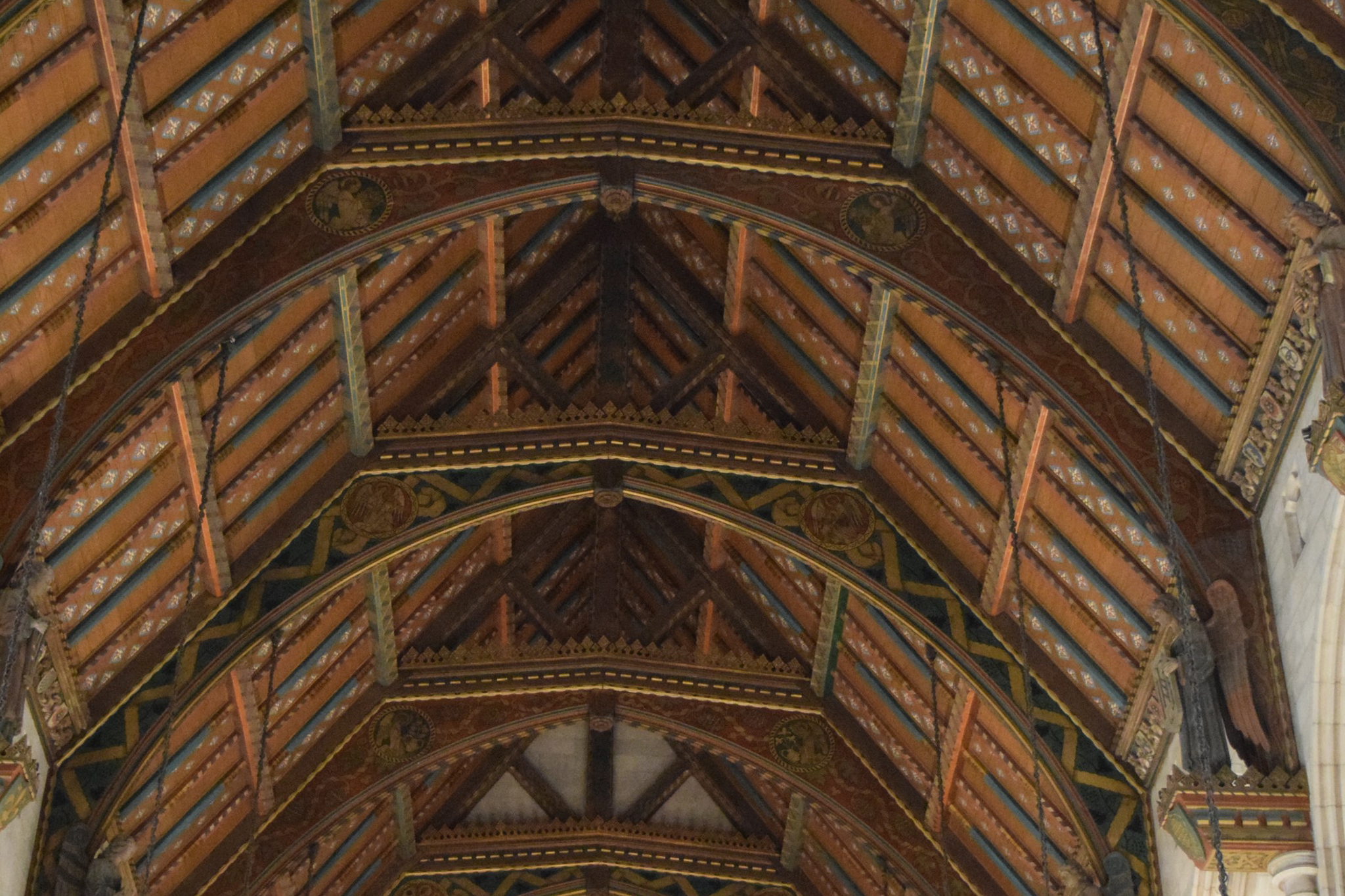 Harold Washington Library Center – Winter Garden
The ninth floor of the Harold Washington Library Center offers patrons a quiet atmosphere for study as they gaze out the spectacular glass roof. The architectural highlight of the building's interior, the Winter Garden's glass roof lets an abundant amount of natural light in year-round.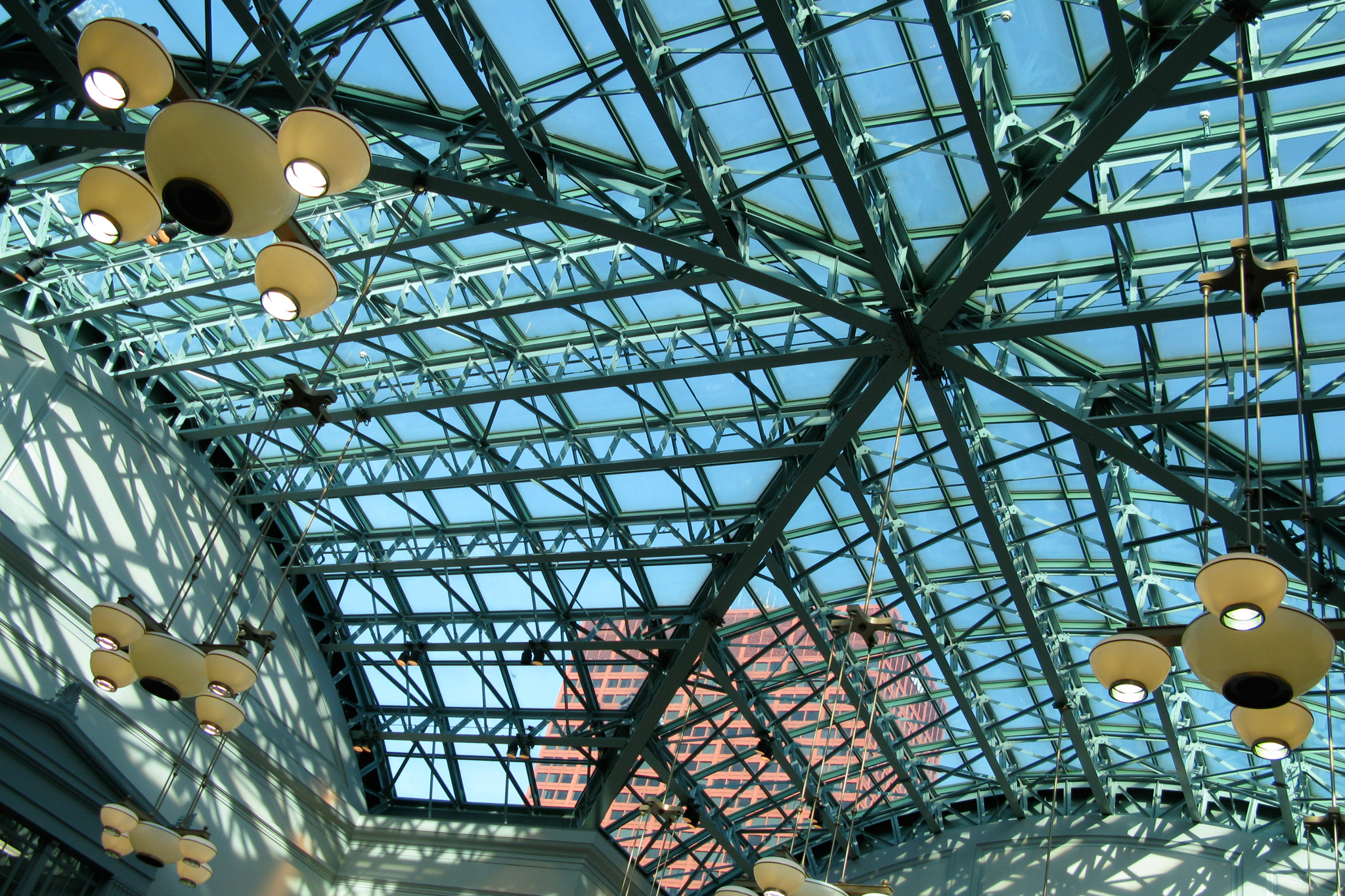 Palmer House Hilton
The lobby of this historic Chicago hotel features striking paintings that cover the entire ceiling, depicting romantic scenes by French painter Louis Pierre Rigal.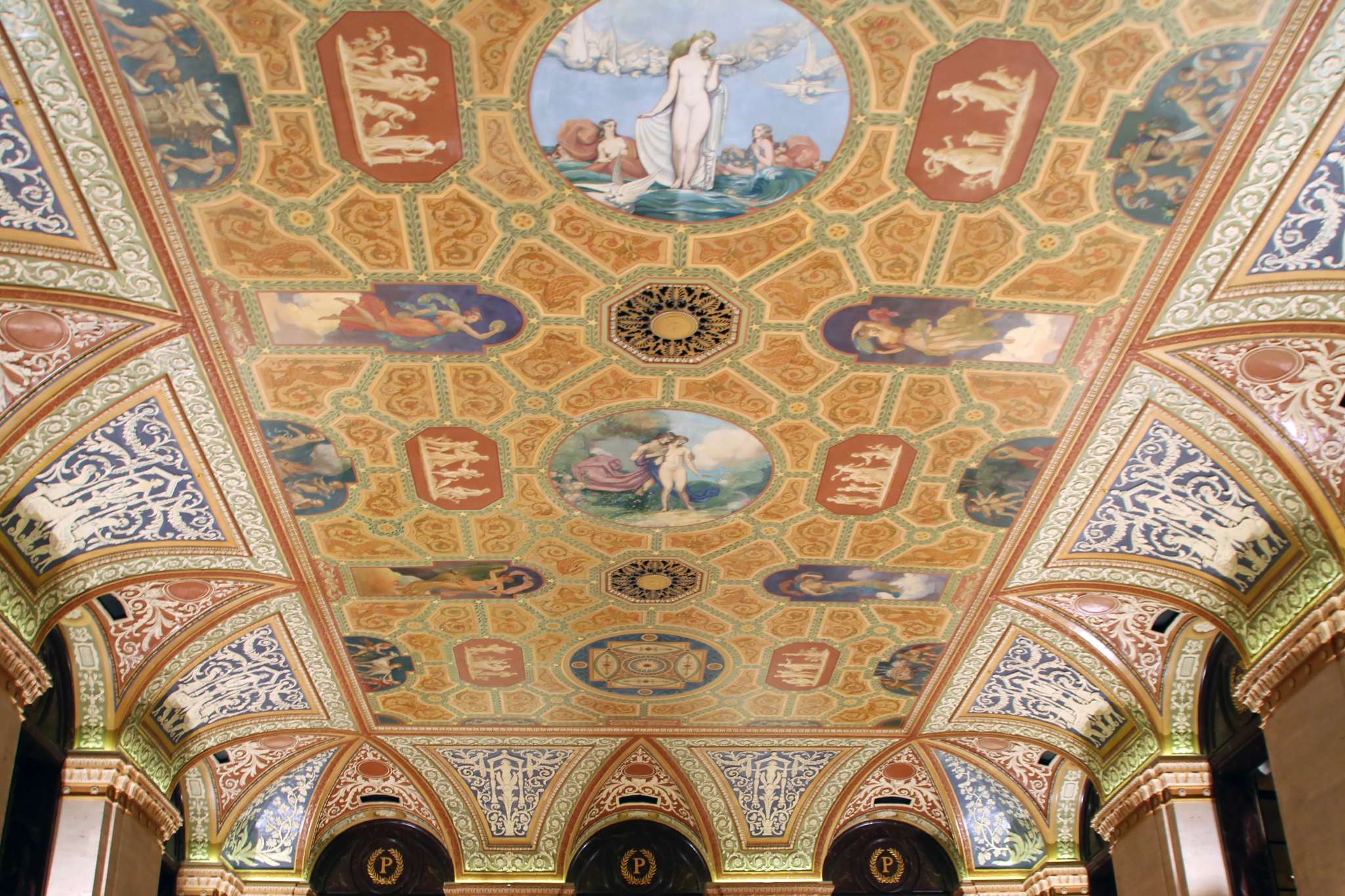 Chicago Stock Exchange Trading Room
The Chicago Stock Exchange Trading Room was originally designed by Louis Sullivan and Dankmar Adler. You can now view the trading room and its ornate ceiling design at the Art Institute of Chicago, where the trading room has been reconstructed.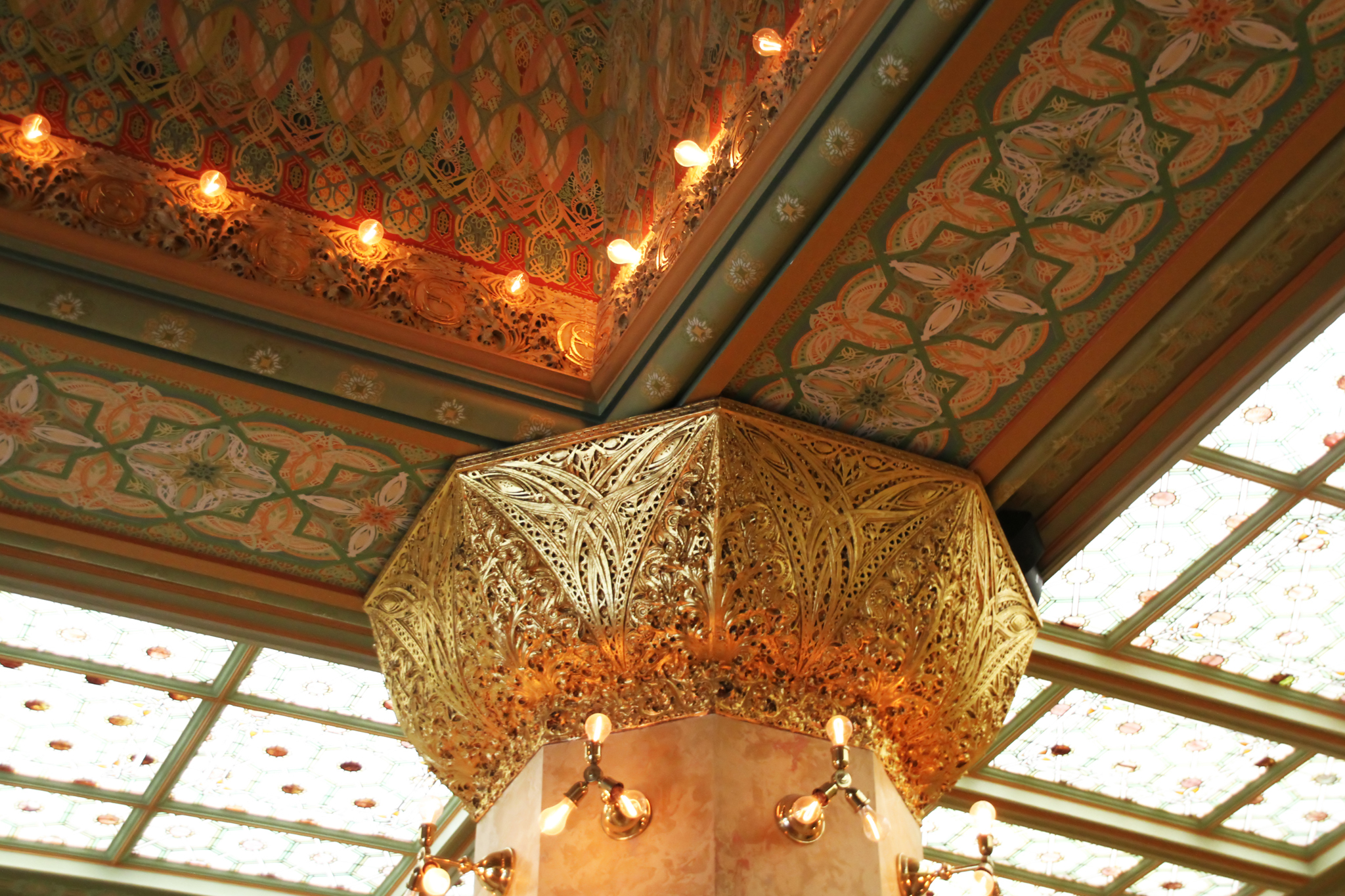 Grand Reception Hall at the Elks National Veterans Memorial
Dozens of beautiful, highly detailed murals cover the entire ceiling of the Grand Reception Hall at this Beaux Arts-style domed building on the banks of Lake Michigan.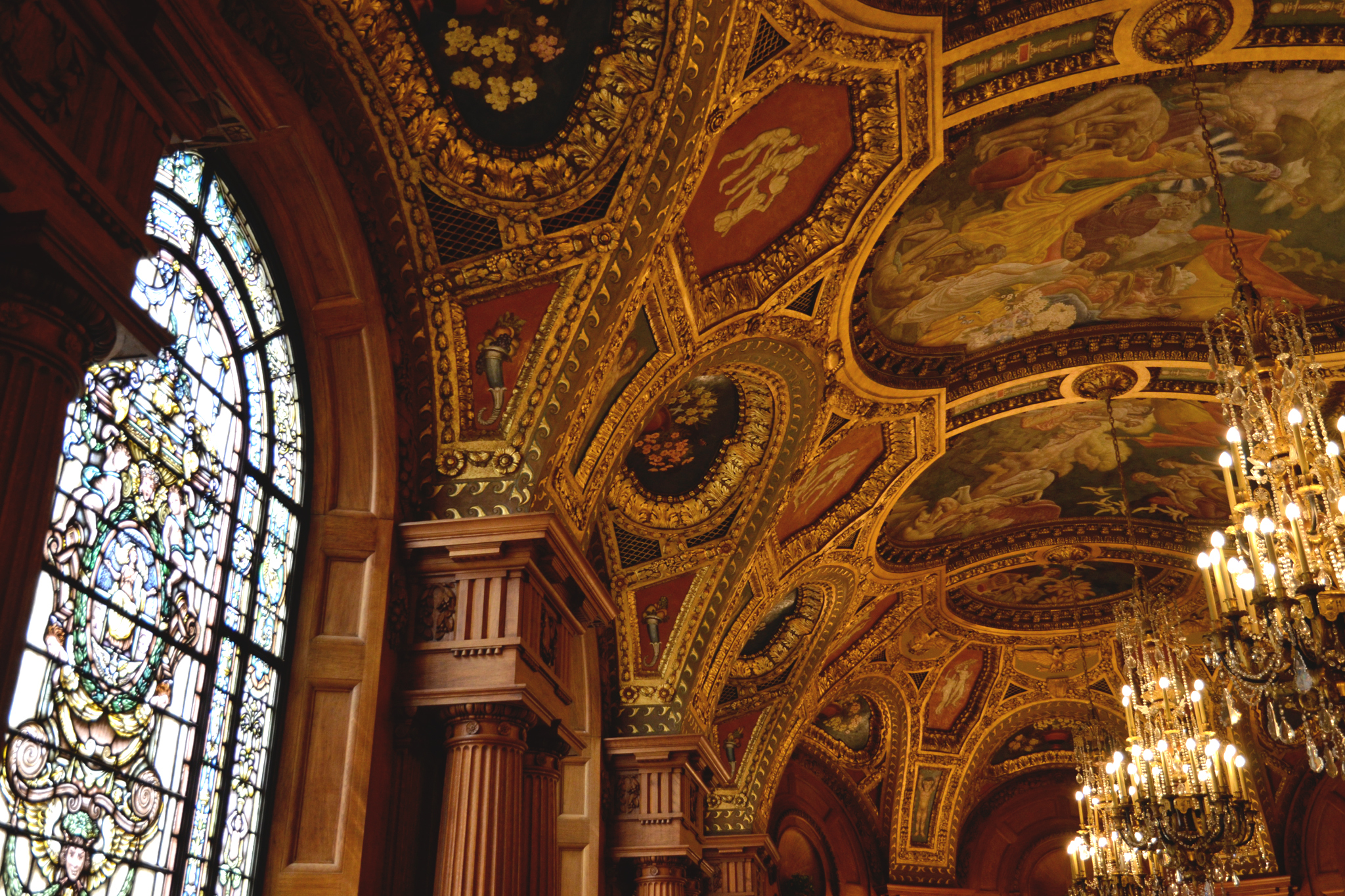 The towering skylight ceiling in Union Station's Great Hall is 219 feet long and 115 feet above the floor.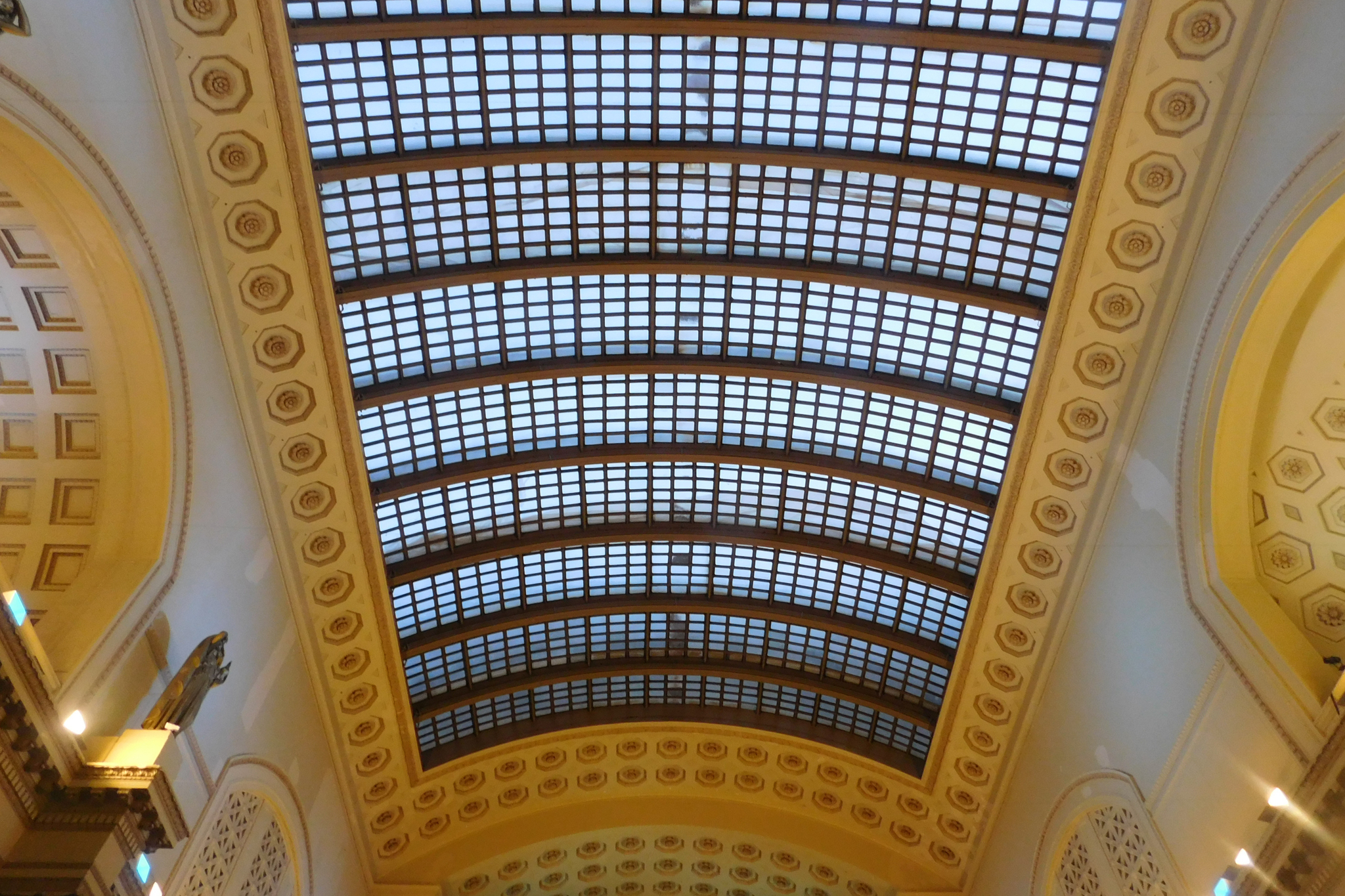 The Field Museum – Stanley Field Hall
As crowds pose for photos in front of skeletons and artifacts, this sky-lit vaulted ceiling brings streams of natural light into Stanley Field Hall, illuminating its gleaming white marble interiors.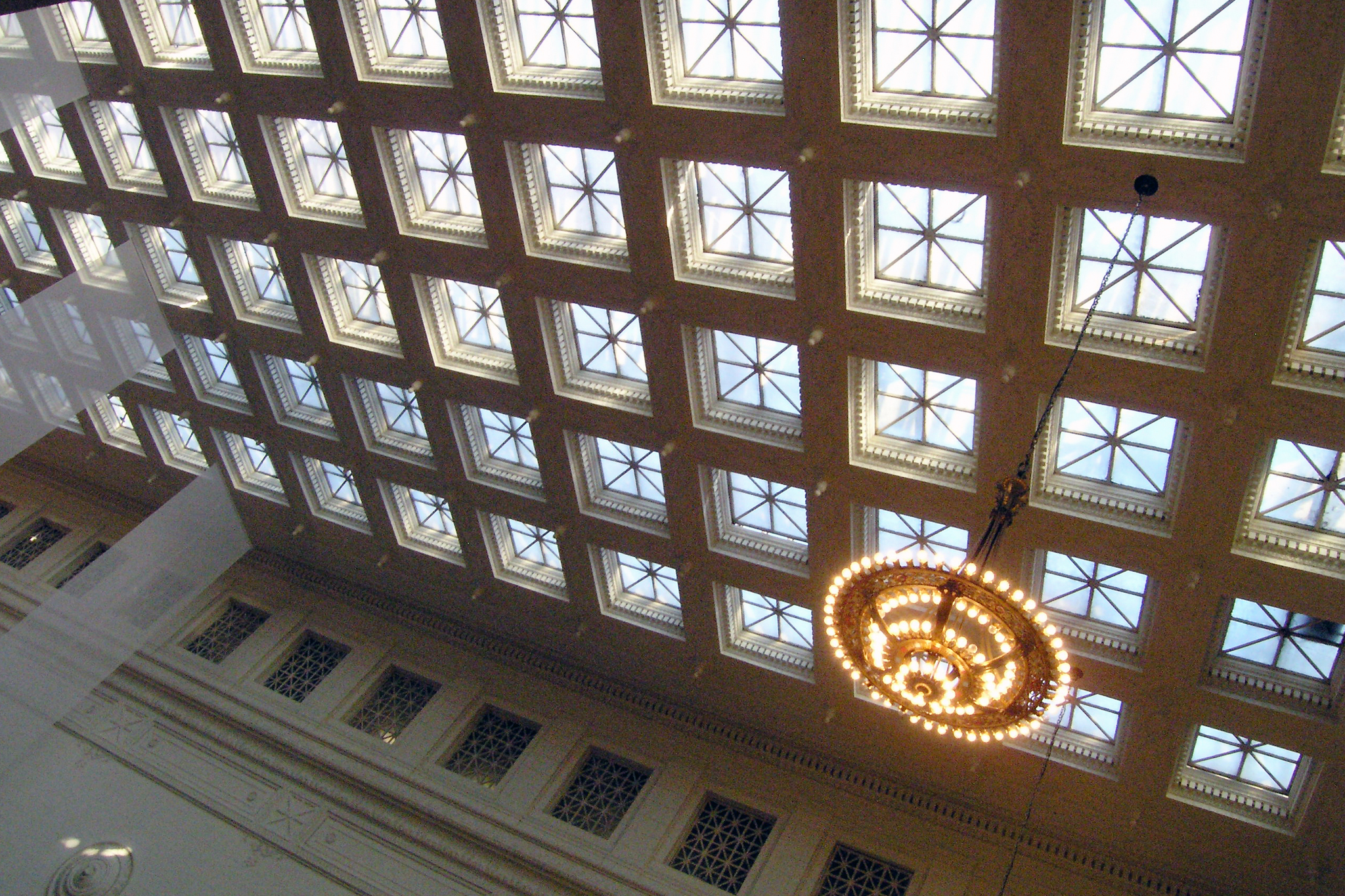 It can sometimes be difficult to pay attention to what's happening on stage if you become distracted by the collection of grand murals that line the walls and ceiling of this beautiful 3,600-seat auditorium.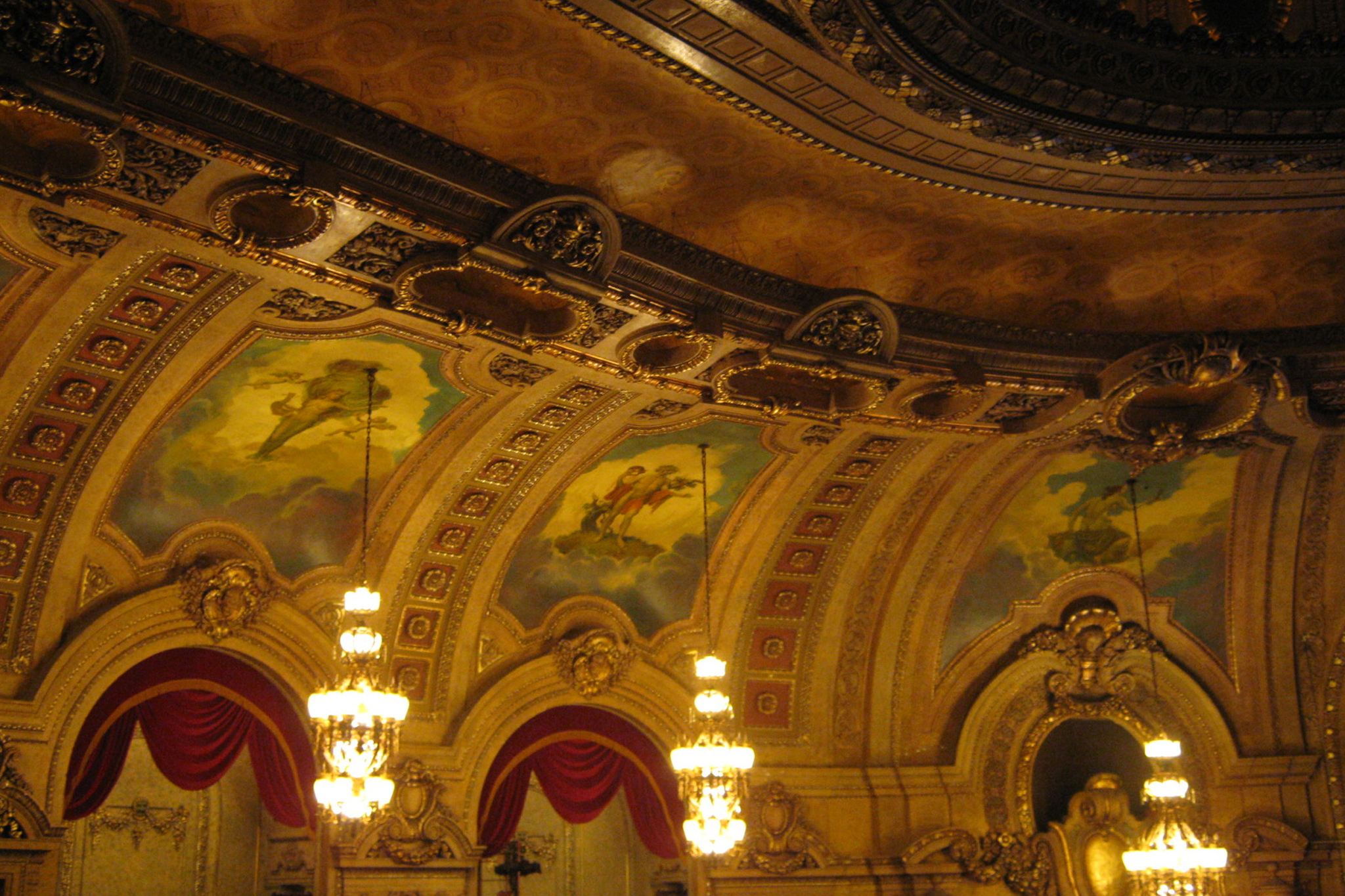 Want more? Sign up here to stay in the know.