Who would have thought that the final stretch of winter would go out with such a bang? February is jam-packed with more than 50 openings across the city, loads of cultural celebrations, a free festival and even a few parades. The last month of winter is filled with more than enough things to do and places to explore, including a variety of activities that won't cost you a thing. You can use all the money you save to buy something nice for your Valentine.
RECOMMENDED: Chicago events in February
February probably offers the most free museum days in Chicago of any month this year.
2. The Field Museum is free every single day
If that weren't enough, the Field Museum is offering free days all through February to all Illinois residents. (Field Museum, 1400 S Lake Shore Dr, opens at 9am daily)
See one of Shakespeare's widely-known plays, Romeo and Juliet, reinterpreted using a cast of hearing and deaf actors and actresses. (The Den Theatre, 1329–1333 N Milwaukee Ave, 7:30pm, Feb 1–20)
Starting in February, Navy Pier celebrates cultures from across the world for two months with a series of exhibits, art shows, cuisine tastings and live music. The festivities kick off with a tribute to the Chinese New Year, followed by a look at African heritage. (Navy Pier, 600 E Grand Ave, noon, Feb 21 & 28)
5. Chinatown Lunar New Year Parade
Celebrate the Year of the Monkey with a traditional Lunar New Year parade in the heart of Chinatown. (Wentworth Ave and Cermak Rd, 1pm, Feb 14)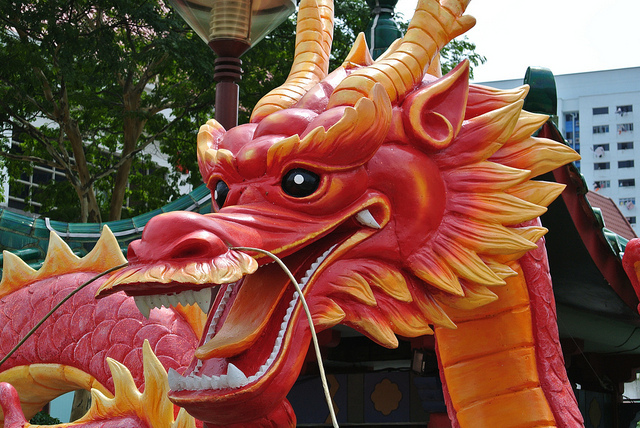 Photograph: Ivan Bandura/Flickr
6. Argyle Street Lunar New Year Parade
The North Side has its own Chinese Lunar New Year parade—and it's just as authentic (and exciting). (Argyle St and Broadway, 1pm, Feb 13)
7. Logan Theatre Movie Trivia Night
Knowledge doesn't cost a thing, and neither does the opportunity to show it off at this weekly movie geek trivia night. (Logan Theatre, 2646 N Milwaukee Ave, 8pm on Tuesdays)
8. Sing Along with Neeleeo at Farm in the Zoo
Kids can get expensive. Luckily, this free story time at the (also free) Lincoln Park Zoo offers parents' wallets a well-deserved reprieve. (Lincoln Park Zoo, 2001 N Clark St, 9:15am on Wednesdays and Fridays)
9. Dame Myra Hess Memorial Concerts
Every week in February the Chicago Cultural Center hosts a free classical or chamber music concert during the lunch hour. (Chicago Cultural Center, 78 E Washington St, 12:15pm each Wednesday)
This ain't your average open mic night. Cole's regularly packs in 50 or more comics a night at this long-running Northwest Side event. (Cole's, 2338 N Milwaukee Ave, 9:30pm weekly)
Head to Northerly Island for this 11th-annual winter festival featuring winter activities and crafts for all ages. (Northerly Island, 1400 S Linn White Dr, noon, Feb 20)
12. Slo' Mo
This monthly poly-sexual dance party at Logan Square watering hole The Whistler is for everyone and anyone who likes to get down to love-drenched classics by the likes of Al Green, Earth, Wind & Fire and Marvin Gaye. (The Whistler, 2421 N Milwaukee Ave, 9pm, Feb 18)
Photograph: Jamal Jameel
13. Free Monday concerts
The Bottle hosts a free concert each and every Monday and February's lineup is stacked with local talent. Stop in this month to see roots-rock duo Bubble Brown (Feb 1), Chicago emcee ShowYouSuck (Feb 8), jangling rockers Bad Bad Meow (Feb 15), sludge metal act Den (Feb 22) and Minneapolis punks What Tyrants (Feb 29). (Empty Bottle, 1035 N Western Ave, 9pm every Monday)
14. The Hairy Ape
Director Monty Cole stages Eugene O'Neill's 1922 expressionist take on the plight of the worker with an all African-American, all-male cast. (Oracle Theatre, 3809 N Broadway, various times, Feb 1–29)
15. Analog Dreams
Emporium throws a dance party entirely dedicated to retro synth music. DJs Polar & Stats spin selections that run the gamut of electronic music, including synthwave, Italian disco and new wave tunes. (Emporium Arcade Bar, 1366 N Milwaukee Ave, 9pm, Feb 6)
16. Handmade Market
Many craft markets make you fork over a fee to shop the stalls, but this October-April local bazaar at the Empty Bottle doesn't charge a cent. (Empty Bottle, 1035 N Western Ave, noon, Feb 13)
This comedy show held in a used bookstore just across the street from the Logan Square Blue Line stop has steadily become a Chicago favorite since its inception in 2012, and has even been headlined by comedians you may have seen on TV. (Uncharted Books, 2630 N Milwaukee Ave, 7pm, Feb 4)
18. Off Chances
Chances Dances might be taking a well-deserved break, but it's spinoff at legendary Chicago dance bar Danny's Tavern is picking up all the slack as one of the city's best monthly dance parties around. (Danny's Tavern, 1951 W Dickens Ave, 10pm, Feb 9)
19. Yeah Buddy Awesome Time Comedy Show
Held inside a comic book store on the third floor of the Flat Iron Arts Building in Wicker Park, this show features sets from established and up-and-coming local stand-up comedians. (Brainstorm Comics, 1579 N Milwaukee Ave, Ste 321, 8:30pm, Feb 13 & 27)
20. 100% Off Bands
Schubas hosts two completely free shows this month. On February 2, enjoy a night of garage rock featuring Heavy Times, Mama and ¡Vamos!. Then, on February 16, it's a showcase of hip-hop acts and producers, including Rich Jones and Oddcouple. (Schubas, 3159 N Southport Ave, 8pm Feb 2 & 16)
21. "Strandbeest: The Dream Machines of Theo Jansen"
See eight gigantic, kinetic, wind-power sculptures built by Dutch artist and physicist Theo Jansen during this special exhibition. (Chicago Cultural Center, 78 E Washington St, Feb 5–May 1)
Photograph: Loek van der Klis
22. "Peter Wächtler: Secrets of a Trumpet"
Belgian artist Peter Wächtler presents his first solo-exhibit in the U.S., collecting watercolors, wooden sculptures and large bronze figures that draw inspiration from pop culture and the artist's own writing. (Renaissance Society, 5811 S Ellis Ave, Feb 7–Apr 3)
23. "Dianna Frid & Richard Rezac: Split Complementary"
Local artists Dianna Frid and Richard Rezac present a collaborative show, exhibiting their shared love of colorful sculptures and mixed-media artworks. (DePaul Art Museum, 935 W Fullerton Ave, Feb 1–Apr 24)
24. Fabitat
Catch some of the the best drag performances in Chicago at this bi-weekly party featuring live music and DJ sets. (Double Door's Door No. 3, 1572 N Milwaukee Ave, 9pm, Feb 10 & 24)