It doesn't matter which airline you're flying—eventually you're going to experience a delay (or worse, a cancellation) that will potentially leave you stranded in an airport for hours on end. Thankfully, there are worse fates than being stuck at O'Hare, where you'll find plenty of ways to kill some time while you anxiously wait for your flight to be rescheduled.
1. Sit back and relax at a spa
It's hard to worry about your uncertain travel plans while you're busy getting a massage or soaking your feet at one of O'Hare's many spas. There are four options for stranded travelers, including the Terminal Getaway Spa (with locations in Terminal 1, Terminal 3 and the H/K Corridor) and the XpresSpa (in Terminal 5).
2. Enjoy some fine art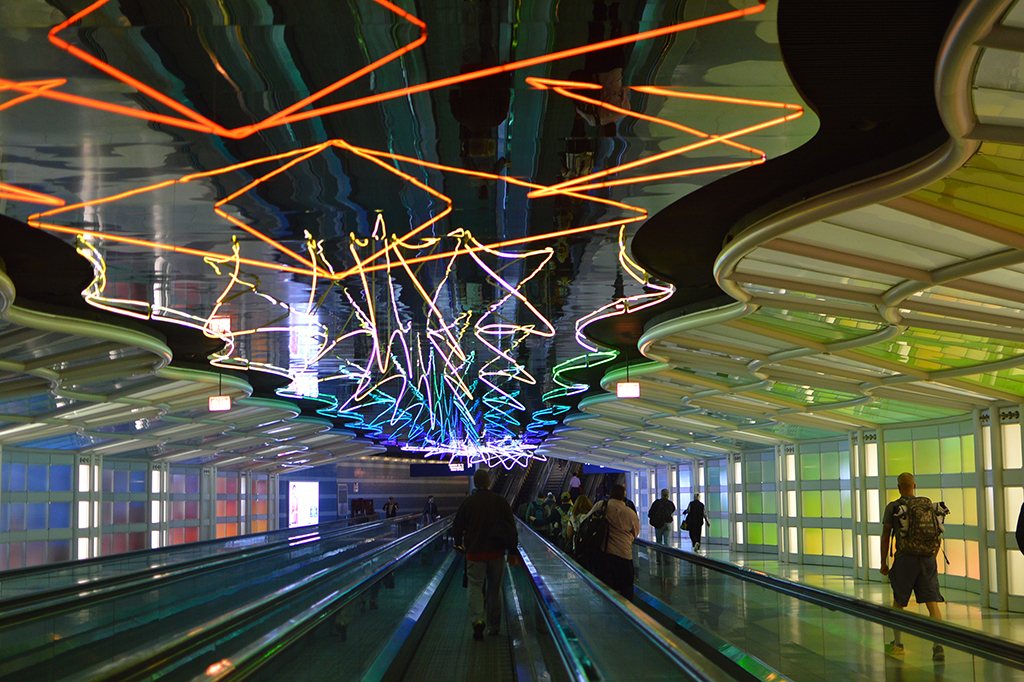 O'Hare is filled with curious sights, from the towering Brachiosaurus skeleton model that greets visitors in Concourse B of Terminal 1 to the entrancing neon sculpture (called "The Sky's the Limit") that fills the tunnel that connects Concourses B and C of Terminal 1. If nothing else, you'll come away with a few killer Instagrams.
3. Watch a Cubs game
If the Cubs are playing during your stay in airport purgatory, there's no better place to cheer on the team than at the aptly-named Chicago Cubs Bar and Grill, located in Terminal 3. The kitschy eatery boasts a miniature replica of the iconic Wrigley Field sign and dishes like Chicago-style hot dogs, "Hall of Fame Paninis" and "Sweet Swingin' Desserts." Of course, the bar serves Old Style—and prices are comparable to those charged in the Friendly Confines.
4. Sit down for a delicious meal
Forget about surviving on lukewarm burgers from McDonald's and Chili's Too—O'Hare boasts cuisine that is a cut above the standard terminal fare. You can enjoy a delicious sandwich at Rick Bayless's Tortas Frontera, grab a salad from Goddess and the Grocer or sit down for a hearty meal at the newly-opened Publican Tavern. If you really need to kill some time, just join the line of tourists that are constantly queued up in front of the Garrett Popcorn Shop.
5. Strike a pose in the yoga room
Escape from the hustle and bustle of the terminals in O'Hare's yoga room, which is located on the mezzanine level of the Terminal 3 rotunda—it's free, open to the public and open daily from 6am to 10pm. There are mats for you to use and a monitor just outside of the room that displays domestic departures and arrivals, so you can keep an eye on your flight when you're not achieving a zen-like state.