A steady drizzle outside the Garfield Park Conservatory didn't stop the faithful craft beer acolytes at this year's Beer Under Glass, the kickoff to Chicago Craft Beer Week, with lines for cult faves Three Floyds and Pipeworks remaining dozens deep into the damp evening. A stark contrast from last year's event, which saw people trudging through ankle-deep muck to sip beers in a massive tent, versus the glass-roofed Conservatory that was still being refurbished.
This year, however, saw a better balance between indoor stations and out, as well as some more food options indoors; much needed at events like these. It seemed like there were more dump buckets, water stations and signage on hand pointing to restrooms throughout the fest; all improvements over last year.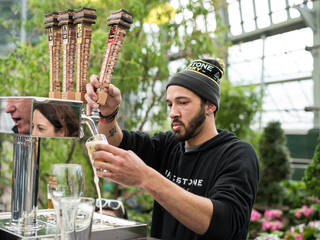 BUG is a great way to try a variety of suburban breweries, like Werk Force, Scorched Earth, Flesk and Hopvine, which aren't in places I tend to get to. Impressive beers came from all over—we found brews we liked from basically our backyard all the way to downstate Illinois. Here's what we dug.
Around the Bend's Silk Road
This was a coming out party for the brand-new Around the Bend, since they received their final license just hours before this year's festival. Around the Bend currently operates out of the Ale Syndicate space and offers a kolsch and Silk Road, a pale ale with galangal, or Thai ginger. Hugely aromatic with a burst of rich, almost red floral notes backed up by a parade of hops that play very nicely with the herbal addition, backed up by a medium body of malts to give it a better-than-expected body. It's a nice first beer from a brand-new brewery.
Mikerphone Brewing's One-Hit Wonderful
Mikerphone recently launched out of Slapshot's Little Village brewery, where owner/brewer Michael Pallen also serves as Slapshot's brewmaster (the interconnected brewery world can be somewhat confusing at times, but it also leads to more fine beers in the world). Citra hops are everyone's favorite hop du jour, and citra beers are often one note (one huge, sharp, juicy note) but the Belgian yeast character really stepped up what could have been a citra pale among many.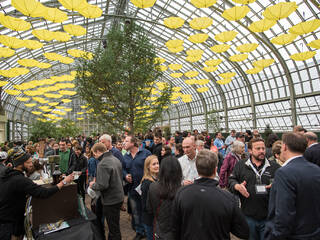 Greenstar Brewing's Black Currant Kolsch
Before this year's Beer Under Glass, the most I knew about Greenstar is that they're from the Uncommon Ground team, they're nearly entirely organic and.... well, that's about it. After last night, I can tell you that they have an extremely satisfying black currant kolsch. Interestingly, there were more than a few kolsch (kolsch-es? What is the plural of kolsch?) being poured last night, and Greenstar's was the first I had. Every other one had to live up to that first pour, and none did. The character of the beer stood out—it was a beer first with fruit flavor complementing it, as opposed to just one big massive jammy hunk of indelicate flavor with alcohol in it. It was light, crisp and refreshing, like smearing some fresh preserves on an airy water cracker.
Scratch Beer - Anything they make
Scratch was hidden in one of the side rooms of the Conservatory, in a dark, secluded area that most people probably passed by, if not missed entirely. That's a bummer for them, but left more beers for us. This farm-based brewpub in downstate Ava forages ingredients as well as uses unique ingredients like... trees. Yes, trees—an all-oak beer made with leaves, branches and acorns was on tap as well as an all-maple offering, plus a beers featuring chanterelle mushrooms and another with a full bouquet of more than a dozen fresh springtime herbs and plants. These are great in ways you couldn't even imagine beer being; it's like being dropped into a culture speaking a completely different language, one you somehow can still sort of understand. (Full disclosure—Scratch will be joining us for the South of 80 event we at Guys Drinking Beer put on, but I don't want anyone to think that's the only reason why these beers were such standouts.)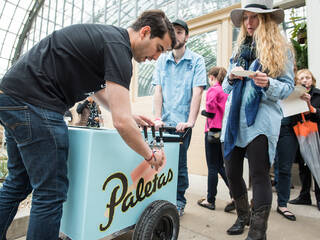 5 Rabbit's Chapulín Colorado
A beer brewed with grasshoppers and beetles? Look, we're willing to try anything that 5 Rabbit puts out, even if it is brewed with bugs. The Chapulín Colorado is a gose, so it's already salty, but the 5 Rabbit staff told me that the bugs also contributed some salt, as well as added the punchy pink color. Sure, it sounds gimmicky, but this was actually one of the best beers were tried at the fest.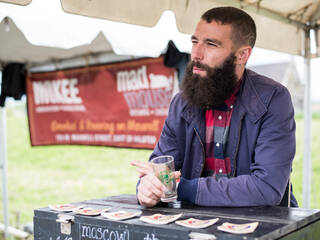 Middle Brow Beer's Moscow Mule Kombucha
The brewery was tasked to make a beer for Dan Deacon's show at Thalia Hall tomorrow, and they teamed up with Unity Vibration, which makes kombucha beer out of Ypsilanti, Michigan. The beer also takes the flavors of a Moscow Mule, with ginger, as well as some mint and lime. The 8% ABV was kind of surprising, because this was an easy drinking beer that we'd happily drink in the summer. You have to like kombucha, though, since the fermented tea isn't for everyone. It'll be available at Thalia Hall this weekend, as well as specialty beer shops around the city.
Additional reporting by Amy Cavanaugh. Photographs by Max Herman.