Of the 21 celebrities, academics and philanthropists awarded the Presidential Medal of Freedom on Tuesday, several have, at one time or another, had close ties to the Windy City. Michael Jordan (or as President Obama described him, "the guy from Space Jam"), Chicago attorney and former Federal Communications Commission Chairman Newton Minow, architect Frank Gehry, and former University of Chicago professor Richard Garwin were among those honored who are credited with making lasting contributions to the city of Chicago.
Perhaps the most well known of the group, Jordan was described by the president as a man who epitomized greatness. Jordan helped the Chicago Bulls win six championships in the 1990s, earned five MVP awards, and went on to be the owner and chairman of the Charlotte Hornets. "[Jordan] is more than the best player on the two greatest teams of all time, the Dream Team and the 1996 Chicago Bulls," Obama said during the ceremony. "Michael Jordan is the Michael Jordan of greatness. He is the definition of somebody so good at what they do that everybody recognizes it. That's pretty rare."
Chicago attorney Minow is best known for coining the phrase "vast wasteland" to describe commercial television programming, but the president said the former FCC chairman worked tirelessly to promote programming in the public interest. "That's been the heartbeat of his life's work," Obama added.
A world renowned architect, Gehry left his mark on Chicago by designing the Jay Pritzker Pavilion in Millennium Park. "From the Guggenheim in Bilbao to Chicago's Millennium Park, Franks work teaches us that, while buildings may be sturdy and fixed to the ground, like all great art, they can lift our spirits... and broaden our horizons," the president said.
As a young University of Chicago physicist, Garwin went on to help create the hydrogen bomb. But after his work at Los Alamos National Laboratory, he is said to have dedicated his life to reducing the threat of nuclear war. "Dick's never met a problem he didn't want to solve," Obama said of a man who has also advised every president since Dwight Eisenhower "Reconnaissance satellites, the MRI, GPS technology and the touch screen all bare his fingerprints."
In a statement released Tuesday, Chicago Mayor Rahm Emanuel extended his congratulations to the Medal of Freedom recipients. "Among the remarkable group of Americans who were honored with the Medal of Freedom today were individuals who have called Chicago home and given back to our city in immeasurable ways," Emanuel said. "The city of Chicago is proud of your accomplishments, your contributions and the example you set for future generations."
The Medal of Freedom is the nation's highest civilian honor. Other recipients included comedian Ellen DeGeneres, philanthropists Bill and Melinda Gates, Vietnam Veterans Memorial designer Maya Lin and baseball announcer Vin Scully.
You can watch the entire ceremony below: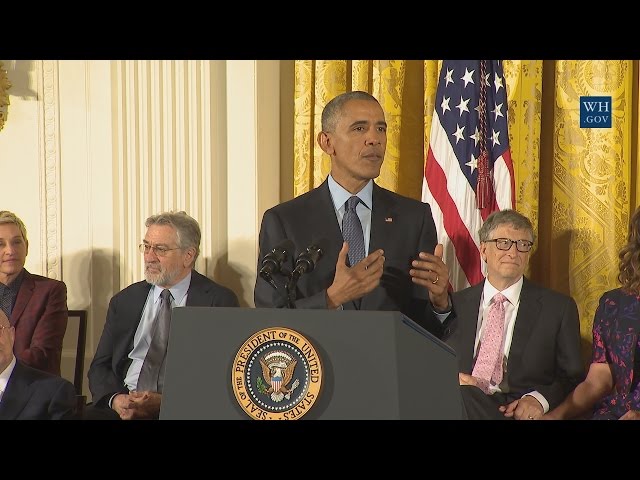 Want more? Sign up here to stay in the know.