An okapi was recently born at the Brookfield Zoo and it's probably the most adorable animal that you'll have trouble explaining to your friends. We've settled on various descriptions you may feel free to use:
"A stylish giraffe with a short neck."
"A donkey-cow wearing zebra leggings."
"A zebra-donkey with a black turtle neck."
"No, it's a short-sleeved sweater vest," our photo editor contested.
The common name for an okapi is a "forest giraffe." Their real name is pronounced "oh-copy."
Our newly-born okapi (pictured above) is named Will, he's one month old and he lives in the Habitat Africa! exhibit.
Though zebra stripes adorn his hind legs, okapis are more closely-related to giraffes. In fact, besides the giraffe itself, the okapi is the only other living member of the giraffid family. The breed is native to the Northeast Congo where the forest is extremely thick. As an okapi, Will is also member to an endangered species.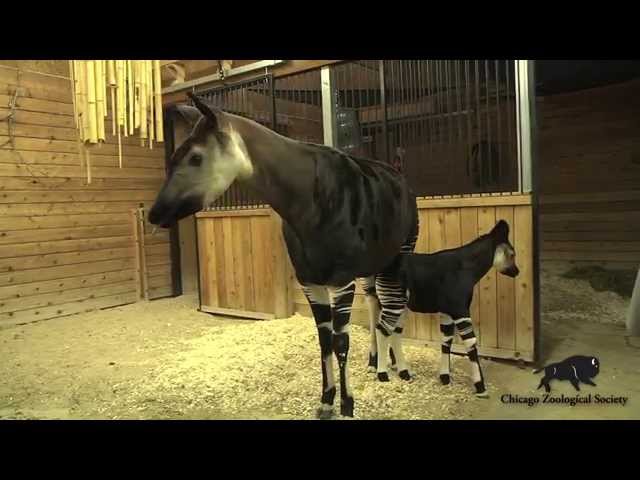 Will will grow to anywhere from 440 to 660 pounds on a vegetarian diet.
His blue tongue is long enough to lick his own eyelids and ears. He will one day assert his dominance by stretching his neck to the sky and express his shame by bowing his neck to the ground. He will stake out territory by marking trees and bushes with the scent glands between his toes. This is just what okapis do. As Will grows into adulthood, he will develop his own noticeable personality.
Even so, the Okapi is a solitary animal, preferring solo ventures through the dense jungle to communally grazing in an open field. Will's 4-year-old mother, Augusta K., is currently keeping him in hiding, as she would treat him in the wild. He resides in a nesting stable where she visits only to feed him. In two months, Will will begin to eat solid food and go on public display.
Will is the 32nd okapi calf born at the Brookfield Zoo since the first in 1959.
Right now, he seems content to just hang around with his tongue sticking out. He's absolutely precious.