With summer travel season right around the corner, the TSA is in a bit of a sticky wicket as O'Hare, Midway and airports across the country are experiencing tremendously long security lines. Long wait times over the past week at O'Hare led to about 450 people flying on American Airlines to miss their flights, forcing weary travelers to bunk up in cots overnight at the airport. At Midway, the insanely long line for security last week prompted one YouTuber to rhetorically ask, "Are you fucking kidding me, TSA?"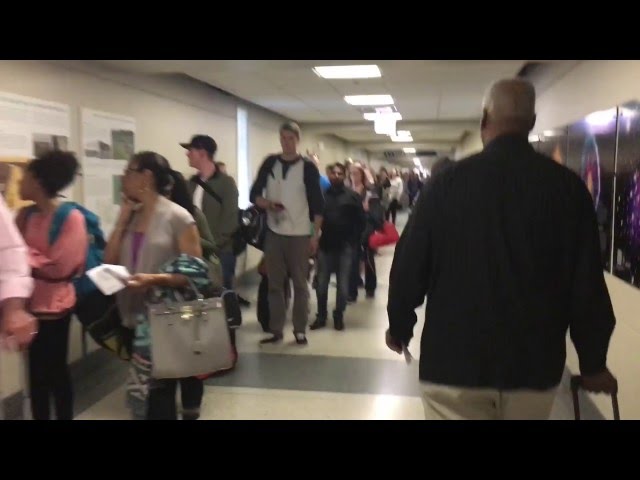 With such long waits, the official Twitter accounts for both O'Hare and Midway tweeted Monday morning that passengers should arrive at least three hours before their flights, up from the two hours the Chicago Department of Aviation normally recommends for domestic flights.
The TSA's woes are linked to the high turnover rate at the agency combined with the inability to train new hires quickly. According to the Tribune, the TSA currently employs around 42,000 officers, which is down by more than 10 percent when it employed 47,000 officers in 2013. On top of all that, demand for air travel is currently hitting record levels.
The Department of Homeland Security has addressed the issue, saying that an additional $34 million allocation from Congress will allow for the TSA to pay its workers more overtime this summer, as well as hire 768 new security screeners. On top of that, the TSA really wants flyers to sign up for its PreCheck option, but that can be a pretty obnoxious process, and isn't going to do much to alleviate the mind-numbing lines at Chicago's airports this week.
Illinois Senator Dick Durbin tweeted his dismay at the long waits Tuesday morning, stating that he spoke with DHS Secretary Jeh Johnson about solving the issue and that the TSA will be dispatching 58 new security officers and four canine unit teams to O'Hare as soon as possible.
In any case, the long wait times at Chicago's airports aren't going to be resolved any time soon. At least you'll have plenty of time to catch up on your reading list while you're queued up for that full body scan.
---
Interested in blogging for Time Out? Contact us here