If you've ever been to Chicago's ultimate slow jams dance party, Slo'Mo (a.k.a. slow jams for homos and their fans) at the Whistler, you know the person who has the killer style, laying down all the best R&B tracks is DJ Tess Kisner. It takes skill to pull together a look that's functional, comfortable and fresh, all while spinning records and breaking a sweat. Simplicity and thrift shopping is the name of the game for Kisner. "I like the idea of owning one-of-a-kind pieces that no one else will have." As a DJ, she needs a wardrobe that is light and adaptable—high-waisted bottoms, airy fabrics and accessories are all staples in her closet.
It's no surprise that someone involved in the music scene would have a natural affinity for style. "They define each other in a lot of ways. I see artists like Kanye [West] and Erykah [Badu] setting the tone for a lot of major fashion trends today." In regards to her own fashion sensibility, style is key for her to feel confident during a set, and the Silver Room is one of Kisner's favorite local shops. "It's my go-to for jewelry and bags," she says. The Chicago boutique carries beautiful handcrafted pieces by many Chicago designers.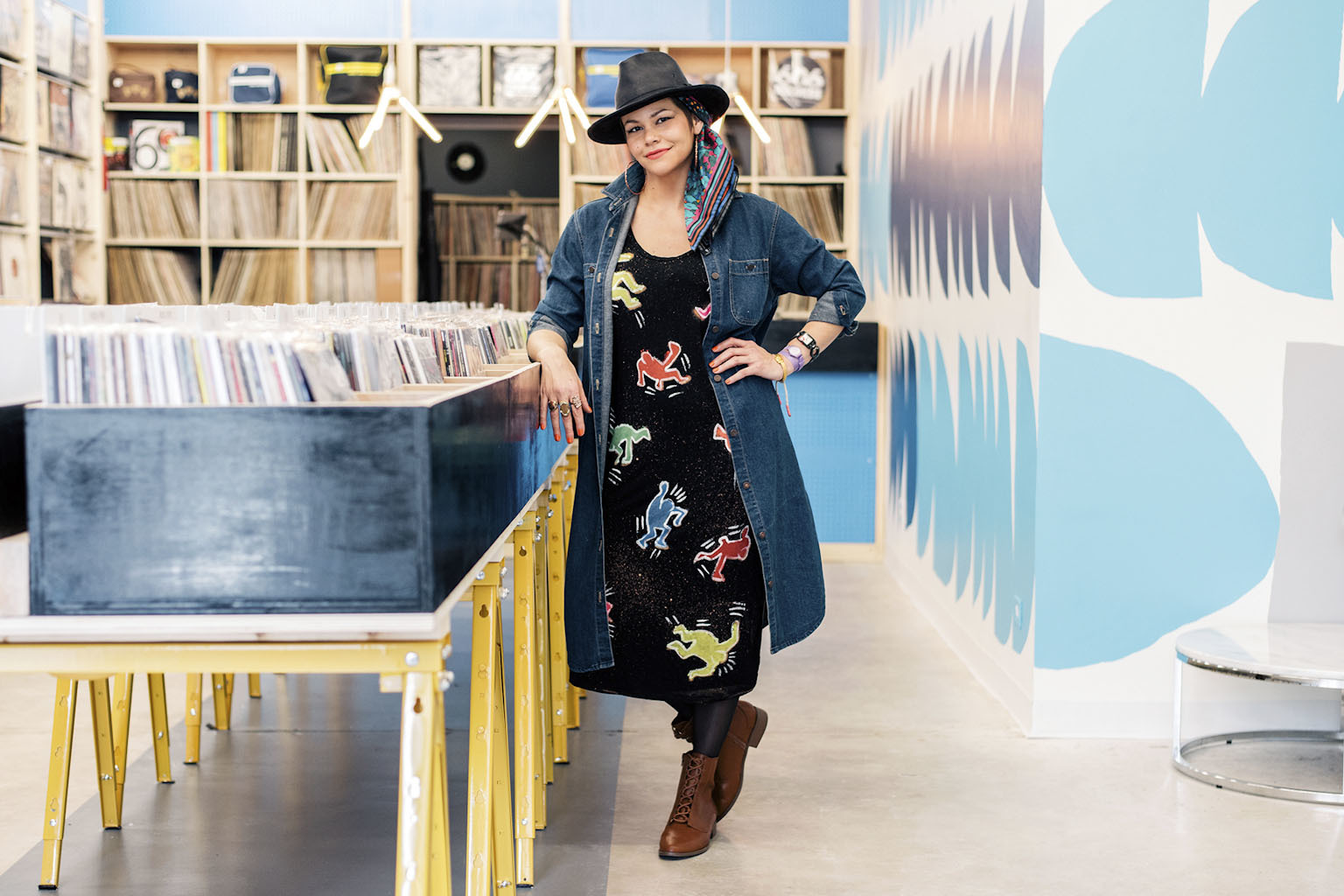 Photograph: Andrew Nawrocki
Kisner knows a thing or two about spring in the Windy City, having lived here for 14 years, and what that means for her wardrobe. "Spring in Chicago is the victory of a six-month struggle," she says. "Spring whispers 'summer' in our ear, and we live for it." Items she can't go without this season? Her bright yellow rain jacket from Gap and an oversized flower print red umbrella. This season, bold colors and floral patterns are all the rage, but when asked what trend she thinks will really take off this spring, she points to pants. "I've been seeing bell-bottoms lately, which I can see making a full comeback."
Photo taken at 606 Records. Kisner is wearing a denim duster from TUSK, with copper earrings, a gold rope bracelet and quartz and metal rings from the Silver Room.
---
Recommended feature