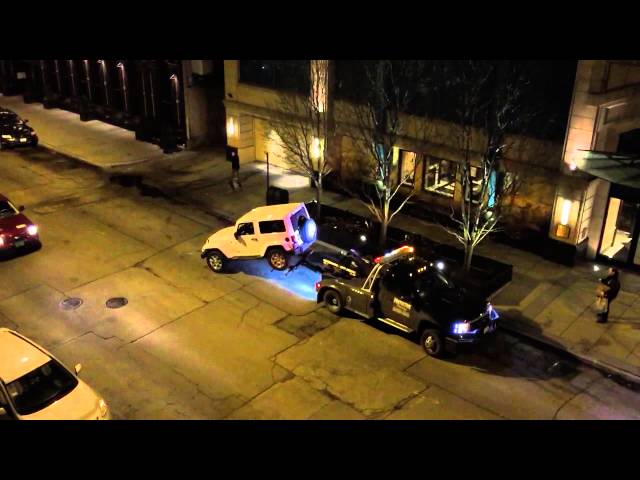 Pretty much every Chicagoan with Internet access saw last week's video of a Jeep Wrangler escaping the grasp of a tow truck in River North.
Thanks to DNAinfo's Paul Biasco, we now know the identity and the motives of the man behind the car's wheel. Victor Jaime, a 27-year-old Hammond, Indiana, resident traveled to River North on March 29 with a friend, his pooch and a craving for Portillo's. He parked in a Walgreen's lot and headed to the hot dog joint, leaving his English bulldog in the running car.
Upon return, Jaime found a tow truck set to take his car and dog to automobile purgatory. He responded by hopping in the driver's seat and laying on the horn. The tow truck pulled him around the corner before stopping, at which point he hit the gas and drove away.
According to Biasco, the truck was from the notoriously aggressive Lincoln Towing, and Jaime's car probably would have been brought to the company's inconvenient lot at Armitage and Cicero.
Jaime's car was left undamaged by the incident, and no police report was filed. Whether or not the Portillo's remained intact has yet to be confirmed.