If you go to Spain and walk into any tapas bar, you'll see a huge spread of tiny snacks, waiting for you to pluck them off the counter. When I went to San Sebastian a few years ago, we walked down cobblestone streets, popped into every bar we passed and downed glasses of txakoli, a slightly effervescent wine, and lots of tapas, from delicate anchovies placed over toast to chunks of morcilla, heavy with blood.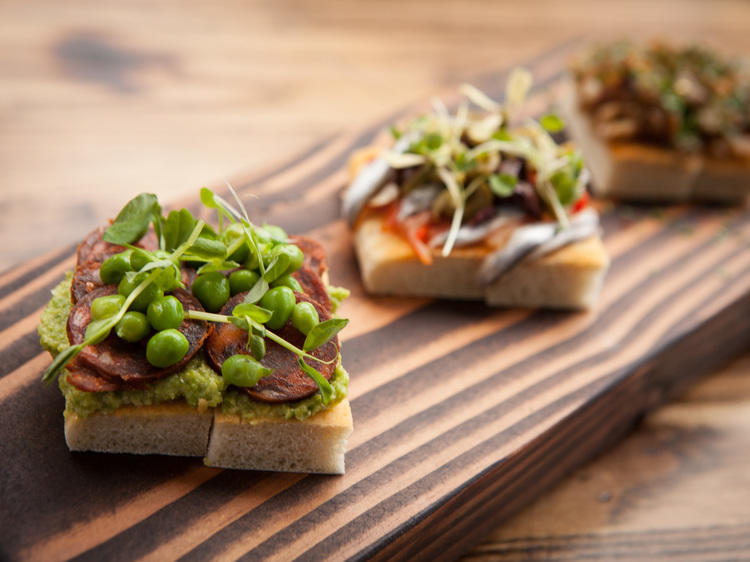 It's a very casual way of eating, and Tapas is the most casual concept that Next has yet to explore. While it's the second Spanish menu Next has done in their five-year run—in 2012, they served the ElBulli menu and recreated dishes served at Ferran Adria's now-closed, cutting-edge molecular gastronomy restaurant—the approach with this menu is more rustic and straightforward. There's one holdover from ElBulli on the Tapas menu—a spherified olive, made with a technique Adria pioneered, and which delivers a burst of liquid brininess when your teeth sink through the membrane—but it feels like a (delicious) anomaly on a menu that feels less about technique and more about huge flavors.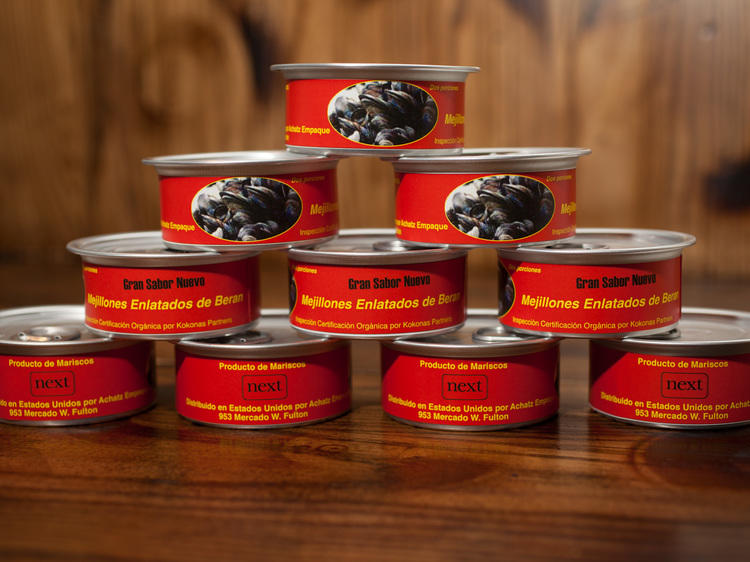 When you sit down at the table, there's a platter of cocas, little flatbreads piled with toppings, like anchovies and olives. Next comes a sealed red can, packed with mussels and labeled with the restaurant's name—it's a nod to the fantastic canned seafood that comes from Spain (seriously, if you haven't had the Ortiz canned tuna, right that wrong immediately) and one of the dishes that best sums up what eating in Spain is like. Later, there's a lovely rendition of patatas bravas, with tender spheres of potato and sauce, which you mix up yourself, as well as a plate of jamon iberico de bellota (the same kind of ham you'll see sitting on a ham stand at the entrance to the restaurant), sliced thin and arranged into a pinwheel, with fat that melts like butter in your mouth.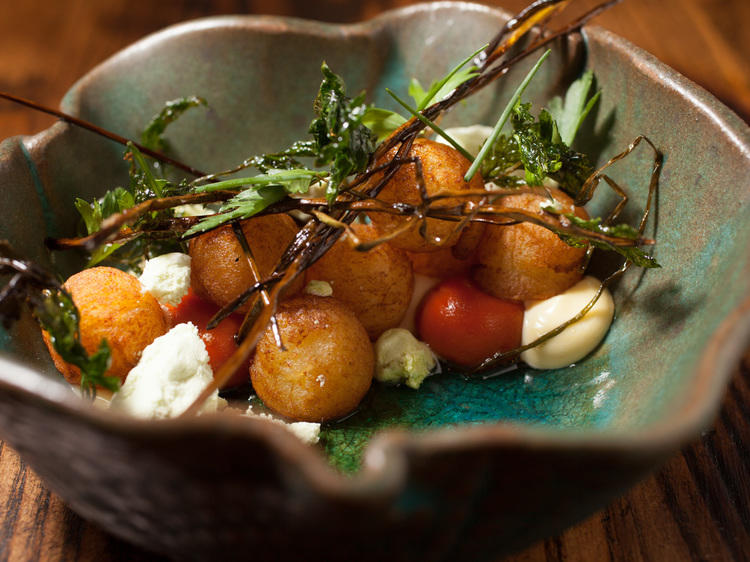 Other traditional tapas appear, including a tortilla española, served alongside a perfectly cooked ribeye, a steak I liked even better than the one at Next Steak. One of the most memorable dishes of the night is also the biggest—a salad comes out on a roof tile to accompany pork belly, which is lit on fire at the table and served with romesco, a deeply concentrated sauce that cut through the heavy pork. It's the third course in a menu that plays around with traditional tasting menu expectations—it starts light, then goes heavy, then there's a sweet dish, then more light dishes, then another big dish, then dessert. It's a progression that's physically easier to handle than the slow but steady increase in richness I'm used to. It also helps keep you guessing about what's coming next, and provides a sense of anticipation I haven't quite felt elsewhere since I dined at Alinea last year.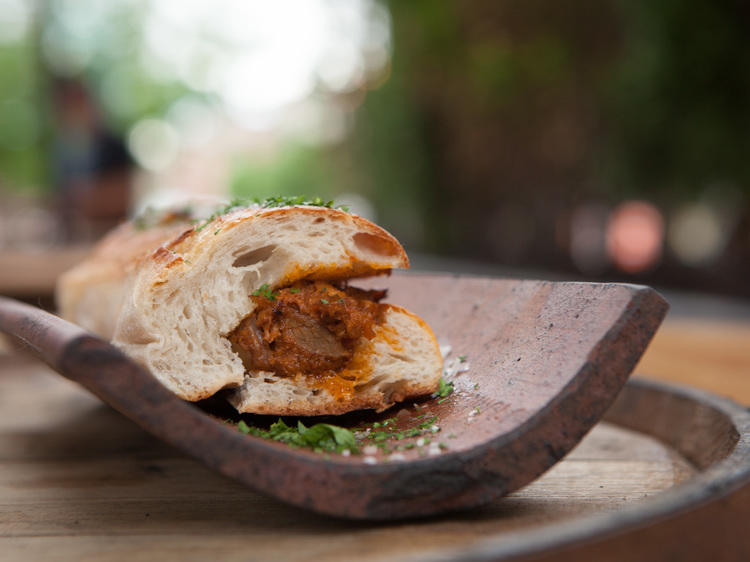 Another reason I like this menu is the price—Tapas is the lowest priced theme at Next in quite some time (dinner for two without drinks on a Sunday was $265.20 and you can get $70 tickets). There's also an even cheaper way to try the menu, and it feels like a more authentic Tapas experience. Next has a few standing tables in front of the restaurant, which are open for walk-ins starting at 5:30pm. The menu consists of $12 a la carte dishes and glasses of txakoli, cider, beer or a gin and tonic.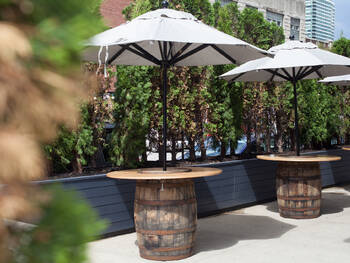 Some of the dishes are from the Tapas dinner menu, including the cocas, the tortilla española and the beautiful, creamy cheesecake. There are also patio-only dishes, including Iberian ham with tomato and a pork belly and manchego bocadillo, which is gloriously fatty and delicious. You can't make a reservation, so tell your friends to meet you there early—this is the patio to be at this summer.
Photographs by Martha Williams