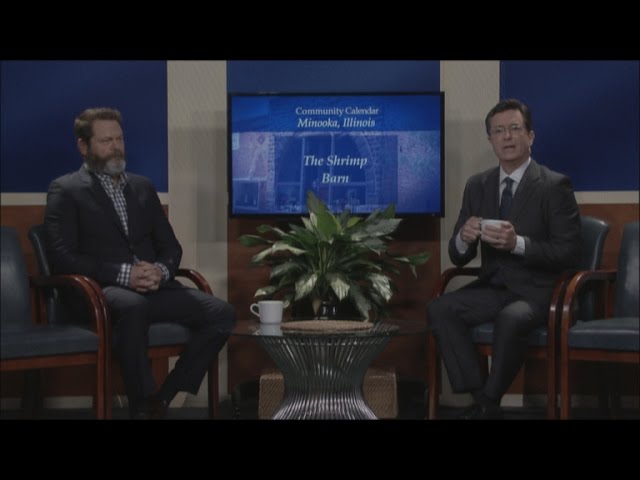 Nick Offerman isn't shy about his upbringing in suburban Minooka, Illinois—his grandfather was once the mayor of the town and his family is still based there. His small town sensibility made him an ideal fit for the role of curmudgeonly Ron Swanson in Parks and Recreation, and those roots were more present than ever on Monday night's episode of The Late Show with Stephen Colbert.
Offerman joined Colbert for one of the late night host's recurring segments, dubbed "Community Calendar," to detail some real events that are happening over the next month in the Minooka area. Not surprisingly, they all sounded about as exciting as watching a dead goldfish float around in its bowl. The featured events included "Networking Business Cards," medical marijuana law enforcement training, discounted neutering services for dogs owned by veterans and laser tag at the library.
Colbert is no stranger to the Chicago area, either. He attended Northwestern University and went on to spend 11 years in Chicago proper, where he cut his teeth in the city's improv comedy scene.
The hometown plug comes just before Offerman returns to the Chicago area—he's scheduled to hold a book signing at North Central College in Naperville for his latest work, Gumption. He'll presumably spend some time in Minooka during his trip back, but don't expect him to show up for laser tag in the library.