Remember the Davis Theater? You know, Lincoln Square's dingy-yet-charming independent movie theater, that was a little gross but you loved it anyway? Yeah, well, it got a major facelift, and we're head-over-heels all over again with the unrecognizably sexy spot. If movie theaters had high school reunions, the Davis would absolutely be winning theirs.
After nearly a year of renovations, the Davis is reopening this Thursday, December 15, with Star Wars: Rogue One on all three screens. The movie theaters themselves were gutted and completely refurbished, with new seats, carpets, screens, bathrooms, everything. The rehab does justice to the theater's art deco aesthetic, maintaining—indeed, celebrating—the building's historic presence. That's not hyperbole; the Davis is on the National Registry of Historic Places. Take a look at the new space for yourself: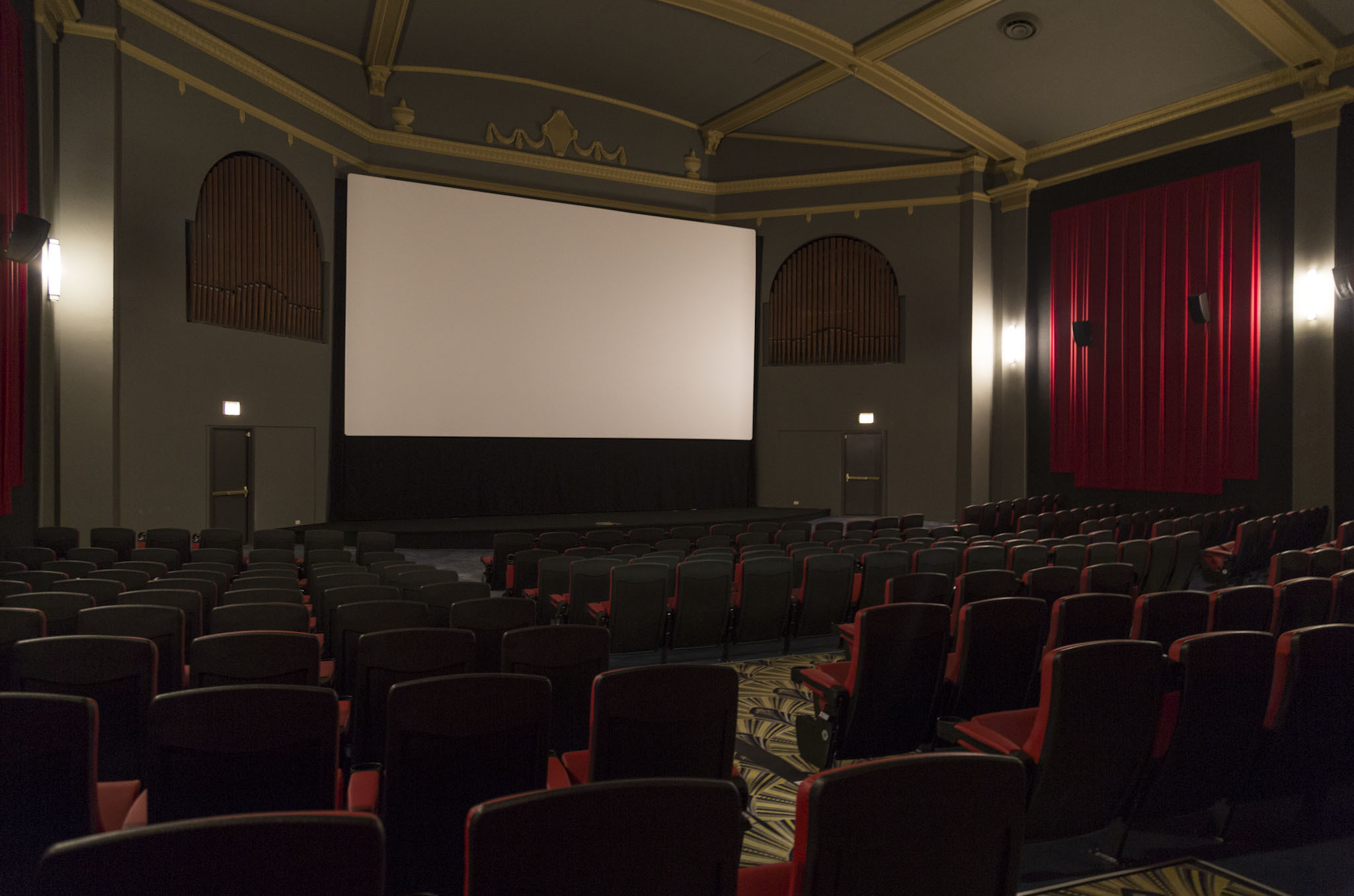 Apart from the movie theaters themselves, the Davis is opening the Carbon Arc Bar & Board, a casual, upscale bar and restaurant in the adjacent space. Moviegoers can eat and drink in the Carbon Arc, and/or bring their meals into the theater itself. We sat down with the Carbon Arc's beverage director, Timothy Ryll, to preview their cocktail menu.
Ryll's philosophy for the Carbon Arc is simple, efficient cocktails; after all, folks have movies to get to. Like the movie theaters themselves, Ryll's drinks are classic, with a modern twist. Take the New Dirty, for example, a dirty martini with pickle juice instead of olive juice. The cocktail menu is divided into three categories: Timeless, Updated Classics, and Original Screenplay. (Get it?)
Take a look at the cocktails below:
French 75 - Bombay Dry, Lemon Juice, Simple Syrup, Sparkling Rosé - Tulip, Ice, Zested Lemon Swath
New Dirty - Vodka or Gin - Coupe, Up, Speared Onion & Pickle Wedge
Aviation - Tanqueray, Maraschino, Lemon, Creme de Violette - Coupe, Up, Luxardo Cherry
One theater has a window directly to the Carbon Arc Bar, so patrons can order mid-screening. It'll be closed (with blackout shutters) during most film screenings, but will be available during the Davis's alternative screenings (like sports and live events).
Fall into Winter - Rum Atlantico Reserva, Nux Alpina Walnut, St. George Spiced Apple, Cider - Tulip, Ice, Apple Peel, Cinnamon Dusting
Champs-Élysées - Pierre Ferrand 1840 Cognac, Green Chartreuse, Lemon, Simple Syrup, Angostura - Coupe, Up, Zested Lemon Swath
Spitfire - Avion silver, Ancho Reyes, Combier Grapefruit Rose, Simple Syrup - Rocks, Ice, Jalapeño Chip, Limewheel
A couple of cocktails, the De Peche Mode and the Caramel Corn Old Fashioned, cheekily nod to classic movie-theater eats. But for the most part Ryll sticks to simple, straightforward concoctions.
Popcorn Sutton (Caramel Corn Old Fashioned) - Woodford Reserve, Caramel Syrup, Aztec Chocolate Bitters - Rocks, Ice, Speared Caramel Corn
De Peche Mode - St. Germain, Combier Peach, Pinot Project Rose - Tulip, Ice, Zested Lemon Swath, Peachie O Candy
All cocktails are $12. The Carbon Arc Bar & Board will also feature 26 beers on tap, as well as an extensive wine list. The Carbon Arc certainly can stand alone as a culinary destination, independent from the theater. But I've got to say, knocking back Ryll's delicious cocktails will make sitting through another Star Wars much more enjoyable.
Want more? Sign up here to stay in the know.