While day one of Lollapalooza was characterized by storms and humidity, Friday felt like the first gasps of autumn. Temperatures in the 60s (and a few scattered showers) greeted attendees on day two, as the fest rolled on after a tumultuous night. Here's what we saw.
RECOMMENDED: Our complete guide to Lollapalooza
1. Another exuberant appearance by Run the Jewels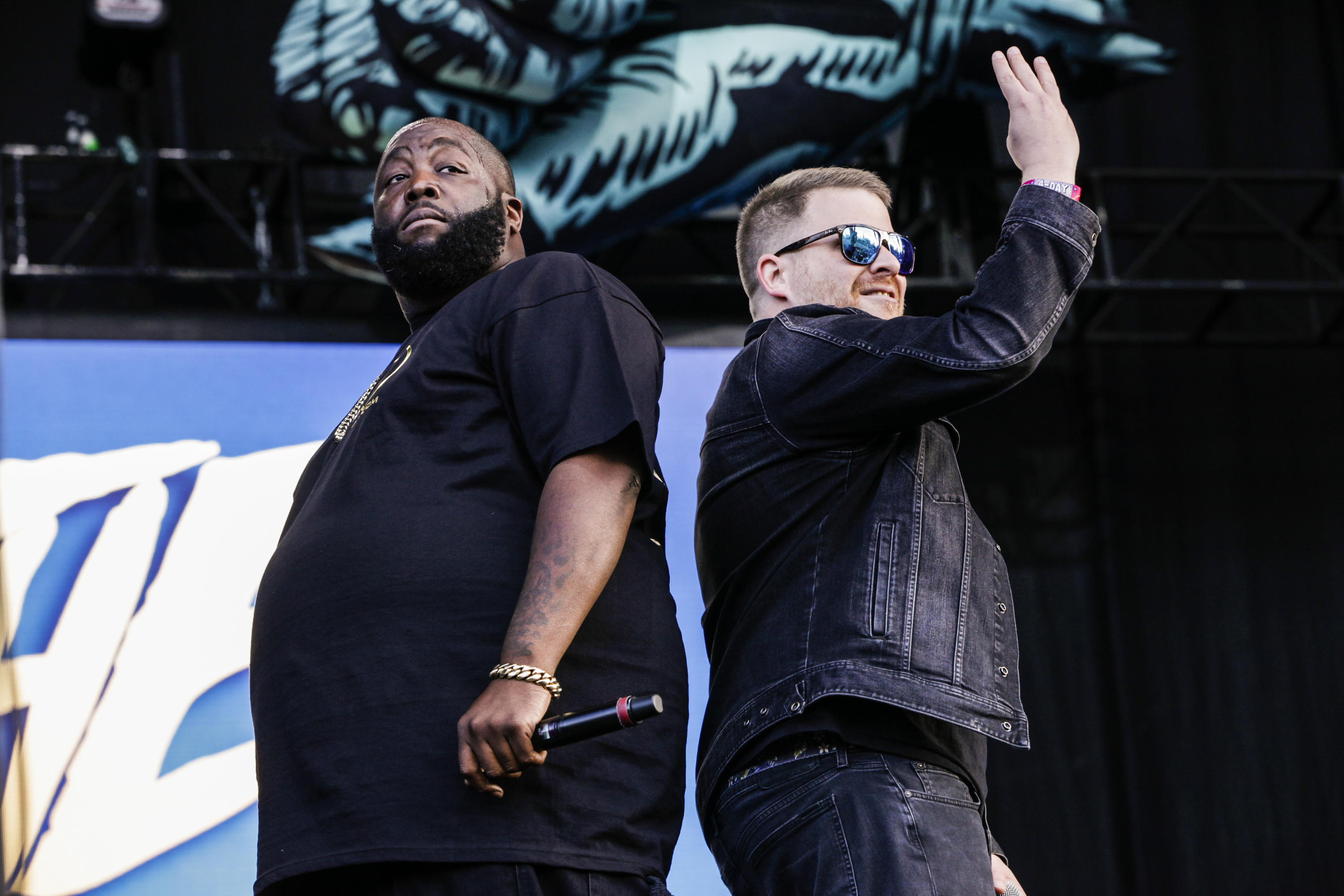 What started as a one-off side project for rappers El-P and Killer Mike has come a long way since its first free album. Get off the Blue Line in Logan Square this weekend and you'll find a Run the Jewels-themed pop-up bar decked out in gold fists and guns, serving RTJ-inspired cocktails and a beer that Pipeworks brewed for the duo called Stay Gold (El-P and Mike even showed up to the bar on Thursday night to christen it). Past appearances at Lollapalooza and Pitchfork Music Festival have only bolstered the pair's reputation, giving way to its current status as one of hip-hop's most exciting live acts. It's a lofty status that even Killer Mike can't fathom, looking out at the crowd and exclaiming, "This is surreal! We never thought it'd get this big." It has, and tracks like "Close Your Eyes (And Count to Fuck)" and the more recent "Legend Has It" still sound best with an enthusiastic crowd chanting along in unison.—Zach Long
---
2. Chance's Lolla-specific apparel
If Chance the Rapper's ubiquitous 3 hats have proved anything, it's that the guy has a firm grasp on compelling merchandising. Naturally, he's treating his headlining set at Lollapalooza in the same fashion, selling a selection of T-shirts that specifically commemorate the occasion. Stop by the artist merch tent at Lolla this weekend and you'll find Chance shirts that depict the Chicago skyline and memorialize the "Lolla hometown headliner" himself. As of Friday afternoon, there were still some available, and we can pretty much guarantee that loads of people will be violating the cardinal rule of concert T-shirts and wearing them at Saturday night's climactic set.—ZL
---
3. Ryan Adams' straight-ahead rock
The moment that Ryan Adams picked up a Flying V guitar and started playing "Do You Still Love Me" backed by a stack of comically oversized amps, it became painfully obvious that he's an anomaly at Lollapalooza these days. Thankfully, Adams had no delusions of winning over the crowds waiting around for Foster the People or Blink–182—guitar solos, wailing organs and alt-country ballads may be out of style at a festival like Lolla, but watching a skilled singer-songwriter at work is still a captivating proposition. I almost expected him to throw the crowd a bone and close with a track from his reinterpretation of Taylor Swift's 1989, but Adams dutifully stuck to his guns, signing off with an especially twangy rendition of "Magnolia Mountain." Let it never be said that Adams can't show a bit of restraint.—ZL
---
4. The unescapable Chicago-ness of Whitney
One of a handful of local acts playing Lolla on Friday, Whitney's evening performance felt like a special treat for Chicago. The group's musical roots can be boiled down to a locally-derived formula: A dancey, honky-tonk vibe you might hear onstage at Kingston Mines, a breadth of musical knowledge worthy of an adventurous Wilco album and a tinge of Andrew Bird's theatrical moodiness. (Case in point: "We've got a brand new song now, its about being depressed!") The group brought out Chicago rapper Joey Purp at the top of the set, allowing him to rap over a live band and horn section which, again, made the show feel especially tailored to locals. Deftly channeling the hometown vibe, Whitney translated a show we'd expect to see at Metro or Lincoln Hall to the Lollapalooza stage—no simple feat.—Grace Perry
---
5. A dose of angsty nostalgia from Blink-182
Blink-182 drove the nostalgia train right through Lollapalooza. For every teenager who didn't fully "get" the Southern California punk band, there were a dozen millennials losing their damn minds. (Full disclosure: I fall squarely into the latter group.) Opening with "Feeling This," accompanied by fireworks and the word "FUCK" in fire behind them, Blink wore its sophomoric tendencies on its tattered sleeves. Some things haven't changed: Shirtless drummer Travis Barker is as adept as ever—a total athlete with the sticks—and bassist Mark Hoppus still has the same faux hawk he's be rocking for 25 years. Guitarist Tom DeLonge has been replaced by Alkaline Trio's Matt Skiba, who doesn't quite channel the extraterrestrial enthusiast's nasally croon, but still gets the job done. The set was littered with CD-R mixtape hits like "What's My Age Again?," "First Date," "Anthem," "Dumpweed," "Damnit" (the set's closer) and everything else I screamed along to in my bedroom in 8th grade. Blink-182 may not be the potty mouthed, angsty 23-year-olds they were in their Enema of the State years, but they'll always be able to make us feel like one.—GP
Want more? Sign up here to stay in the know.