Last night under a full moon, Flaming Lips frontman Wayne Coyne predicted that Friday might be the last gorgeous night of the summer. His prognostication was at least one day off, because Saturday at Riot Fest was even more spectacular, filled with sunshine, blues skies, a slight breeze and plenty of great sets. From decadent funnel cakes to punk rocking swine, check out the best things we spotted on Saturday at Riot Fest.
RECOMMENDED: Our complete guide to Riot Fest
1. The Hives' hyper-efficient rock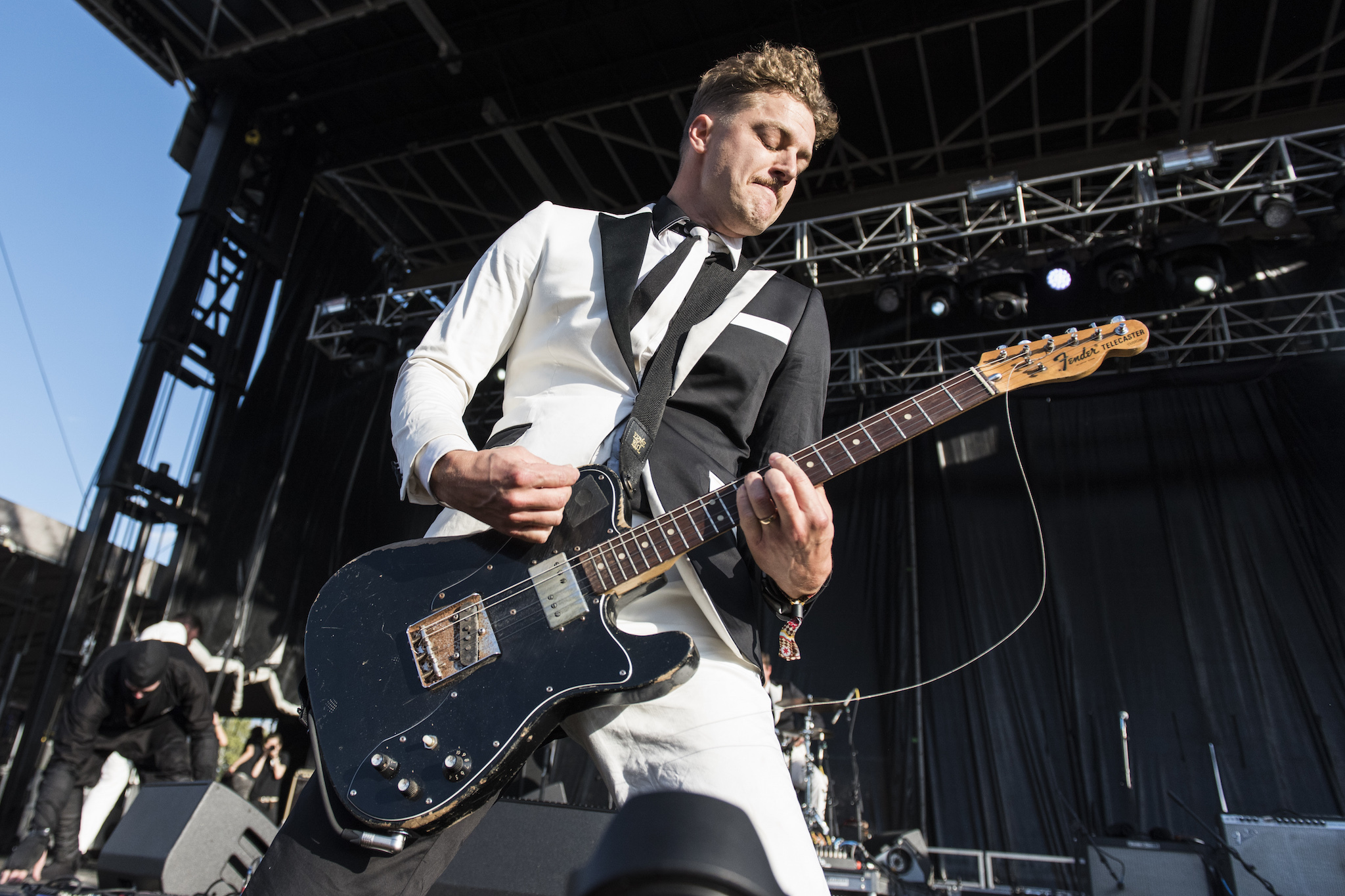 "The Hives are back in Chicago, you have two more wishes," frontman Pelle Almqvist deadpanned as the Swedish quintet took the stage. Decked out in its usual matching black and white suits, the Hives went straight back to the halcyon days of early aughts, via garage rock anthems like "Hate to Say I Told You So." Blowing through a succession of taut, Swedish-engineered songs, the band's only moment of indulgence was an extended rendition of "Tick Tick Boom," which found Almqvist trying (and failing) to convince the entire crowd to sit down. It was weird, wonderful and all too short—much like every great Hives track. —Zach Long
---
2. The most decadent funnel cakes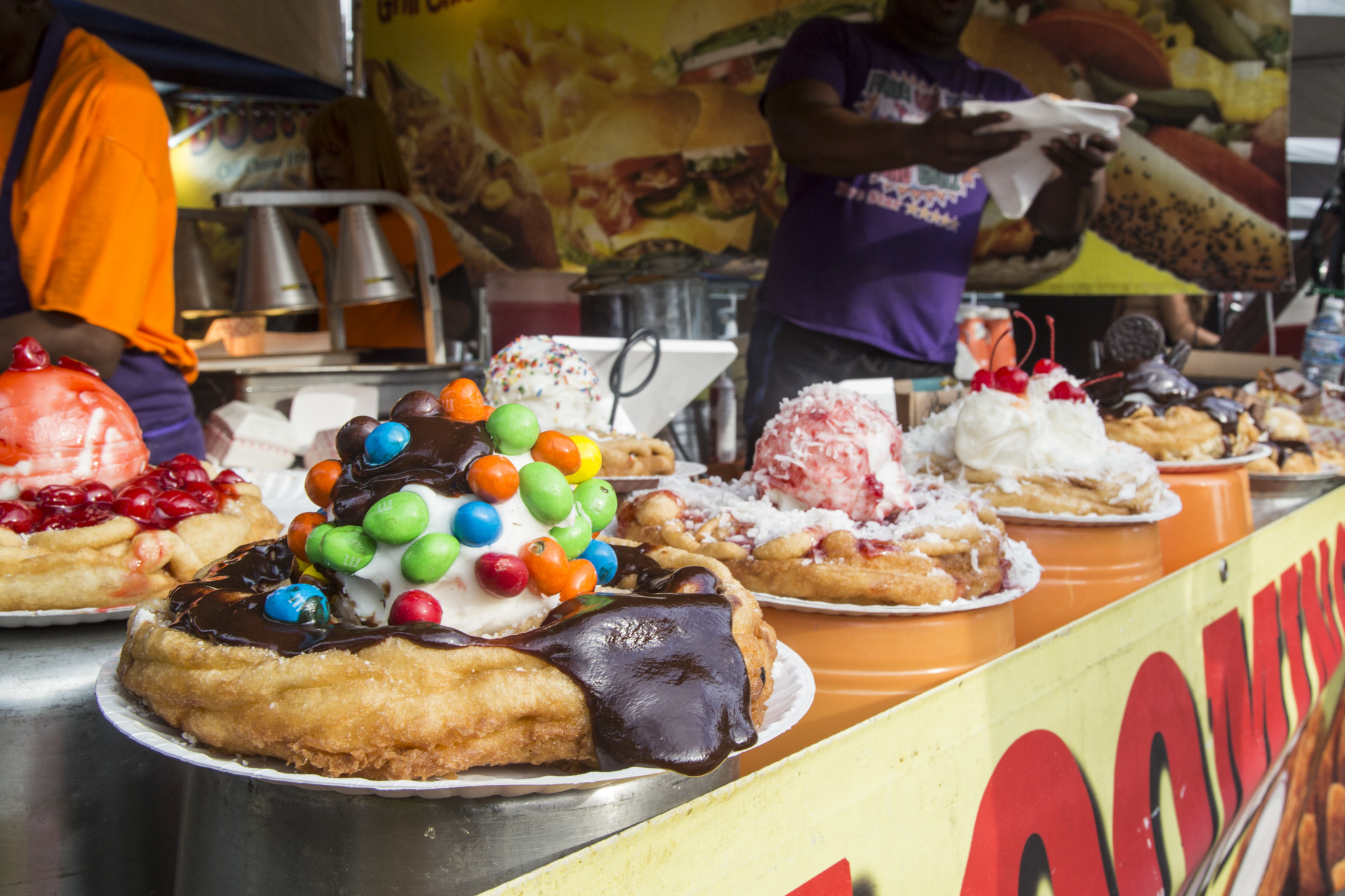 The food at Riot Fest is kind of all over the place—we're thinking that the only prerequisite to be a vendor here is to own a sign for your business. But if you're craving some delicious, full-on garbage fair food, look no further than these insane funnel cakes, sold at a booth called Funnel Cake World. They're, in a word, gratuitous (and in many words, they might kill you). As you can see, these funnel cakes are all about the toppings. You could be dainty and settle for powdered sugar, but if there's ever a weekend to go hard, it's Riot Fest. Top your funnel cake with an entire ice cream sundae, or a full banana split, or deep-fried Oreos or "various candy" (which truly could be... anything). These mountains of fried dough are the Misfits of the dessert world. —Grace Perry
---
3. Death Cab for Cutie's entrancing serenade
The last time I saw Death Cab For Cutie was summer '05, which was perhaps the age of peak Cutie. I, like much of the Riot Fest crowd, grew up on Transatlanticism and was pleasantly surprised to hear much of that record tonight. I was also relieved to see frontman Ben Gibbard still rocks his signature boyish bangs, and they now flip down over his entire nose. The highlight of the set came about two-thirds in, when Gibbard picked up his acoustic guitar for the serenade that launched a million mix CDs: "I Will Follow You Into the Dark." (As the girl next to me explained, annoyed, to her boyfriend, "It's only the most romantic song, like, EVER.") The smitten crowd sang along to every word of Gibbard's instantly recognizable croons. There aren't many quiet moments at Riot Fest, but Ben Gibbard made his audience feel some big feelings. —GP
---
4. A punk rock pig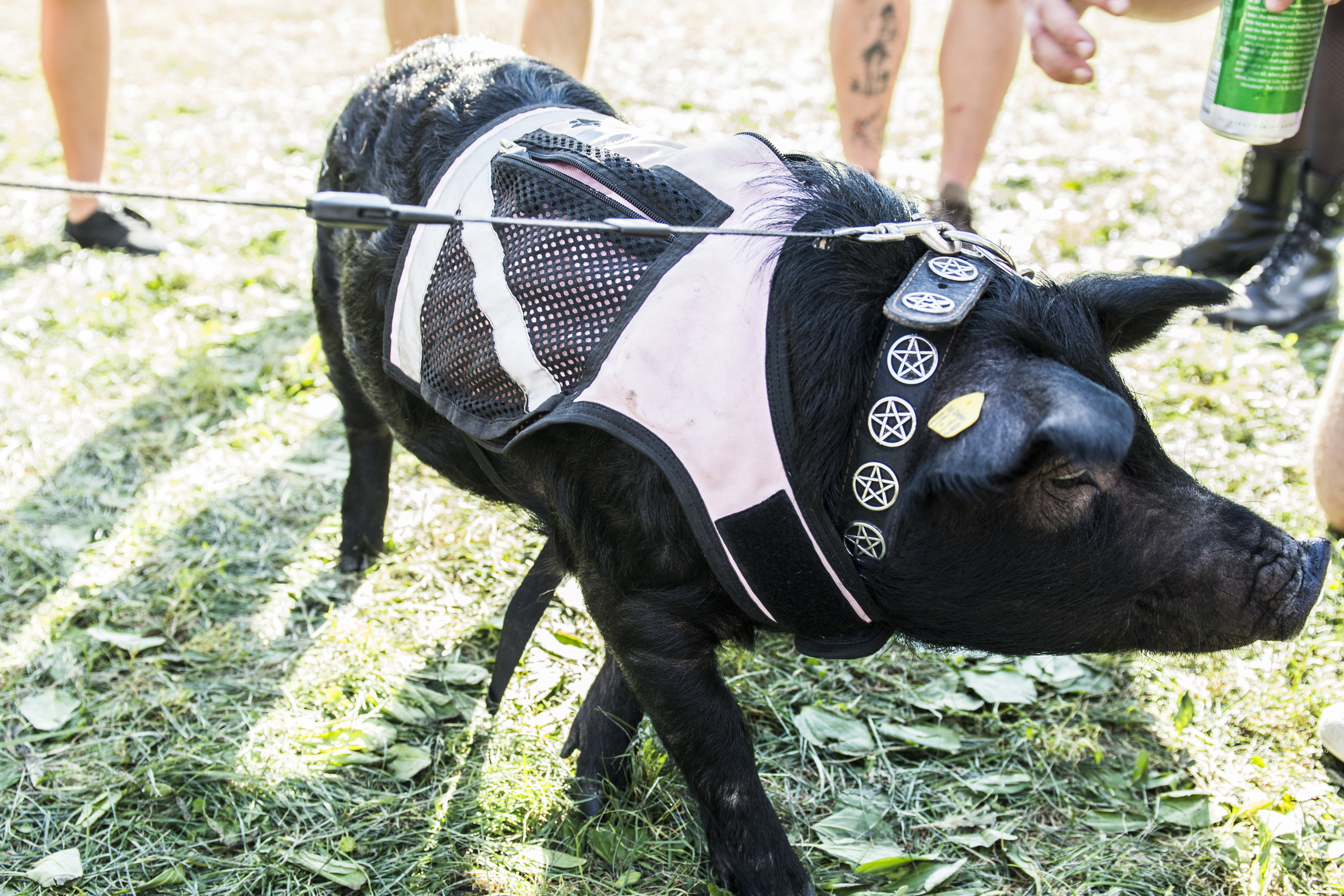 We haven't seen dogs, cats or even so much as a squirrel in the festival grounds, but somehow this Punk Pig got into Riot Fest. Sporting a pentagram-covered collar, this pig fits right in with the festival crowd. Who knew the Alley (R.I.P.) sold shirts in pig sizes? Maybe Punk Pig is a seeing-eye pig, maybe he was smuggled in or maybe he bought a ticket himself. Regardless, we're pretty confident that Punk Pig came to see headliner Morrissey, a guy who is known for his love of animals. —GP
---
5. Morrissey's mere presence
After more than a half an hour of assorted music videos and film clips were screened onstage (and an increasing number of boos rose from the impatient crowd), Morrissey finally graced Riot Fest with his presence. We're not sure what the reason for the delay was (maybe his team was ensuring that Riot Fest's two-hour meat ban was being enforced?) but at least the singer kicked off his set with an apology, crooning "I'm so sorry" as he made his way through the late '80s single "Suedehead." While some may have doubted that Morrissey would show up at all (he's been known to cancel entire tours without much notice), those who stuck around were treated to a characteristically maudlin set from the former Smiths frontman—giving up hot dogs and steak tacos for a couple hours was a small price to pay. —ZL
Want more? Sign up here to stay in the know.