Riot Fest music festival
Put on your favorite punk rock T-shirt and join the end-of-the-summer celebration at Riot Fest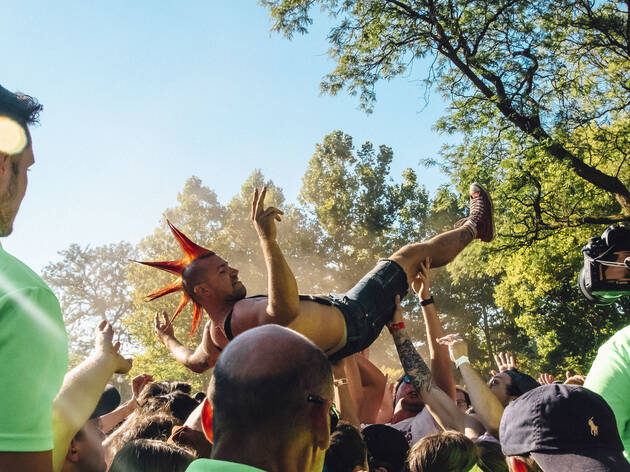 What better way to send off summer music festival season than with a weekend of rock, metal and punk? Each September, Riot Fest takes over a section of Douglas Park (conveniently located near one of the city's best breweries) and throws a rock 'n' roll carnival complete with tons of bands, sideshow acts, a Ferris wheel and black T-shirt-clad attendees. This year, Blink-182, Slayer, Bikini Kill, the Raconteurs and the Flaming Lips headline the main stages (joined by annual sets from Andrew W.K., Taking Back Sunday and GWAR). Check out the latest updates on Riot Fest 2019 as well as photos and reviews from previous events.
RECOMMENDED: See more of Chicago's best summer concerts
When is Riot Fest 2019?
Riot Fest occurs from September 13–15, 2019.
Where is Riot Fest 2019?
Riot Fest will take place in the southern half of Douglas Park (1401 S Sacramento Dr) on Chicago's West Side.
How do I get to Riot Fest 2018?
The easiest way to get to Riot Fest is to take the Pink Line train to California, which is just a short walk away from the festival's entrance. By bus, the fest is accessible via the 12, 18, 49 and 94 routes. By Metra, the BNSF Western Avenue station is also an option.
Where can I get tickets to Riot Fest?
Go to Time Out's ticket page or the festival's official website to buy tickets for single days and the whole weekend.