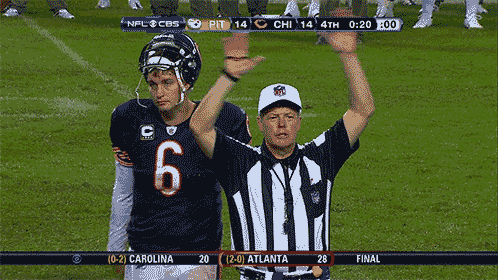 Chicagoans have one more reason to be thankful tonight, as the Bears take on the Packers in Lambeau Field for a primetime Thanksgiving matchup. Even though the Bears have been playing a little better as of late, the Packers are a superior team and will almost certainly destroy them like they did in September. So to cap off your Thanksgiving night right, here's a fun drinking game to play while you watch the game to make the viewing experience a little more enjoyable.
(Optional) Pre-game warm-up: Try to name all 27 quarterbacks the Bears have started since 1992 when Brett Favre was first named starter for the Packers. Have one drink for each quarterback you omit or guess incorrectly.
Before kickoff: If Alshon Jeffery is not in the starting lineup, have one drink. If Matt Forte is not in the starting lineup, grab a bottle of the strongest stuff in your liquor cabinet and brace yourself for a long night.
When the Bears have the ball:
- Every time Jay Cutler throws an incomplete pass, have one drink. Every time Cutler throws an interception, have two drinks. Every time the cameras show Cutler giving off that mopey "I don't care" look on his face, keep chugging your drink until you reach the same level of emotional detachment.
- If Jeremy Langford breaks off a long run or scores a touchdown, have one drink. If you have Langford on your fantasy team but benched him again this week, throw your drink at the wall.
- If Robbie Gould makes a field goal or PAT, have one drink. If the announcers say he's "good as gold" afterward, groan and have two drinks.
- If you disagree with a play called by John Fox, have one drink. If everyone watching with you agrees that Ditka is a better coach and would have this team ready to beat the Packers and communism, have a cheers and finish your drinks.
When the Packers have the ball:
- Every time Rodgers throws a touchdown pass, have two drinks. Every time the cameras show him smiling and joyously running around the field, think about how you want the Bears to wipe that stupid smirk off his face even though they can't, and put your drink down in resignation.
- Have one drink for every Bears missed tackle or failed coverage assignment.
- Have one drink for every no-name Packers player that roasts the Bears' secondary throughout the night like they always seem to do. Finish the rest of your drink as you cuss out the Bears for not being able to find the same kind of players.
Throughout the broadcast:
- Have one drink every time the announcers refer to Green Bay as the "frozen tundra" and mutter to yourself how stupid and redundant that phrase is.
- When the cameras show the town of Green Bay, have one drink for each building they show that's taller than Lambeau Field. Just kidding! Those don't exist in that godforsaken town. This is a good way to stay sober.
- If the announcers show the graphic of each starting QB the Bears have had since Brett Favre took over for the Packers in 1992, chug your drink until the segment is finished. This may require multiple drinks.
If the Bears win:
Break out the champagne!
If the Packers win:
Break out the Malort.
Enjoy the game, and try not to die of liver cirrhosis as you play along.