Clark and Addison, Lincoln Park Zoo's prized pair of red pandas are going away for good. The two red panda cubs, born in June last year, are being sent to other zoos, Lincoln Park Zoo revealed in a press release. Exactly what zoo(s) they're headed to is not yet known, but they'll be in good hands, going to a member zoo of the Association of Zoos and Aquariums. Their parents, Leafa and Phoenix will remain in their Lincoln Park home.
"Clark and Addison have fully weaned from the dam, eat solid foods such as bamboo and are fully independent," said Dave Bernier, the zoo's general curator, in a statement. The Red Panda Species Survival Plan recommended that the 7-month-old cubs be moved in part because red pandas have become an endangered species. When the pair was born on June 26 last year red pandas were classified as a vulnerable species.
The two cubs were the first red pandas born at the Lincoln Park Zoo—Clark is a male and Addison is a female. "While we are sad to see them leave Chicago, these cubs have brought much needed attention to this species and its decreasing population," Bernier continued in the press release.
So long, you pretty little things, you.
Look back at Clark and Addison's first steps into their exhibit.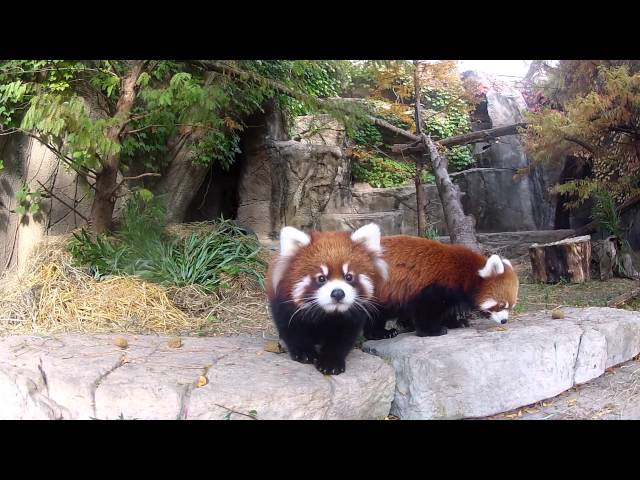 Relive the cubs' formitive months in Chicago
Photograph: Lincoln Park Zoo/Facebook
Photograph: Lincoln Park Zoo/Facebook
Photograph: Lincoln Park Zoo/Facebook
Photograph: Lincoln Park Zoo/Facebook
Photograph: Lincoln Park Zoo/Facebook
Photograph: Lincoln Park Zoo/Facebook
Photograph: Lincoln Park Zoo/Facebook
Photograph: Lincoln Park Zoo/Facebook