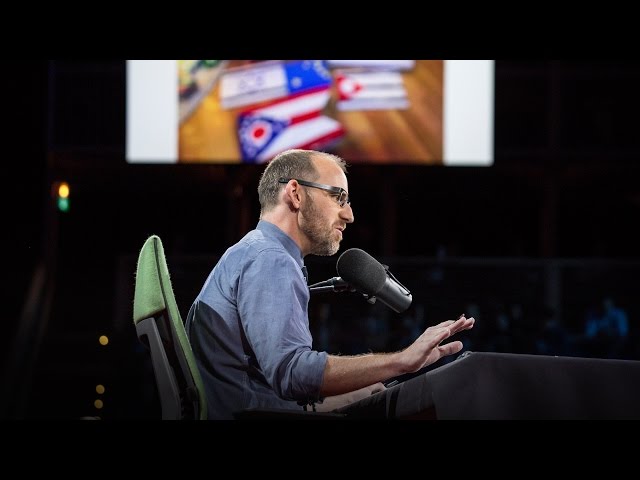 Chicago's flag is hard to miss. It's plastered on windows across town, hung outside of municipal buildings and a popular tattoo for Windy City aficionados. In a recent Ted Talk, Roman Mars of 99% Invisible broke down what makes a good flag, using Chicago's as a shining example.
The Chicago Flag is simple: A white field, two blue stripes and four six-pointed red stars. The blue areas represent Lake Michigan and the Chicago River, and the stars mark significant events in the city's history. There isn't a seal like there is on the Illinois State Flag, and there isn't any lettering like there is on San Francisco's flag. As Ted Kaye, author of Good Flag, Bad Flag: How to Design a Great Flag, explained, "If you need to write the name of what your representing on your flag, your symbolism has failed."
Illinois and San Francisco aren't unique examples of bad flag design. Mars noted that city, state and regional flags rarely contain good design qualities, which make Chicagoans all the more proud of their city's flag. The Chicago Flag invokes a sense of civic pride and provides a banner to rally under. The same can't be said for Milwaukee's flag:
"It isn't just that people love Chicago and therefore love the flag," Mars said. "I also think that people love Chicago more because the flag is so cool." This "positive feedback loop" between great symbolism and civic pride is palpable in Chicago.
The Chicago Flag was first adopted in 1917 after Mayor William Thompson appointed a municipal flag commission. It was designed by poet Wallace Rice. At the time, the flag had only two stars, which represented the Great Chicago Fire and the World's Columbian Exposition. Another star was added in 1933 to celebrate the Century of Progress Exposition, and the fourth star was added in 1939 to represent Fort Dearborn. If Chicago had won its bid to host the 2016 Olympic Games, there was talk of adding a fifth star to the flag.
"I've seen firsthand what a good city flag can do in the case of Chicago," Mars said. "The marriage of good design and civic pride is something that we need in all places."
Chicagoans also rally around sports teams, ketchup-less hot dogs, a booming comedy scene and other aspects. But sports teams are regularly disappointing, some people actually love ketchup and comedy isn't always for everyone.
The one thing capable of uniting Chicagoans of every ilk is the flag, and other cities should take note when contemplating a new flag design.