Aleksandar Hemon's The Book of My Lives
The acclaimed Chicago writer releases his first nonfiction collection.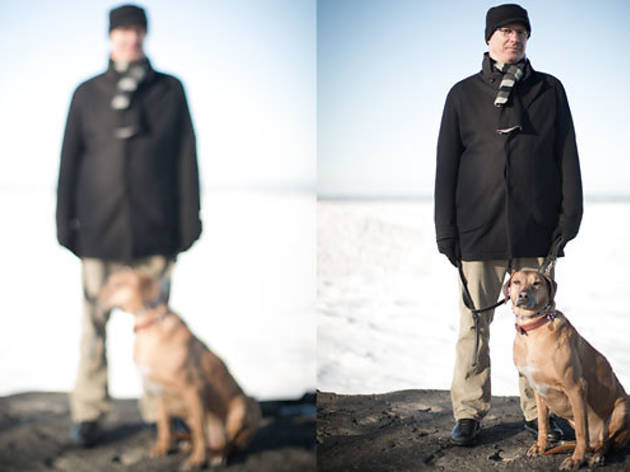 ALEKSANDAR HEMON HATES NEW YORK. The Chicago-based writer, who is often praised for his inventive use of language, voices his dislikes readily and with considerable flair. When discussing his 2012 visiting writership at New York University, he says the students and colleagues were great—among them authors Jonathan Safran Foer and Sharon Olds. But living in the Big Apple? "Torment! It's the Vatican of entitlement. You walk into a cloud of glamor, and then you have to reproduce it. Otherwise, you're out."
As we sit in a coffee shop on Broadway—the North Side Chicago street, that is, not the famous NYC thoroughfare—Hemon, with a wry grin, offers an illustration of what he sees as New York's inflated ego. "On Sixth Avenue, there's a Container Store that just opened. They had blurbs in the window. It's literally a store that sells emptiness, a store of nothing—and there were blurbs that said, 'What a great store! I had so much fun here!'"
Forty-eight-year-old Hemon, born in Bosnia, views Chicago much differently. He first came to the city in 1992 on what was supposed to be a month-and-half-long visit, but was stranded here when his hometown of Sarajevo fell under siege. He watched the devastation unfold on TV. Chicago gradually became home, a process he describes in his first nonfiction collection, The Book of My Lives, out Tuesday 19 from Farrar, Straus and Giroux. In the essay "Reasons Why I Do Not Wish to Leave Chicago: An Incomplete, Random List," he cites the general lack of entitlement: "The blessed scarcity of celebrities in Chicago…Oprah, one of the Friends, and many other people whose names I never knew or now cannot recall have all left for New York or Hollywood or rehab." But he can articulate what he likes with equal passion and precision: "The American vastness of the Wilson Street beach, gulls and kites coasting above it, dogs sprinting along the jagged waves, barking into the void."
Hemon, who goes by Sasha, is a homebody. The coffee shop where we meet, Coffee Chicago, is just a few blocks from his house in Edgewater, which he shares with his wife, Teri Boyd, and his daughters, Ella, 5, and Esther, 16 months. A few blocks up Broadway is the Writers WorkSpace, a quiet collective studio where he goes to write. He relishes this well-contained routine. "Did you know that [the musician] Nick Cave puts on a suit every day before he goes to work in his home office?" Hemon asks. "I admire that professionalism." (Today, his own attire features warm layers for his walk to the WorkSpace: a black zip-up jacket and a newsboy cap to cover his closely shaved head.)
In The Book of My Lives, Hemon talks about feeling "deeply displaced" during his first few years in Chicago. It was the early '90s. He was renting a tiny studio in Edgewater, working as a canvasser for Greenpeace and finding himself unable to write in Bosnian (he felt detached from the war-torn country) or English (he had only a basic command of the language). As he grew to be an Edgewater local, the lakeside neighborhood—and by extension, Chicago—became his own. In the 2011 essay "The Lives of a Flaneur," he writes, "Over time, I acquired a barber and a butcher and a movie theater and a coffee shop with a steady set of colorful characters—which were, as I'd learned in Sarajevo, the necessary knots in any personal urban network."
Meanwhile, Hemon picked up English, in part by reading Nabokov and underlining words he didn't know. In a few short years, his stories in English started appearing in prestigious publications: Ploughshares, The New Yorker, The Paris Review. He authored books of autobiographical fiction (The Question of Bruno, Nowhere Man), receiving a MacArthur Foundation "genius grant" in 2004, as well as a steady stream of critical praise, much of it along these lines: "A virtuoso linguist, stylist and social observer" (San Francisco Chronicle); "A maker of amazing, gorgeous sentences in what is his second language" (Los Angeles Times Book Review). His 2008 novel, The Lazarus Project, was a finalist for the National Book Award.
Hemon doesn't lie. Not in his nonfiction, at least. (Fiction is another story. But even then, he says he often begins with a situation that really happened, before following his imagination down the rabbit hole.) He says the stories that comprise The Book of My Lives—most of which were previously published in somewhat different forms—"were, for a number of reasons, events too intense or important to fictionalize." There are essays on displacement, divorce, remarriage, his voracious reading habits (eight to ten hours a day in his mid-twenties at his family's mountain cabin in Bosnia), soccer, chess and an ill-fated birthday party he attended while in college at the University of Sarajevo. The bash, at a friend's home, had an unfortunate "Nazi cocktail reception" theme. It was intended to be a kind of art performance, and Hemon was cast as a Ukrainian collaborator. ("I drank vodka out of a cup and wore tall boots," he recalls.) News of the party got out, and gossip about the "Nazi Nineteen" spread throughout Sarajevo, inciting anger and panic.
These events of his lives are by turns funny, intense, poignant and sad—in other words, great memoir material. Because Hemon has never kept a diary or even scribbled down notes, he was careful to check facts and consult with other people involved in these stories. "With nonfiction, I can't make stuff up," he says matter-of-factly. And yet so many memoirists do these days—a little embellishment here, a little lie there. Suddenly they're in James Frey territory and going on Oprah to apologize. "The kind of memoir that has been dominating nonfiction, to my mind, has a fundamentally puritan quality," Hemon says. "The format is to make a confession and thereby repent for whatever sins you might have committed." No surprise it's a format he hates.
The final piece in The Book of My Lives is a devastating essay, "The Aquarium," originally published in The New Yorker in June 2011. It chronicles the death of his infant daughter, Isabel, and his other daughter Ella's simultaneous invention of an imaginary brother, Mingus. While listening to Ella ramble on about Mingus, Hemon understood that "narrative imagination—and therefore fiction—is a basic evolutional tool of survival," but also that, in the midst of Isabel's illness, "he could not write a story that would help." Trapped inside this aquarium of grief, he and Teri found it difficult to endure the platitudes of well-wishing people.
I tell Hemon I thought of this after the Sandy Hook shooting. "The moment that Obama said, 'God took [the victims] home,' or something like that, I just wanted to bawl," he says, his voice catching. "Are you kidding me? If someone told this to me after my daughter died, I would've punched them in the face." He continues, his eyes misting with tears: "When people fall upon clichés, it's a way to not talk about the tragedy. We have to restore the unreality of our lives in comparison to the lives of parents who've lost their children for whom that loss is as real as anything can ever be."
Hemon is a virtuoso linguist, maker of gorgeous sentences and arguably the best writer to currently call Chicago home, but he's also a family man: a husband and dad. Is Ella's Mingus still hanging around? "Oh, yeah," he says with a smile. "Now Mingus speaks a language she invented. It's called Silent Mastiff. Mingus knows every word of Silent Mastiff, and Ella only knows one."
If she takes after her dad—which she seems to—his daughter will achieve fluency in no time. "She clearly has narrative talents," Hemon says.