Books to read in 2014: From Murakami to Moore and more
The books we're looking forward to reading in 2014 include new Stuart Dybek, Cristina Henríquez, Haruki Murakami and more.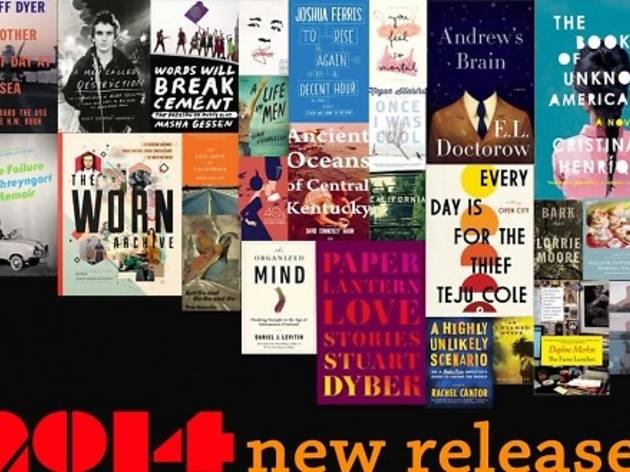 Going Clear
to
Tenth of December
, from
The Flamethrowers
to less-talked-about-but-no-less-brilliant books (i.e.,
Mindsploitation
), 2013 was a good year for
reading
. 2014 carries on strong, with a slew of noteworthy debut novels, new works by local authors and fresh fiction by familiar names such as E.L. Doctorow, Haruki Murakami and Lorrie Moore. With all the staring at screens we do, our resolution is to better balance a mostly web-based media diet with a healthy serving of escapist lit—both smart fiction and transporting nonfiction. No disrespect to e-readers, but we're talking real books on real paper. Printed matter. Gutenberg shit. Here's what will top our bedside stack of books this year. (It's a tall stack.)
Little Failure by Gary Shteyngart (Random House, $27)
The satirical novelist and prolific blurber's first memoir recalls his aspirations, struggles and family's immigration to the U.S. from the Soviet Union. Out now.
Words Will Break Cement: The Passion of Pussy Riot by Masha Gessen (Riverhead, $16)
Examining the arrest and incarceration of Russian punk band Pussy Riot, which captured international attention, this book by a Russian-American journalist was published early due to two members' release from prison. Out now.
A Highly Unlikely Scenario, or a Neetsa Pizza Employee's Guide to Saving the World by Rachel Cantor (Melville House, $16.95)
In a future world where competing fast-food factions rule, an employee at a pizza chain manages the complaints hotline. It's a mind-numbing job—until he's contacted by a 13th-century explorer named Marco. Drawing comparisons to A Hitchhiker's Guide to the Galaxy and Shteyngart's Super Sad True Love Story, this debut novel sounds anything but boring. Jan 14.
The Last Days of California by Mary Miller (Liveright, $24.95)
We enjoyed Miller's story collection, Big World, and don't want to be left behind in reading her first novel, about a family from Montgomery, Alabama, on a westward road trip in anticipation of the Rapture. Jan 20.
Andrew's Brain by E.L. Doctorow (Random House, $26)
Exploring themes of truth and memory, Doctorow tells the story of a man with a habit of wreaking havoc. Jan 26.
Silence Once Begun by Jesse Ball (Pantheon, $23.95)
The Chicago-based author of Samedi the Deafness and The Curfew returns with a story of the "Narito Disappearances," in which eight people vanish from their homes in the same Japanese town, a single playing card left on each door. A journalist—also named Jesse Ball—is swept into the case. Jan 28.
A Life in Men by Gina Frangello (Algonquin, $15)
The Chicago novelist, editor of The Nervous Breakdown and Sunday Editor of The Rumpus publishes her third book of fiction, about a woman with cystic fibrosis attempting to understand why a relationship with her best friend unraveled years prior—an investigation that leads to both questionable decisions and valuable discoveries. Feb 4.
The Dismal Science by Peter Mountford (Tin House, $15.95)
A novel about identity, rationality and starting over, Mountford's book follows a former VP at the World Bank as he tries to rebuild his life following a series of scandals and losses. Feb 11.
Bark by Lorrie Moore (Knopf, $24.95)
Moore is often praised for her humor but we find many of her stories depressing. In particular, her most recent novel, A Gate at the Stairs, felt emotionally unsatisfying. That said, we're still eager to read her first new collection in 15 years. The form suits her. Less is Moore. Feb 26.
A Man Called Destruction: The Life and Music of Alex Chilton, From Box Tops to Big Star to Backdoor Man by Holly George-Warren (Viking, $27.95)
The first biography of the teen rock star, Big Star frontman, dishwasher and influential solo artist (in that order) was written by a Chilton acquaintance and draws on interviews with more than 100 bandmates, family members and friends. In the words of Big Star: Thank you, friends. Mar 20.
Show more