Heads up! We're working hard to be accurate – but these are unusual times, so please always check before heading out.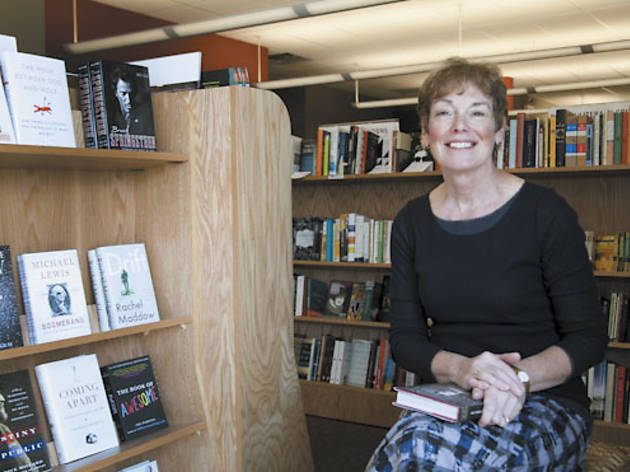 City Lit Books
With the arrival of City Lit Books, Logan Square is becoming a book lover's destination.
Owning a bookstore is often romantically portrayed—stimulating conversation, endless reading material—yet the grim realities of retail mean long hours, low margins and nonstop bills. Still, on a recent visit to Logan Square's new independent bookstore, City Lit Books, I notice owner Teresa Kirschbraun has a certain glow. We're sitting in comfortable leather chairs near an unlit fireplace (which will soon glow, as the weather cools), and while we talk, Kirschbraun emits the exuberance of a new business owner whose dreams are taking shape.
"It's like you give a party and hope people will come, and people come, and it's so cool," she says with a laugh. The store (2523 N Kedzie Blvd), located in a building owned by Banco Popular, opened its doors on August 17. In the weeks prior, Kirschbraun and her staff provided sneak peeks on Instagram of the "party" prep—i.e., checking purchase orders and shelving books. Curious passersby, some on their way to nearby Lula Cafe, peered in the windows; a few sprinkled exclamation points on the City Lit Books Facebook page ("So excited…!!!"). Since then, "people keep streaming in," Kirschbraun says. "Now when people stand out in the street waiting for a table at Lula, [the restaurant] sends them here."
City Lit isn't the first indie bookstore in Logan Square. Uncharted Books (2630 N Milwaukee Ave), which opened in January and sells used books, is just across the traffic circle, and Bucket O' Blood Books and Records (2307 N Milwaukee Ave), which opened in 2010 and features used sci-fi/fantasy tomes, is also nearby. But City Lit is the first in the area to specialize in new general-interest books.
"It just seemed so logical to me to open a bookstore here," says Kirschbraun, who's lived in Logan Square for 25 years. As a management consultant in the health-care industry, she grew tired of traveling and decided to combine her knowledge of business with her lifelong passion for books.
After creating a business plan and training with Paz & Associates, a partner of the American Booksellers Association, Kirschbraun scoped out spaces. The Banco Popular building, where the Blue Line El ended until 1970, was appealing because it's in a high-traffic area and has off-street parking. "It's interesting that a place that drew people from all over to the Northwest Side now has another reason to draw people to the Northwest Side," says Paul Levin, executive director of the Logan Square Chamber of Commerce.
Within its scarlet and tan walls, City Lit offers fiction, nonfiction, Spanish literature and more. The nicely stocked children's section, tucked in back, provides kids with their own book nook. Staff recommendations add welcome spice to the otherwise pristine space. (A succinct rec for Jonathan Franzen's Freedom: "I mean, c'mon, we're an independent bookstore!")
City Lit's first author event takes place Saturday 29, and its grand opening happens the first weekend in October. Kirschbraun intends to add story time, book clubs, more author events—and, eventually, literacy and writing courses. "That's my real long-term vision," she says. "The first thing I want to do is make this a viable business." She's working with IndieBound (ABA's advocacy and marketing arm) to sell e-books and print books on her website.
Can Logan Square support three bookstores? "If anything, I think having another bookstore so close by pushes us to define ourselves," says Uncharted owner Tanner McSwain. "Logan Square is on its way to being a literary center for Chicago."
City Lit Books hosts a reading with Margaret Dunbar Cutright and Tal McThenia on Saturday 29.