Generosity
You can't corner Powers. Early on in his follow-up to the National Book Award–winning The Echo Maker, Powers puts one of his protagonists,...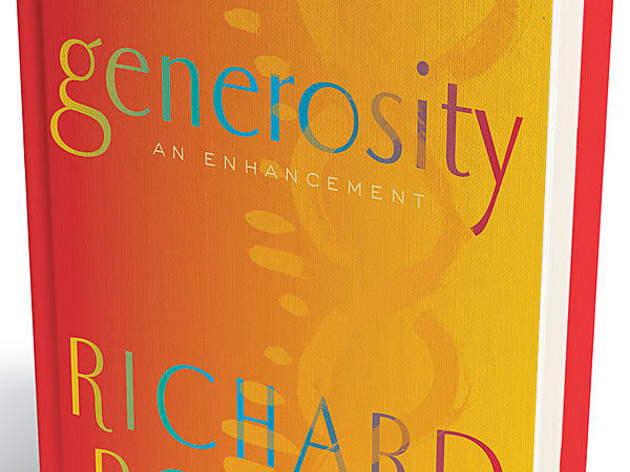 You can't corner Powers. Early on in his follow-up to the National Book Award–winning The Echo Maker, Powers puts one of his protagonists, hapless and hopeless adjunct writing professor Russell Stone, on the path to his classroom. He makes his way through Chicago, but the geography is slightly off. Powers, though, knows it, and intercepts the gotcha: "No you're right: those streets don't really run that way. That neighborhood is a little off.… This place is some other Second City. This Chicago is Chicago's in vitro daughter, genetically modified for more flexibility. And these words are not journalism. Only journey." Powers is such a gifted novelist that even when he's tackling issues most often consigned to The New York Times or Scientific American—here, it's genetics—we're happy to be on his kind of journey.
Russell's creative nonfiction class is filled with art students unimpressed by his mechanical approach to writing. He floats his axioms with just enough conviction to persuade them to complete their homework—unimaginative assignments made magical by one of the students, Thassadit Amzwar. Thassa is an Algerian refugee, her family decimated by the North African country's civil war in the '90s, and yet, somehow she's possessed of an unnerving bliss. In a class, city, country, world and Internet fueled by discontent, Thassa is an anchor of euphoria. Thousands of people died in her city in a matter of weeks, and she remains content. Russell had a short relationship go sour eight years before, and he's still recovering. As with everyone she comes in contact with, Russell finds himself drawn to Thassa and perplexed by her holistic happiness. He brings her to the attention of Candace Weld, a counselor at the college who, too, cannot fathom the magnetism of Thassa's optimism.
The world, like Chicago, is a little off in Generosity. While Russell and Candace puzzle over Thassa, geneticist Thomas Kurton is working on isolating and enhancing genes to extend life indefinitely. Eventually, Thassa cannot be kept secret, and Kurton (along with science journalist Tonia Schiff) is convinced she's the secret to unlocking the "happiness gene," the ultimate leap forward in genomic research and enhancement.
Powers has made a career of examining the ramifications—and most important, potentialities—of persistent technological advances. In that sense, Generosity fits right in with the rest of his work: Constant is the question of whether happiness is chemical, and if it is, if anything is lost in its commodification.
But while we love the science-fiction and science-nonfiction moments in Generosity, it's Powers's more subtle, humanities-based exploration of emotions that makes the book so fascinating. While working out the big questions, Powers addresses more intimate quandaries. When assessing Russell's failure to even recognize what brings him pleasure, Powers writes, "We're shaped to think the things we want will make us happy. But shaped to take only the briefest thrill in getting. Wanting is what having wants to recover." And his depictions of Thassa make it easy to see why nearly everyone falls in a vague, fraternal love with her, "She draws like she breathes—a gull enjoying a gust."
Intellectually invigorating and emotionally astute, Generosity will, in all likelihood, land Powers on the National Book Award finalist list again this year. It's the kind of book you cancel plans to keep reading. And it's the kind of book that amps up that happiness chemical dosage in the reader, who's happy to just be on the journey.