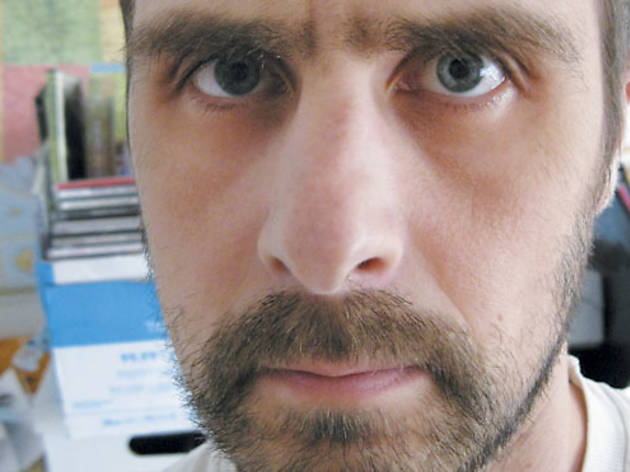 John Porcellino | Interview
In his long-running minicomic King-Cat, John Porcellino gets personal.
John Porcellino's comics are often described as deceptively simple: spare, childlike drawings accompanied by straightforward block-lettered text. Many of the stories in his zine King-Cat, which the Illinois native began self-publishing in 1989, take about ten seconds to read. The deception is that the moments he describes in words and pictures—hearing a song on the radio, tossing bread crumbs to birds—seem small and quotidian but are in fact both deeply personal and reflective of some larger aspect of the human experience. A comic titled "Christmas Eve," from King-Cat #72, illustrates how a solitary winter walk can turn existential. Four pages of textless panels, in which a man trudges through snow, build to a scene of barren trees and the confession "I DON'T WANT TO BE ALIVE ANYMORE." Two panels later, observing his breath in the frosty air, the man concedes, "BUT I AM."
King-Cat is one of the longest-running minicomics ever produced—Porcellino recently completed issue #73—and has become the 43-year-old's primary outlet for expression. Besides comics, each black-and-white, stapled edition contains some combination of diary-like entries, nature notes, lists, letters, quotations, scraps of research and Zen musings. In 2005, Diary of a Mosquito Abatement Man, a collection of King-Cat stories recounting Porcellino's experiences as a pest-control worker in the Chicago suburbs, earned an Ignatz Award (a comics prize given out at the annual Small Press Expo), and a selection of his work has been included in Houghton-Mifflin's The Best American Comics series. Despite his success, Porcellino maintains a thoroughly DIY approach, opting to personally handle publication and distribution. "By self-publishing, I'm able to survive as an artist and make a living doing what I do."
While growing up in Hoffman Estates, Porcellino knew he wanted to pursue a creative profession. "As a kid, I was always writing, drawing and making little books," he says. He earned a B.F.A. in painting from Northern Illinois University in DeKalb in 1990 but felt uncomfortable in the fine-art world. "The problems I had with the gallery world were issues like accessibility and affordability," he says. With comics, he could combine writing, drawing and bookmaking; plus, "They're immediate and cheap…which solved a lot of the dilemmas I had with the fine-art world."
In the following years, he moved around a lot—to Denver, San Francisco and Gainesville, Florida—all the while chronicling his migratory patterns and memories in King-Cat. About two years ago, his second marriage ended. "I had achieved one of those moments in my life where it seemed like everything was falling apart," he recalls. Lacking a home and money, he returned to Illinois to be near family.
Porcellino settled in South Beloit, a small city off I-90 near Wisconsin, because it's accessibile, affordable (those persistent concerns), peaceful and close to nature. "In some ways, the new issue of King-Cat is me coming to terms with living out here," he says. In one story in issue #73, he spots mysterious birds and wonders if they're cuckoos, an ongoing obsession. "It's one of those King-Cat stories where nothing really happens," he says. But this is just that deceptive simplicity at work because, when asked if there's any sort of meaning behind his search for cuckoos, he admits, "It has taken on this personal resonance—one of those confusing quests you're not sure if you've already accomplished."
While he looks backward in King-Cat, Porcellino is forwardly focused and has no plans to stop producing his autobiographical comics series. "At this point, I feel a certain commitment to keep it going if for no other reason than to show that it's possible," he says.
Porcellino celebrates the release of King-Cat #73 at Quimby's Wednesday 19.

Best selling Time Out Offers