Nathan Rabin: Interview
The former head writer for the A.V. Club and now writer for the Dissolve discusses his latest book, You Don't Know Me But You Don't Like Me.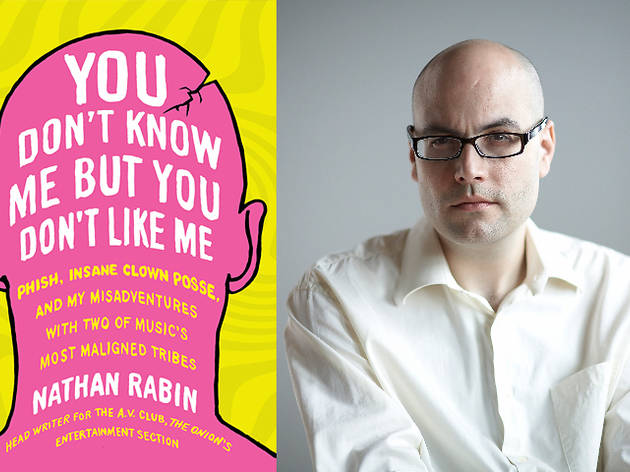 When Nathan Rabin and his now-wife first started emailing, she posed a question that spooked him a little. It wasn't anything like, "Is it cool that I lied to you about not killing all those people?" It was far simpler (but more loaded than a baked potato at Outback): "Do you like the band Phish?"
In his fourth book, You Don't Know Me But You Don't Like Me: Phish, Insane Clown Posse, and My Misadventures with Two of Music's Most Maligned Tribes (Scribner, $16), the former head writer for The A.V. Club (and now staff writer for Pitchfork's forthcoming film website, The Dissolve) explains the implications of such a question. "It's not like asking, 'Do you like Squeeze? Nobody is liable to care if you enjoy the music of the veteran British pop band behind 'Tempted' and 'Pulling Mussels from a Shell'," he writes. "But if someone says they're really into Phish, we're often tempted to make sweeping generalizations about their personality, intelligence, personal hygiene, sobriety, class, education, and taste."
As the longwinded subtitle suggests, he went on a mission to find out about Phishheads—and ultimately became one. He also researched Juggalos and learned to love ICP unironically. (Yes, the band behind this.) In the process, he took a ton of drugs, met a ton of diehard fans, traveled cross-country on a Greyhound bus and learned he was bipolar. I recently spoke with Rabin about the book, which is essentially a love letter to his wife and also a reflection on learning to let yourself become yourself—even if that self is someone who's beyond stoked to travel to Watkins Glen, New York, for three days of Phish revelry.
When you first started listening to Phish, did you think of it as something you'd write about? As a pop culture writer, do you approach everything that way?
My brain is overly active, so even before I started writing books, I've always approached new [interests] thinking, 'Why should I care about this? Can I write about this or what?' Phish is an interesting subject to be writing about at this time because they've kind of passed. There's something a little autumnal about their story. So eventually I did think, 'Maybe there's a book in this.' But originally, it was just a way for me to spend time with my girlfriend and learn as much about her life and her history as possible.
It's a good thing she was into Phish, instead of punk or hardcore, because Phish noodle on forever. More time to spend with her.
[Laughs] Totally. But Phish was really part of who she was. I think a lot of people have Phish in their history and it's part of their coming-of-age story, but it belongs to their past, their adolescence. For me, they became part of my coming of age and part of my maturation as a thirty-five-year-old. It was kind of backwards.
The book answers this question, but for those who haven't read it yet—why did you decide to write about both Phish and Insane Clown Posse?
Writing about them in the same context made sense because both belong to the fans; there's a culture around them that kind of overlaps with other fields and kind of doesn't. ICP occupies a very strange, unique niche in the culture at large and in hip-hop more specifically. Last year, at the Gathering [of the Juggalos], the Geto Boyz opened for them, which was kind of surreal. Scarface said to the crowd, "You know, ICP is one of the most underrated acts in hip-hop." It was neat for me. Here's Scarface, with his unimpeachable authority, and he was like, "These guys are good; they're interesting."
What kind of reaction did you get when you told people you were writing a book about Phishheads and Juggalos?
When I was talking to people at the Gathering or at shows about writing this book, there was a sense of 'Oh yeah. That sounds like a book people say they're going to write and never actually write.' It sounded kind of made up to me, too—kind of abstract and theoretical. And it has seemed that way up until yesterday, when I did a book signing in Naperville. There was a big blowup of the book cover. I was like, 'Holy shit, this idea I had three and a half years ago actually happened!' The experience was definitely interesting and different and weird and flawed and not for everybody but worthwhile.
Have you met other people who were similarly turned off by these subcultures and then sort of crossed over?
I don't know of many who've forced themselves to listen to as much Phish as I have [laughs], but I think a lot of people have those kinds of revelatory moments at shows. [ICP and Phish] have a disproportionately huge fan base because when people go to their shows it gives them a sense of joy and it gives them a sense of freedom from judgment and self-consciousness. It's an ecstatic experience. You might have heard of this, but there's a podcast called Analyze Phish with Scott Aukerman, the host of Comedy Bang Bang, and his friend Harris Wittels, who has written for Parks and Rec and is really, really into Phish. The entire purpose of the podcast is Harris Wittels trying to get Scott Aukerman into Phish. It's great, but he just doesn't succeed. They're both trying, and Scott's really open, but it's not happening. I don't know that I would've connected with Phish if I hadn't had such a difficult time psychologically, but it was weirdly healing.