10 classical concerts to see this July
Loops and Variations and Grant Park Music Festival bring a bundle of can't-miss free concerts. Plus, we pick the best of Ravinia and the chamber scene for July.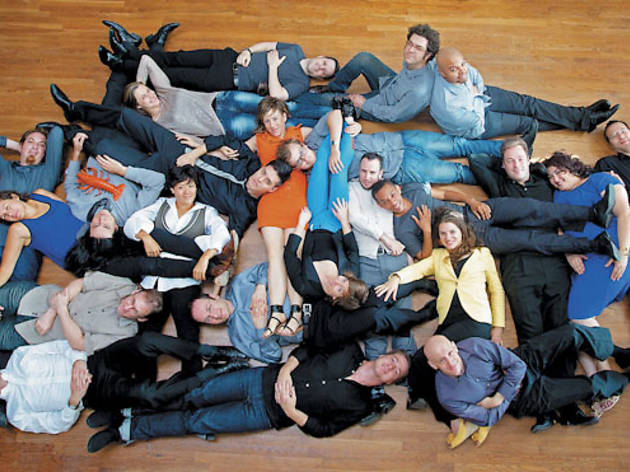 1) Loops and Variations: Olafur Arnalds + Sarah Neufeld Violinist Sarah Neufeld is Arcade Fire's secret weapon. Her gorgeous, nimble fiddling anchors some of the band's best songs. Now the Montrealer is striking out on her own with a lovely debut solo album, Hero Brother, which channels Steve Reich, Bela Bartók and Arthur Russell. Neufeld opens for indie-classical darling Olafur Arnalds, an Icelandic multi-instrumentalist whose hush-hush, shadowy chamber music has the power to silence the largest crowds. Millennium Park, Pritzker Pavilion. Jul 18 at 6:30pm. Free.
2) Grant Park Music Festival: Caminos del Inka Peruvian conductor Miguel Harth-Bedoya takes a guest spot on the podium to lead a program he personally curated. Flutist Mary Stolper and cellist Walter Haman join the Grant Park Orchestra for a multimedia tribute inspired by the ancient melodies of the Inca Trail. South America's vibrant musical legacy shines in key works by Latin composers including Osvaldo Golijov, Daniel Alomía Robles and Jimmy López. Millennium Park, Pritzker Pavilion. Jul 12, 13 at 8pm. Free.
3) Loops and Variations: Dan Deacon + Friends of the Gamelan Once known primarily as Baltimore's circuit-bending party-starter, classically trained provocateur Dan Deacon recently rejuvenated his compositional roots and has spent the last couple of years writing extensively for chamber ensemble, film and orchestra. Deacon dishes day-glo deep cuts from his latest hyper-hybrid album, America, after an opening set from Friends of the Gamelan, an excellent local troupe dedicated to performing traditional Javanese gamelan music. Millennium Park, Pritzker Pavilion. Jul 11 at 6:30pm. Free.
4) Isle of Klezbos Okay, the name sucks. But this self-described "soulful, fun-loving powerhouse all-gal klezmer sextet" serves up an expertly crafted blend of Yiddish swing, neo-classical folk, retro tango and jazzy standards. And if you fancy wrapping up the weekend with late Soviet-era drinking songs—an IoK specialty—this is the place to be. Mayne Stage. Jul 21 at 7:30pm. $20–$30.
5) James Ehnes with the Chicago Symphony Orchestra The CSO returns to its annual summer haunt of Ravinia to team up with some of classical's top musicians from around the globe. Canadian James Ehnes—one of the finest violinists currently playing—lends his jaw-dropping technical prowess and magnetic performance style to a dense but beautifully curated selection of Debussy, Chausson, Rossini, Saint-Saëns and Mendelssohn. Ravinia Pavilion. Sun 21 at 5pm. $25–$50, lawn $10, dining package $60.
6) Matthias Goerne Summer at Ravinia just wouldn't feel right without a visit from the German baritone. Famous across the world for his interpretations of lieder, Goerne lends his warm, fluid voice to quintessential German art songs by Mahler and Schumann. Both composers were inspired by the poetry of Friedrich Ruckhert, and Goerne will perform their settings of the poet's works with accompaniment by German pianist Alexander Schmalcz. Ravinia Pavilion. Jul 1 at 8pm. $40–$60, lawn $10, dining package $75.
7) Woodstock Mozart Festival Still going strong after 27 years, the WMF is worth the hour drive out of Chicago. The season opens with San Francisco Symphony resident conductor Donato Cabrera and award-winning Russian pianist Vassily Primakov, who will pair Mozart (naturally) with Bartók's Romanian Dances, Stravinsky's Dumbarton Oaks Concerto and Haydn's La Reine Symphony. Woodstock Opera House. Jul 27 at 8pm; Jul 28 at 3pm. $90–$133.
8) Loops and Variations: ICE + Nosaj Thing As you can tell, we love what the city is doing with Loops and Variations. Innovative L.A.-based beat producer Nosaj Thing cites influences from Chopin to Cornelius and creates moody minimalist electronic with a hip-hop edge. He joins contemporary classical advocates ICE for what might be the boldest Loops and Variations pairing this summer. Millennium Park, Pritzker Pavilion. Jul 4 at 6:30pm. Free.
9) Rush Hour Concert Series: Jason Seed Stringtet The genre-bending ensemble, which features members of the Chicago and Milwaukee Symphony Orchestras, performs music that founder/composer/guitarist Jason Seed describes as "Rockedixieofunkinjazzpsybaroqclassicadelicangolk." Don't let this put you off. Seed's "Goulash Rag" is a fun, boisterous composition that takes the blues and heads East, and is bound to shake up the downtown after-work crowd. The highly recommended series runs every Tuesday evening throughout summer. St. James Cathedral. Jul 2 at 5:45pm. Free.
10) Dame Myra Hess Concert Series: Emi Ferguson & Nolan Pearson Young English-American flutist Ferguson has scooped up numerous top prizes, performed alongside Yo-Yo Ma and Paul Simon, and wowed the crowd at the Lucerne Music Festival. Energetic pianist and new-music specialist Pearson joins her for duos by Frank Martin, Nicholas Csicsko, Georges Hüe and Schumann. Chicago Cultural Center, Preston Bradley Hall. Jul 27 at 12:15pm. Free.