Ensemble Dal Niente at Mayne Stage | Concert preview
Dal Niente looks to melt some brains with the Chicago premiere of Fauto Romitelli's psychedelic Professor Bad Trip.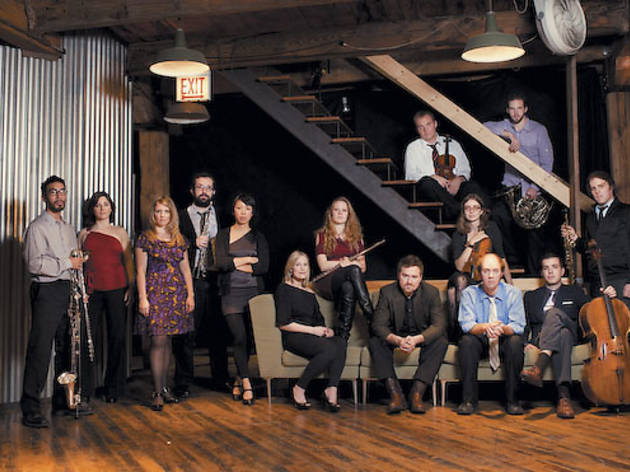 "I was shocked," Ryan Muncy says, remembering his initial impressions of Professor Bad Trip. "And scared."
For the past two seasons, new-music junkies have been excitedly asking each other, "Have you heard Professor Bad Trip?" Italian composer Fausto Romitelli's psychedelic masterpiece, written between 1998 and 2000, shortly before his death in 2004, has finally infiltrated North America by word of mouth. "Hearing the piece for the first time a year ago with composer Marcos Balter," recalls Muncy, Dal Niente's executive director, "my mind was nearly blown off my shoulders in that type of I-just-discovered-something-incredible feeling that you get once every five years." Dal Niente conductor Michael Lewanski had a similar reaction: "My first thought was, Man, we have to do this piece right now."
The pioneering local new-music ensemble has laid claim to the Chicago premiere of the work for the group's season opener. It's preparing to melt some brains.
Muncy, 31, is quick to mention that Professor Bad Trip isn't a discovery; high-visibility groups such as Ensemble Intercontemporain and Ensemble Cairn have been stunning European audiences with the spectralist score over the past decade. Muncy had no trouble pitching the piece to his band.
Scored for electric guitar, strings (including electric cello), trumpet, keyboard, percussion and electric bass, Bad Trip, written in three parts, or "Lessons," is equal parts Timothy Leary and Pierre Boulez. Leary's influence lies in the bleary torrents of texture that surge throughout like a 12-tab LSD trip; the Boulez aspect is that these freak-outs are meticulously notated in the score.
"It successfully translates gestures from psychedelic rock onto so-called classical instruments," Lewanski says. Nowhere is this more evident than in the second of the three Lessons, in which an electric cello erupts in a Hendrixesque shred-fest. The violin part is no less daunting, as DN violinist Austin Wulliman explains: "It's all over the fingerboard in every measure for much of the piece."
If 40 straight minutes of mind warp seems too much to ask of the audience, despite the music's wide appeal, Muncy and the Nientes have interspersed works by Romitelli's equally audacious mentor Franco Donatoni and those of 16th-century experimentalist Carlo Gesualdo. The latter is equally famous for his bloody execution of his wife and her lover as his brazen compositions. Gesualdo's "Io parto e non piu dissi," "S'io non miro non moro" and "Merce, grido piangendo" are here set as a foil to the Romitelli and arranged for the concert's instrumental forces by Chicagoan Chris Fisher-Lochhead and Portugal-based Fred Gifford.
Dal Niente sees the kaleidoscopic Bad Trip as setting a tone for its entire season. Wulliman says, "Professor Bad Trip highlights several things we see ourselves tackling well as an ensemble, including a straightforwardly bold compositional style."
But should ticket holders arrive "chemically enhanced"? Muncy considers the question. "We don't want anyone losing their shit," he says. "After all, listeners should focus on the music and its performers, not that guy in the third row who just took his clothes off."
Dal Niente takes Professor Bad Trip to Mayne Stage Thursday 29.